---
monochrom's ISS: DVD Set - Präsentationsfestivitäten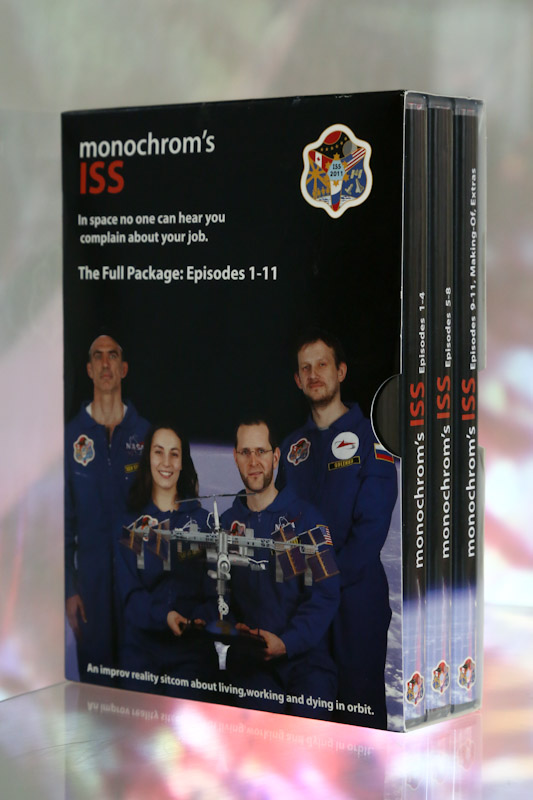 ISS DVD Präsentationsfestivitäten!

12. Juni 2012 im Filmarchiv Austria, Audiovisuelles Zentrum Augarten, Obere Augartenstraße 1, 1020 Wien.
Türen öffnen um 19 Uhr, Beginn um 20 Uhr.
Wir zeigen die Episoden 10 und 11! Danach gibts die Möglichkeit Fragen an die Crew und das Produktionsteam zu richten. Und dann Party!

Vorbestellungen: jetzt!

Standard 3-Disk-Set (Episode 1-11, Making Of) für EUR 24,99
Limited Edition Box (Episode 1-11, Making Of, Autoretro-Kurzfilm, ISS-2011-Aufnäher, Unterschriften aller Crew- und Team-MitgliederInnen) für EUR 49,99
Bestellungen über office@monochrom.at

(DVD-Set-Foto von eSeL)
---
Selbsthilfegruppe DIY-3D-Druck
Wir wollen versuchen, möglichst alle 3D Drucker Wiens zu vernetzen. Wissen zu teilen und zu schaffen. Die Öffentlichkeit mit der Faszination 3D-Druck konfrontieren.

Klemm deinen Drucker unter den Arm und führ ihn aus. Ins Museumsquartier. Einmal im Monat. Er freut sich drauf. Wir uns auch!
Zeig uns und der Welt deinen Drucker. Egal was für einen RepRap/RepStrap/Ultimaker/Makerbot/Shapercube/Hudriwugl du hast oder bauen möchtest. Wenn du ihn tragen kannst, nimm ihn mit. Wenn nicht, nimm gedruckte Teile mit.
Hör dir unsere Vorträge an. Erzähl uns, was du entdeckt hast.

1. Treffen am Dienstag, 5. Juni 2012, MQ Wien, quartier 21, Raum D.
* 18:00 - 18:30. Einzug der 3D Drucker.
* 18:30 Vorträge.
* Lightning Talks, z.B. von dir. Über ein nettes Projekt, deinen Drucker, eine tolle 3D-Druck-Software, eine Projektidee, ein ungelöstes Problem.

Mehr Info unter: http://reprap-wien.org/



---
monochrom @ KDKP 1 - Strategien einer Kulturpolitik von Unten
Vorträge zur Kunst der Kulturpolitik von Agnes Bardos-Deak (Budapest), Johannes Grenzfurthner (Wien), Anita Hofer (Graz).
Wir, die IG Kultur Steiermark, sind als Interessensvertretung der Steirischen Kulturinitiativen nachhaltig verwirrt über die aktuellen Tendenzen in der steirischen Kulturpolitik. Wir wüssten gerne, was für ein theoretisches Gerüst den laufenden kulturpolitischen Umbauarbeiten zugrundeliegt. Wie wir im Angesicht der "Krise" weiter hochwertige kulturelle Produktion bieten und hochqualifiziertes Personal vom Abwandern abhalten sollen, ist jedenfalls offen. Weshalb wir alle Interessierten zur Vortragsreihe "KDKP" - "Kunst der Kulturpolitik" - einladen. Ein paar fundierte kulturpolitische Anätze werden in Theorie und Praxis zu besichtigen und durchzudiskutieren sein. Um sie in Beziehung setzen zu können zu dem, was uns als "Reform" verkauft wird. Mal sehen - vielleicht lässt sich die eine oder andere Vision einer Kulturpolitik entwickeln, die nicht hilflos gegenüber dem Diktat der BetriebswirtschaftslehrerInnen ist...
24. Mai 2012, ab 17 Uhr, im Kulturzentrum Niesenberger in Graz.


---
Sierra Zulu präsentiert: Jello Biafra und Alfons Haider
Geschätzte Wehrbauern der Infosphäre! Die Tage werden länger und glücklicher!
Wir sind stolz zwei neue und glorreiche Absichtserklärungen verkünden zu können!
Die (hoffentlich) baldige und triumphale Erstellung von Sierra Zulu wird durch zwei hochkarätige Performer unterstützt werden: Jello Biafra und Alfons Haider!


Link
---
monochrom: Gruppenfoto 2012
Es hat ein paar Jahre gedauert um ein neues Gruppenfoto zu organisieren. Aber endlich haben wirs geschafft.

monochrom, komplett -- im April 2012 auf dem Hirmhof in Reinsberg, Niederösterreich.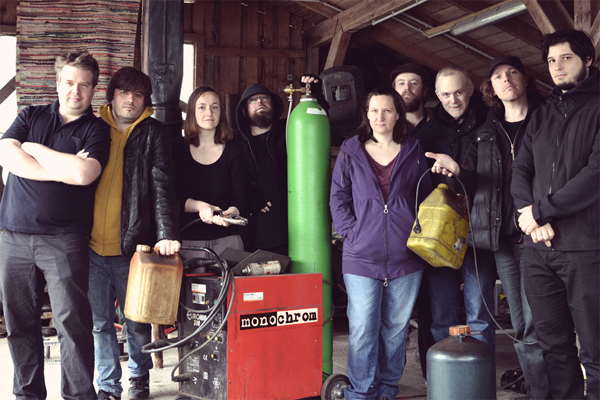 Von links nach rechts: Harald Homolka List, Frank Apunkt Schneider, Anika Kronberger, Günther Friesinger, Evelyn Fürlinger, Roland Gratzer, Franz Ablinger, Johannes Grenzfurthner und Daniel Fabry.

Klicke für Enlargung.


---
Arse Elektronika 2012 / Call for Submissions: '4PLAY: Gamifuckation and Its Discontents'
Arse Elektronika 2012
San Francisco, USA
4PLAY: Gamifuckation and Its Discontents

Call for papers, talks, workshops, performances, and GAMES.
[In addition to traditional talks, workshops, and papers, this year we are also accepting submissions of games. This can include digital games, street games, LARPs, social rulesets, procedural game-art, or other forms, for demonstration, presentation, or debut during the conference.]


Gaming, like sex, is a human cultural practice of apparent frivolity. Yet both afford surprisingly deep levels of analysis. How might models of critical gameplay inspire deeper critical reflection on issues of sex, and vice-versa?


What is the history of sexual games, particularly in the pre-digital era? What were the fairground and peepshow precursors in titillation? What was the design history of the "love tester" machine?

Why are game metaphors so prevalent in narratives of sexual conquest, and how did popular games in history influence the thinking of contemporary lovers? What can we learn about Roman gaming culture from Ovid's Ars Amatoria? What determines the many definitions of "cheating" in each of those contexts? How do the procedural rhetorics of modern game design encourage objectification of women?

How might contemplative gaming teach us to free ourselves from the tyranny of the climax?
How does the concept of the 'magic circle' in games coincide with safe spaces for sexual exploration? How do players act out transgressions of sex and gender expectations within the relatively safer spaces of games? What can we learn about social scripts and expectations from looking at society through a ludological lens?

What is the relationship of sex and games to the recent 'non-human turn' in arts, science, and philosophy? How might games engender empathy and understanding towards the non-human? What is the technological equivalent of Alan Moore's plant-sex issue of Swamp Thing? Could a game help you contemplate how a mantis fucks, or what it feels like for a fern to spore?

Beyond the simple human-to-human interfaces of the now-almost-quaint developments of sex machines and teledildonic, how might game design interact with biometrics and haptic feedback to create entirely new techno-sexual situations? Game-based learning and medical rehabilitation has been used in the past for stroke victims and the disabled to re-learn their bodies; how might those same techniques allow further bodily exploration towards positive pleasure? How much might BDSM simulators borrow from virtual pet trainers? How is predicament bondage like game design, and what can the two learn from one another?

If we are headed towards the 'gamepocalypse' envisioned by Jesse Schell, how might that affect our sex lives and our sexualities?

Is sex in danger of gamification?

If so, how can we stop it?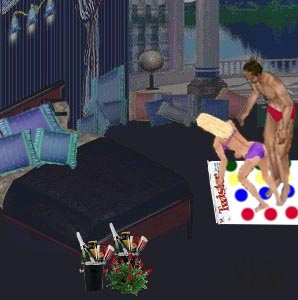 Deadline: July 1, 2012
Please send submissions to office AT monochrom.at
---
Sierra Zulu präsentiert: Amber Benson und Michael Ostrowski
Bolschewiki! Es ist unsere realsozialistische Freunde und Pflicht euch über neue Absichtserklärungen zu informieren!
Wenn alles nach unserem Zwei-Jahres-Plan verläuft und wir die notwendigen Geldmittel für Sierra Zulu verliehen bekommen, dann wollen wir mit zwei HeldInnen des Schauspiels arbeiten!
Amber Benson und Michael Ostrowski -- die unerschüttlerlichen FrontkämpferInnen für die Sowjet-Unterzögersdorfer Ein-Parteien-Landschaft!
Link
---
monochrom @ Sub Graz: Subversion und Gegenkultur
Ein Intensivreferat von Johannes Grenzfurthner (monochrom) zu Kunst und Subversion. Dann Fishbowl-Diskussion.

Am 17. Mai 2012 um 19 Uhr im Sub in Graz.


---
Guerrilla Communication: monochroms dreiteilige Vortragsreihe in Linz
monochrom präsentiert eine dreiteilige Vortragsserie von Johannes Grenzfurthner.
The terms guerrilla communication (and communication guerrilla) refer to unconventional forms of communication and/or intervention in more conventional processes of communication. Communication guerilla is a specific style of political action drawing from a watchful view of the paradoxes and absurdities of power, turning these into the starting point for political interventions by playing with representations and identities, with alienation and over-identification. The starting point for the panel and its reflections on communication guerrilla is a rather trivial insight: information and political education are completely useless if nobody wants to listen. Guerrilla communication doesn't focus on arguments and facts like most leaflets, brochures, slogans or banners. In its own way, it inhabits a militant political position, it is direct action in the space of social communication. But it doesn't aim to destroy the codes of power and signs of control. It prefers to counteract the omnipotent prattling of power by distorting and disfiguring the meanings. Communication guerrillas do not intend to occupy, interrupt or destroy the dominant channels of communication, they focus on detourning and subverting the messages transported. But what's new about all this? Nothing. But standing on the shoulders of earlier avantgardes, communication guerilla doesn't claim the invention of a new politics or the foundation of a new movement. It is merely continuing an incessant exploration of the jungle of communication processes, of the intertwined and muddled paths of senders, codes and recipients. The aim is a practical, material critique of the very structures of communication as a basis of power and rule. The internet offers fascinating possibilities also in a quite different sense: Beyond its reality, the web is an urban myth, and perhaps the strongest and most vital of all. Let's get inter-active!
An der Kunstuni Linz, Kollegiumgasse 2 (4. Stock), Linz.
10. Mai 2012. 11 Uhr bis 16 Uhr.
11. Mai 2012. 10 Uhr bis 16:Uhr.
26. Mai 2012. 17 Uhr bis 24 Uhr (Zombie Mob).


---
monochrom in Graz @ 8. Mai - Tag der Befreiung
Wer nicht feiert, hat schon verloren! Interessantes Programm mit Performance, Podiumsdiskussion (u.a. mit monochrom) und Russendisko.

Am 8. Mai 2012 ab 18.30 Uhr in der Postgarage, Dreihackengasse 42, 8020 Graz.


---
monochrom in München: Deutschpop, halts Maul!
Frank Apunkt Schneider trägt vor! Für eine Ästhetik der Verkrampfung!
Am Samstag, den 5. Mai 2012 um 20 Uhr in der Glockenbachwerkstatt, Blumenstraße 7, München!
---
Sierra Zulu. Oder: Wie ein belangloses Kuhkaff die Gegenwart retten kann
Eine UN-Friedenstruppe leistet in einem kleinen Lager Dienst im Niemandsland zwischen Europa und dem winzigen Kleinstaat Sowjet-Unterzögersdorf. Ihr Dienst ist langweilig und eintönig, doch als es zu einer Explosion in Sowjet-Unterzögersdorf kommt, wird das Team in eine bizarre Verschwörung aus Industriespionage und politischer Intrige verwickelt, die die Zukunft der Informationsgesellschaft nachhaltig verändern könnte. "Sierra Zulu" - eine politische Groteske.

Johannes Grenzfurthner erzählt über die Entwicklung des Spielfilms "Sierra Zulu". Und zeigt auch einen Kurzfilm.

Am 3. Mai 2012 um 19 Uhr im Cafe Kuckuck in Amstetten, Niederösterreich.


---
[Archiv]
---
---
---
---
---
---
---
---
---
---
---
---
---
---
---
---
---
---
.
.
.

monochrom *1993. ursprünglich zeitschrift. lebt z. zt. als haufen bzw. neue unübersichtlichkeit im museumsquartier wien, bamberg und unter www.monochrom.at. arbeitet unter anderem als künstler/innen/gruppe, linksextremistischer partyservice, info-point, archiv, sloterdijk ii, liveband, gruppentherapie, computerspiel und als konkursmasse etc. monochrom besteht aus johannes grenzfurthner, evelyn fuerlinger, franky ablinger, harald homolka list, frank apunkt schneider, daniel fabry, gnther friesinger, anika kronberger, roland gratzer sowie gott und der welt. immerhin!
[mehr]

monochrom buchen:
[europa]
[usa]
monochrome infos:
[projekte / dokumentation]
[termine / chronologie]
[mono print / jahrbuch]
[mailing list]
[blog / english]
externe monochrom-Links:
[monochrom wikipedia]
[monochrom flickr]
[monochrom youtube]
[monochrom facebook]
[monochrom itunes]
[monochrom twitter]
[monochrom soup]
[monochrom imdb (de) ]
[monochrom imdb (us) ]
[monochrom vimeo]
[monochrom twitter]
[monochrom foursquare]
[monochrom myspace]
[monochrom amazon]
[monochrom abebooks]
[monochrom vine]

Kontakt:
[office at monochrom.at]

---
---
---