---
Traceroute: VOD options

Traceroute is available on Vimeo On Demand and Amazon USA/UK/DE!





For DRM-free download deals please contact us (traceroute AT monochrom.at).
---
Film Threat: Feature about Johannes Grenzfurthner and Traceroute

Wow!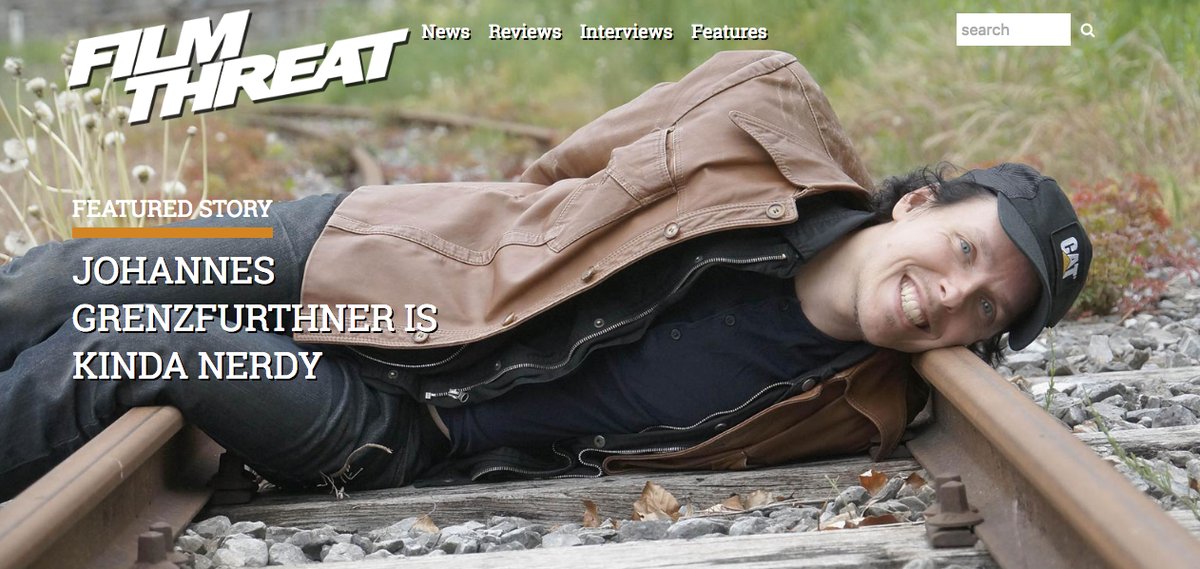 Johannes Grenzfurthner was born in 1975 and grew up in the Austrian boondocks in a small town called Stockerau. Out of the womb, Johannes was drawn to nerd culture. "I grew up with only two TV channels, and I was very happy my dad got a VHS recorder as early as 1980. It opened up a whole new telematic (as it was called back then) reality for me. I could record TV on a tape, and watch it later! Whoa! And in 1983, the first video rental store opened in my hometown, the same year as the first Chinese restaurant. That was something."

Like many geeks who grew up in the 1980s, he experienced geek culture at the beginning… before the dark times, before Disney bought, well, everything. "I wasn't allowed to go to the cinema, but my parents didn't care about my video consumption. I had a great variety of films I could pick from on tape. Close Encounters of the Third Kind stunned me, Convoy and Capricorn One made me cry for justice, and Poltergeist terrified the living, scrape-your-face-off shit out of me. And I remember when I first rented Alien. I couldn't wait to get home and see it. But at the point where the beast should have burst out of the guy's chest, there was nothing left to see except interference. All the freak-fans who had previously rented the movie had rewatched that scene so often that the tape was completely buggered. Oh my. Still, I had night terrors for days."

Johannes' interest in nerd culture was something of an obsession. "I was always interested in obscure crap. I loved science fact (Carl Sagan is still my only media idol) and science fiction, especially John Brunner and William Gibson. I always felt like a nerd, although there was no word for it in German. Later, on US Bulletin Board Systems, I learned about the term and immediately embraced it."

Johannes Grenzfurthner is as much an artist as he is a nerd. His feature documentary Traceroute (which received a rave review right here on Film Threat) is now available for digital download and the movie is a pure delight for anyone immersed in all things about nerd culture from movies to technology, the internet and even sex. In this exclusive interview, Johannes reveals what it's like to see the world wearing glasses attuned to seeing the positively geeky side of everything in life.

[...]
---
Traceroute: download it on Vimeo On Demand

Important message from Johannes Grenzfurthner...
Finally! My nerd culture documentary TRACEROUTE can be downloaded on Vimeo On Demand. It was quite a challenge creating it -- and huge thanks to all the folks who supported me... during the road trip and afterwards in post-production.

I hope you consider buying or renting it. Would mean a lot to me.
(And in case you want a DRM-free option, contact me.)

Shout-out to the great staff at Video Caption Corporation for providing us excellent subtitling/CC service!
---
Film Threat reviews Traceroute: 10/10!

Bradley Gibson of Film Threat gave Traceroute 10 of 10 points. Damn!
Traceroute is the most fun I've ever had watching a documentary. If you're a nerd (and you are) this is the road trip you've always wanted to take with your smartest, geekiest friend. You're not going to want to come home. It's Cosmos. It's DragonCon on wheels. It's your favorite sex fantasy. It's alcohol soaked nonviolent subversive protest mobile and WiFi linked. It's On The Road updated with tech, science, pseudoscience, sex, and fandom. This is Sheldon Cooper, Stan Lee, and your favorite Suicide Girls showing up at your door with an electric supercar, a bag of legal weed, and a cooler full of jello shots. No, this is Doc Brown showing up in the DeLorean saying "Where we're going we don't need roads." This is Buckaroo Banzai texting to ask you if everything is ok with the alien spacecraft from Planet 10 or should we just go ahead and destroy Russia?

You say yes.

[...]

This is Innovative breathtaking rapid-fire filmmaking raw guerrilla style with nerd friendly blandishments in titles and music and computer graphic margin notes for good measure.

Do not miss this movie.
---
[Archive]
---