---
They used to be better! 20 years of monochrom!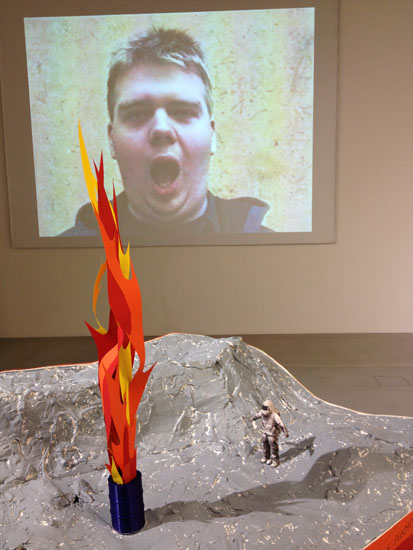 Austria's international art-theory-DIY collective monochrom celebrates 20 years of existence in 2013. The group's approach -- political, philosophical, sociological, artistic, and economic -- is thoroughly transdisciplinary, and the energetic intensity of their output could only be achieved by a collective. monochrom's work has resulted in an extremely nuanced and complex oeuvre. The group took part in numerous exhibitions, has a long publishing history, and has created a considerable number of projects --theatre plays, computer games, net activities, panels, performances, film and music productions, as well as activist events. On this the dawning of monochrom's third decade, the MUSA honors the group's never-ending contribution to the international art, discourse, and DIY scene with a retrospective. Both the MUSA and monochrom consider openness and a social involvement to be of utmost importance. Therefore the MUSA lets the art group take over the entire space, celebrating the group's experimental nature and non-predictability.

Exhibition: January 29, 2013 - April 27, 2013.

Opening: January 28, 2013, 7 pm.

At MUSA, Felderstraße 6-8, 1010 Vienna, Austria.

Link



---
[Archive]
---
---
.
.
.
.
.


---
---
---
---
---
---
---
---
---
---
---
---
---
---
---
---
---
.
.
.

---
---
---

Glossary of Broken Dreams (Feature film)

Traceroute (Documentary feature)

Therapeutic Arson

Wild Thing

No name is higher

ALF: A Clockwork Orange

Sleep. No more.

Photoshop Layer

IDIA: Schatzi, i hob di gern

Privacy is a bourgeois fantasy

Reactor Leak

LMAO

Upgrate (the Hard Cheese Drive)

Tortured Artist Seeks Aid To Feel More Inadequate

Tycho (Feature film, in production)

Occupy East India Trading Company

Die Gstettensaga: The Rise of Echsenfriedl (Feature film)

Zardoz is pleased

It's a bug hunt!! (Kermit goes Aliens)

The Man (Short film)

Dogs Playing D&D

Venus of Strapondorf

ProPool

23 Works (Short films)

Wellness As Usual

Context Hacking (Essay)

Context Hacking (Reader)

The Altogether Horrid Street Ballad Of Paratii

Earthmoving (Short film)

Sierra Zulu (Feature film project)

Hedonistika

Enforce (Short film)

Carpet (Short film)

They used to be better

Video Jingle(s)

monochrom's ISS

Soviet Unterzoegersdorf / Sector 2 / The Adventure Game

Lidl-Girl (Music video)

Rated R Us

Portraying The Terran Condition (Game)

alt.backen: monochrom's early phase picture begging outreach interface

Antidev

Title Sequence

monoleaks

Operation Overhead

Dismalware

Tasty (Short film)

The Earth Has Been Destroyed (Music video)

Six Feet Under Club

Krach: Anderswo (Single)

monochrom's Raw Image Format / Archive

Climate Training Camp

Soviet Unterzoegersdorf vs. Cheetos (Short Films, Ads)

Krach der Roboter: Hello World!

BP, listen up!

Wikileaks: The Ballet (feat. Unicorns)

Google Wars / RPG Extravaganza

Slacking is killing the DIY industry (T-Shirt)

Carefully Selected Moments / CD, LP

Freedom is a whore of a word (T-Shirt)

#fullboycott

International Year of Polytheism 2007

For you (Short film)

Santa Claus Vs. Christkindl: A Mobster Battle

Could It Be (Video clip)

Pot Tin God

Hacking the Spaces

Kiki and Bubu and The Shift / Short film

Kiki and Bubu and The Privilege / Short film

Kiki and Bubu and The Self / Short film

Kiki and Bubu and The Good Plan / Short film

Kiki and Bubu and The Feelings / Short film

Sculpture Mobs

Nazi Petting Zoo / Short film

The Great Firewall of China

KPMG / Short film

The BRAICIN / Short film

Soviet Unterzoegersdorf / Sector 1 / The Adventure Game

I was a copyright infringement in a previous life (T-Shirt)

Brave New Pong

Leben ist LARPen e.V.

One Minute / Short film

Firing Squad Euro2008 Intervention

RFID Song

The Hackbus

A tribute to Honzo

Lessig ist lässig

I can count every star in the heavens above -- The image of computers in popular music

All Tomorrow's Condensations / Puppet show

Bye Bye / Short film

Revaluation

PC/DC patch

Proto-Melodic Comment Squad

myfacespace.com

The Redro Loitzl Story / Short film

Hax0rcise SCO

Law and Second Order (T-Shirt)

They really kicked you out of the Situationist International?

Death Special: Falco

Applicant Fisch / Short film

When I was asked to write about new economy

Taugshow #6

Taugshow #7

Taugshow #9

Taugshow #10

Taugshow #11

Taugshow #14

Taugshow #15

Campfire at Will

Arse Elektronika 2007, 2008, 2009 etc.

The Void's Foaming Ebb / Short film

Remoting Future

When you / Short film

Elf

Free Bariumnitrate

Toyps / Typing Errors

ARAD-II Miami Beach Crisis

The Charcoal Burner / Short film

Digital Culture In Brazil

Hegemonchhichi

Nation of Zombia

Lonely Planet Guide action

CSI Oven Cloth

Dept. of Applied Office Arts

Farewell to Overhead

Google Buttplug

Fieldrecording in Sankt Wechselberg / Short film

Dark Dune Spots

Campaign For The Abolition Of Personal Pronouns

Zeigerpointer

Space Tourism

In the Head of the Gardener

Entertainment (Unterhaltung) / Short film

Cthulhu Goatse

Nicholas Negroponte Memorial Cable

Coke Light Art Edition 06

Experience the Experience! (West Coast USA/Canada Tour 2005)

April 23

Overhead Cumshot

Irark / Short film

Wart

Instant Blitz Copy Fight

A Patriotic Fireman

A Micro Graphic Novel Project

Noise and Talk

The Exhilarator

H&M

The Flower Currency

Gastro-Art/Gastrokunst

A Holiday in Soviet Unterzoegersdorf

How does the Internet work?

Paraflows 2006 and up

Special Forces

Coca Cola

About Work

Turing Train Terminal

Me / Short Film

Massive Multiplayer Thumb-Wrestling Network

Doormat

Some Code To Die For

The Year Wrap-up

Soviet Unterzoegersdorf Metroblogging

Project Mendel

Display, Retry, Fail

Manifesto of Ignorantism

Actionfilm

Towers of Hanoi

Heisenberg

Opto-Hedonism

Every Five Seconds an Inkjet Printer Dies Somewhere

Milk

Mobutobe

Brandmarker

We know apocalypses

452 x 157 cm² global durability

A Good Haul

Blattoptera / Art for Cockroaches

Minus 24x

Gladiator / Short Film

Eden

An attempt to emulate an attempt

Paschal Duct-Taping

Laptop Crochetication

Russka

Somewhere in the 1930s

Soul Sale

The Department for Criticism against Globalisation

Dot Smoke

Georg Paul Thomann

Nurgel Staring

War On

Let's network it out

Nude

Mackerel Fiddlers

Whales

Disney vs. Chrusov / Short film

Bulk Mail

Easter Celebrations

Mouse Over Matter

Condolence for a Crab

Force Sting

Turning Threshold Countries Into Plows

System

A Noise

A. C. A.

Hopping Overland

Achy Breaky Heart Campaign

Hermeneutic Imperative III

Holy Water / Franchise

Roböxotica // Festival for Cocktail-Robotics

Spears

Engine Hood Cookies

Ikea

The Watch

Creative Industry 2003

This World

Cracked Foundation For The Fine Arts

Sometimes I feel

Fit with INRI

Growing Money

Catapulting Wireless Devices

Buried Alive

Illegal Space Race

Magnetism Party

Brick of Coke

1 Baud

Scrota Contra Vota

Direct Intervention Engine

Oh my God, they use a history which repeats itself! (T-Shirt)


---
---
---

.
.
.
.
.