SIERRA ZULU: project page online!
It is official, comrades!
We are working on our first feature-length film project.


Want to learn more about Sierra Zulu?
Visit our
project page
!
---
Hooray! New SUZ Game Blog!
The Soviet Unterzögersdorf Center of Data-Technology "SZCFDTTB" has sucessfully migrated the "old" blog from the reactionary "Blogger" syndicate to open source! Hooray!
---
Soviet Unterzoegersdorf @ ToorCamp 2009: A Triumphant Gala featuring Public Domain Clip Art
Finally, friends of Soviet Unterzoegersdorf, there is a video version of Ambassador Nikita Perostek Chrusov's uplifting talk about youth culture, communism and overthrowing "the system" at ToorCamp 2009! Embed! Embed! Embed! Link
---
Soviet Unterzoegersdorf Embassy @ HAR2009: Erected!
A great success of solidarity! Soviet Unterzoegersdorf's embassy at HAR2009 is finished. The confederation is proud and wants to thank its international supporters!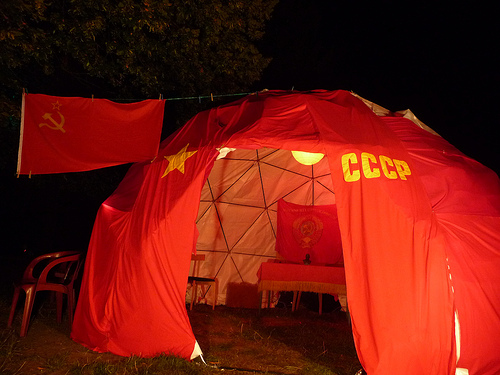 Link (Flickr)
---
Soviet Unterzoegersdorf @ HAR 2009
International technology & security conference. Four days of technology, ideological debates and hands-on tinkering. And we will not deny any rumors about a Soviet Unterzoegersdorf military intervention. August 13-16, 2009; Vierhouten, NL. Link
---
Soviet Unterzoegersdorf @ Toorcamp: A Triumphant Gala Using Public Domain Clipart
Let the proletarians sing with joy! Let us celebrate a glorious triumph! Soviet Unterzoegersdorf's ambassador Nikita Perostek Chrusov will be giving a speech at a former ICBM silo in Washington State! On the 4th of July! Surrounded by volcanic dust and libertarian nerds! The irony!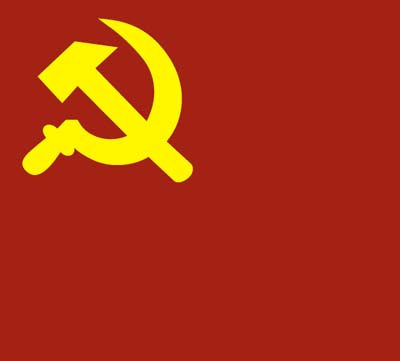 Saturday, 4th of July, 2009. Link
---
Live Stream from Soviet Unterzoegersdorf
Glorious technology! Ambassador Nikita Perostek Chrusov will be giving a live speech -- May 8, 2009! Through the vastness of time and space! Please pay him a virtual visit! 2100 hours Soviet Unterzoegersdorf Standard Time (9 PM Vienna Time).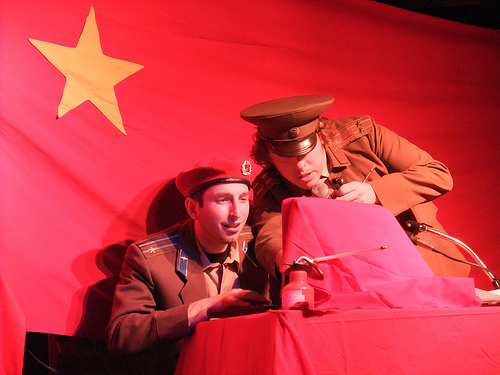 Where? Please visit dock18.ch!
---
Soviet Unterzoegersdorf @ Let's Restart!!!
Soviet Unterzoegersdorf (Sector I and II) will be presented as part of the group exhibition "Let's restart!!! Art Computer Game Show" in Leipzig, Germany. Other featured artists/art groups are Jim Andrews, Parangari Cutiri, retroyou.org (Joan Leandre) and Tiltfactor.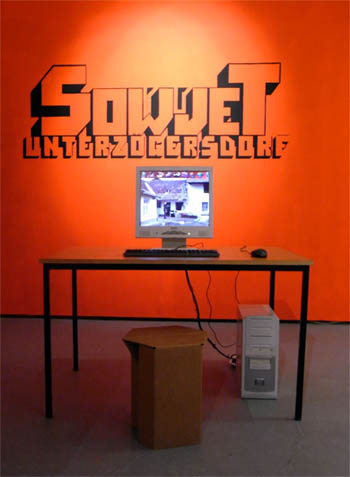 Where? D21 Leipzig. April 18-May 3, 2009. Thursday-Sunday, 1 PM-7 PM. Link
---
Soviet Unterzoegersdorf / Sector 2: Public Walkthrough
We are organizing the first (and maybe last) public walkthrough for "Soviet Unterzoegersdorf: Sector 2". Don't miss it, comrades! Lots of background info and unspoken secrets! Raum D, Museumsquartier, Vienna; April 9, 2009; 8 PM.
---
Soviet Unterzoegersdorf / Sector 2: Walkthroughs
Several very talented and brave individuals showed solidarity and created accurate (or at least: semi-accurate) walkthroughs for Soviet Unterzoegersdorf: Sector 2 (Version 1.2). If you are a gaming-impaired comrade, please go ahead and use them. You know, communism supports the weak and the strong. Dutch walkthrough English walkthrough German walkthrough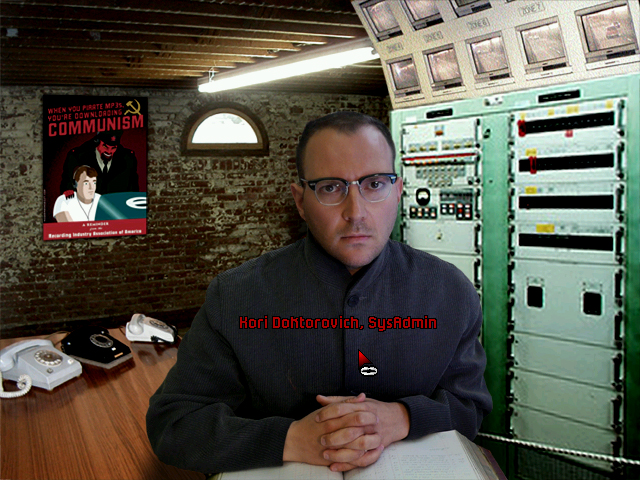 ---