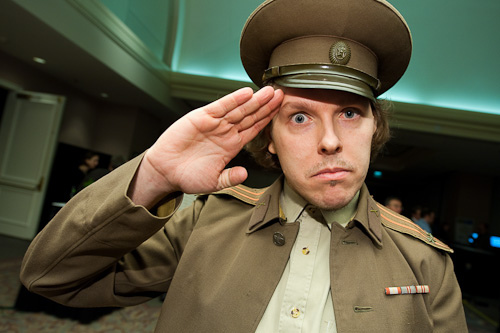 His Excellency Commissar Nikita Perostek Chrusov of Soviet Unterzoegersdorf will be giving a motivational speech and hands-on demonstration at Connecting Cottbus in Cottbus (Eastern Germany). He will be joined by Sierra Zulu's producer Sabine Gruber.
The aim of this military exercise is to improve international cooperation and financial stability.
Connecting Cottbus is an East-West co-production market which paves the way for ideas to be realized. Producers could submit new feature film projects together with their screenwriter or director. An expert jury selects the projects which are presented to the professional audience of experienced producers, buyers and financiers – often for the first time outside of the home country.

The audience reaction soon makes it clear whether the project will have a chance of finding its audience in the various countries. Topical insights into the production landscape of East and Central European countries are offered in discussions and case studies. Over time, not only exiting co-productions but also a lively network have been created between Eastern and Western Europe.
November 1-4, 2011.
Link