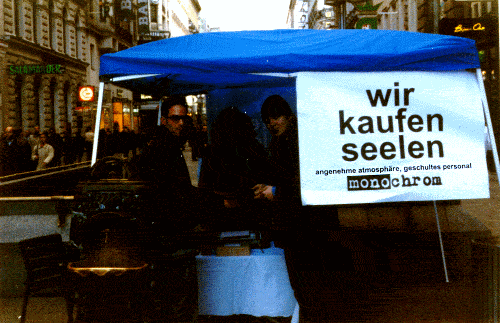 "For the average person the soul is that which the pedestrian zone is for a city. During the day business is booming, but after the shops have closed there are only a few scruffy looking guys lurching around." (Max Goldt in "Ae")
---

City Clerk Novak (Tel. +43 1 4000 92221) issued a permit (in the presence of a representative of Vienna's First District Council, a representative of Municipal Department 22 and the Pol. Dion. Pol. Koat. for the First District) to the Association for the Advancement of Selective Reception Research in View of Futurological Concerns for 1 Nov. 1998 (12 p.m. to 6 p.m.) permitting the erection of two tables/sun umbrellas/poster stands at the First District's place of assembly, Stock-im-Eisen-Platz by the fountain next to the Kärntnerstrasse metro entrance, for the purpose of acquiring souls.

---

Contract / Example (C. Töpfner)

---

Most respected ladies and gentlemen,

It was a glorious day for the consumers of Central Europe. The spirituo-capitalist stand was only open for six hours; nonetheless it was a significant success. Many passers-by in the centre of Vienna did in fact have enough time to enter into business dealings with us for ATS 50 ($ 3.50)



The majority of the passers-by addressed were grotesquely upset and scuttled away in childish panic ("I'll go and have a coffee first, okay?"). The so-called 'liberal students' also proved to be very obdurate, just like the "'Bad Religion'-t-shirt-pentagram-chain-punk-metal" faction. Often the personnel had to put up with insults ["Are you out of your tree?" – "Yeah, but you're healthy otherwise, aren't you?" – "Leave me alone!" – "I wouldn't think of it; I barely know you." – "So I fall over dead right here, no way!" ...] as well as repeated loud namings of female and male sexual organs and faecal matter. We were also forced to contend with indoctrinated protective mechanisms that seriously interfered with business and cost precious time. Shortly before the closing of the deal, faces become pale, and often contracts even had to be annulled. Several potential sellers were led into St. Stephen's Cathedral by a devout Christian woman for the purpose of inquiring with the clergy whether the Church would offer a better price. A young man who had just sold his soul bought it back again ten minutes after the contract had been signed, paying ATS 100 ($ 7.00). The aforementioned Christian also attempted to restrain various candidates from signing the contract, at times using physical force. She also harassed our customers, often following them for several blocks and in a number of cases tearing up signed contracts. They had to be reissued. Although summoned, the Vienna police did not see fit to intervene.
Despite the scarcity of serious offers, the team remained selective. Not all of the souls offered were actually bought. Using his divining rod, Harald "Homolka" List did a professional job of insuring quality. Many passers-by misused the free soul test without any intention of selling. Preventive measures will be taken immediately against such misuse.



A total of fifteen high-quality souls were purchased and registered. These souls will now be offered for sale to third parties with power of disposal. We understand the project – beyond all philosophical discourses and argumentation seeking to prove God's existence – in the classical sense of a market driven by supply and demand. The soul is a tradable commodity, a form of virtual capital.


---
Soul Information
Invoice Number / Name / Date of Birth / City
---

01 . Christian Töpfner . 1975 . Vienna
02 . Martin Hilpold . 1973 . I-39011 Lana
03 . Volker Piringer . 1976 . Vienna
04 . Valentin Hauser . 1980 . Vienna
05 . Maximilian Kigl . 1983 . Vienna
06 . Sabine Gomayer . 1983 . Vienna
07 . Barbara Kaiser . 1972 . Vienna
08 . Fahem Amir . 1978 . Vienna
09 . Julia Zwölfer . 1922 . Baden
10 . Willhelm Zaillthal . 1921 . Vienna
11 . Kassian Troyer . 1977 . Vienna
12 . Jörg Piringer . 1974 . Vienna
13 . Michael Kostner . 1971 . Vienna
14 . Lukas Szopa . 1983 . Vienna
15 . Susanne Luschin . 1966 . Vienna
---
Please email to soul [at] monochrom [dot] at
Minimum bid is 20 EUR per soul:
Soul bids so far:
Jörg Piringer: EUR 130
Barbara Kaiser: EUR 239
Maximilian Kigl: EUR 184
Julia Zwölfer: EUR 1050
Wilhelm Zaillthal: EUR 2500
Susanne Luschin: EUR 170
Christian Töpfner: EUR 225
Fahem Amir: EUR 430
Sabine Gomayer: EUR 42
Lukas Szopa: EUR 50
---
A project of

group
(proud of its flat hierarchies and distributed decision making processes)