---
Arse Elektronika 2015: SHOOT YOUR WORKLOAD / Sex, work and tech / Call for submissions
Arse Elektronika San Francisco 2015
SHOOT YOUR WORKLOAD
SEX, WORK AND TECH.
October 2-4, 2015 in San Francisco, USA.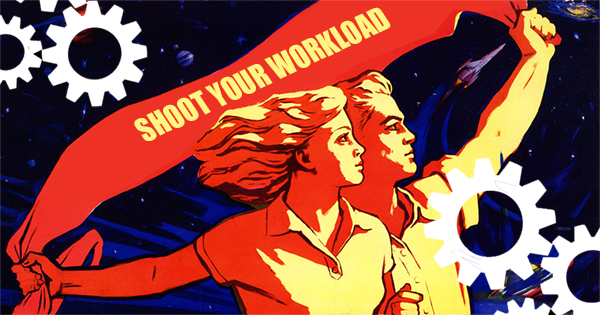 * How can we change work structures in the sex tech field. Is DIY really so revolutionary, or are we just tinkering around with our misery?
* Work and labor struggle and exploitation in sex tech. What to do about dildo sweatshops?
* What are the correlations of technology and sex work?
* Some research suggests that different sexual dynamics prevail in traditional breadwinner households. What sexual dynamics might proliferate in an economy of widespread automation and basic income, in a society where "having a job" becomes increasingly antiquated?
* What is emotional labor to a chatbot?
* What about the connection between 'work' and active/passive dichotomies in sex? What is the invisible work of bottoms and subs, and how might it be better recognized?
* What do you do with your sex when it stops working?
* How is silicone working out for the environment? We know silicone is inert, versatile, non-toxic, and body safe as an object but what is our collective exit strategy for the e-waste & non-biodegradable leftovers of sex toy boom? How are silicone lubricants (and other health & beauty uses) interacting with the water supply once they're washed down the drain?
* What work goes into the extraction of raw resources, such as the rubber tree plantations of South America that make our condoms and catsuits? How do you go from a rubber tree to a rubber dildo?
* How can we work out irreconcilable political differences to protect common interests for our sexual and reproductive health?
* How much sex does it take to power a light bulb? Can fucking charge a battery? Could we power electronics with our sex lives?
* What happens when your recreational sex life gets you fired? (Definitely blowing your work load!) How do you get back to work after a sexual scandal?
* How does activism focused around sexual orientation work with or against activism focused around gender identity? (e.g., In what ways has the fight for marriage equality worked for and/or against the fight for transgender rights?)
* How do we create toys that improve how sex works for folks with disabilities?
* How does your sexuality-related activism add to your emotional workload?
* What happens when your recreational sex life starts to feel like work?
* Is making sex toys a good thing in a world already full of plastic junk? Is there another way? Biodegradable sex toys?
* Can someone please do something about this FUCKING PATENT TROLL?!?!
* Is patenting sex toys a special kind of evil?
* Is any of this smart sex toy stuff leading to Rise of the Machines?
* Would Comrade Lenin approve of all of this?

Submit a talk, a performance, a game, a workshop, a machine, a system!

Deadline: August 31, 2015.
Our selection will be announced early September, 2015. (Yes, yes, we can do that fast!)

For questions, please email: office AT monochrom.at
---
Real oldschool: monochrom in ANSI

History! We found an old monochrom ANSI logo in the depths of Rainer Fuegenstein's archives. It was our first monochrom message board and info site on the Stock City BBS --- pre-WWW!

---
Arse Elektronika 2015: Dates!

Finally we have dates!
October 2-4, 2015 at the the Center for Sex and Culture in San Francisco!
Cheers!
---
Pittsburgh CityPaper recommends Gstettensaga

PGH CityPaper has our film "Die Gstettensaga" as one of their recommendations of the week!
Underground accolades accompany Die Gstettensaga: The Rise of Echsenfriedl, a 2014 indie horror flick from Austria getting its local premiere. The darkly comic film is set in the aftermath of apocalyptic warfare between superpowers China and ... Google, as a journalist and a technician traverse the hinterlands to find a legendary character. The festival favorite won Best Narrative Feature at Colorado's Maker Film Festival, and critic Cory Doctorow calls writer-director Johannes Grenzfurthner "a brilliant lunatic of surpassing and delightful weirdness." Meet Grenzfurthner at the Q&A after tonight's free, VIA-sponsored screening at Melwood Screening Room. BO 7:30 p.m. 477 Melwood Ave., Oakland. Free (18 and over)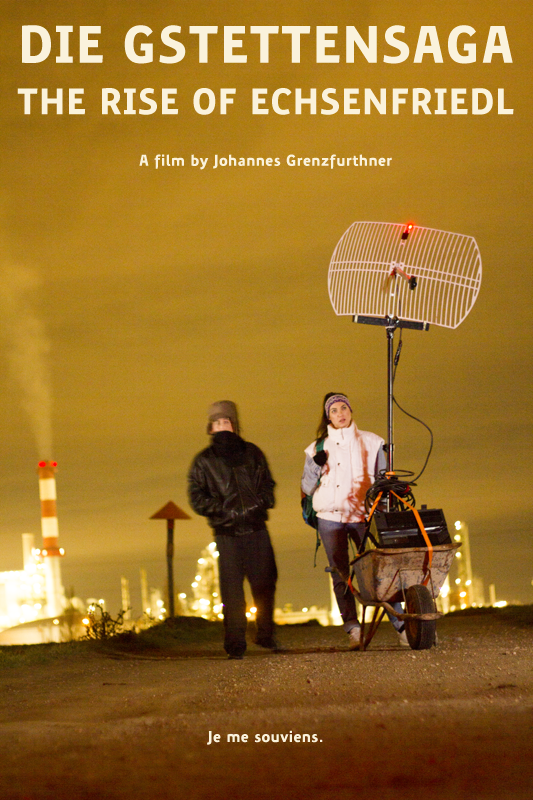 Link
---
Boing Boing recommends "Zardoz is pleased" (Zardoz Vs. ET)

Cory Doctorow of Boing Boing recommends "Zardoz is pleased"!

Hi-resolution reproduction of original oil painting from 2015.

Created by Johannes Grenzfurthner (of monochrom) and Cha
Johannes Grenzfurthner: http://www.grenzfurthner.com
Cha (contact): yan AT monochrom.at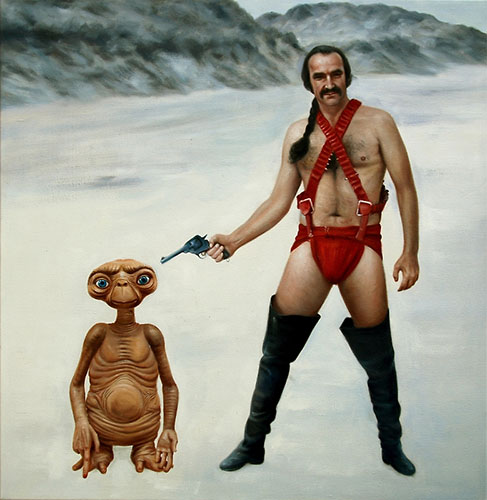 Link
---
Zardoz is pleased: monochrom's Johannes Grenzfurthner and Cha present someone who just wants to phone home

It's actually pretty easy: a) The penis is evil. b) Don't destroy the Vortex. c) Phone home.
But our little friend had to learn his lesson the hard way. Is there more to say?

Hi-resolution reproduction of original oil painting from 2015.

Created by Johannes Grenzfurthner (of monochrom) and Cha

Johannes Grenzfurthner: http://www.grenzfurthner.com
Cha (contact): yan AT monochrom.at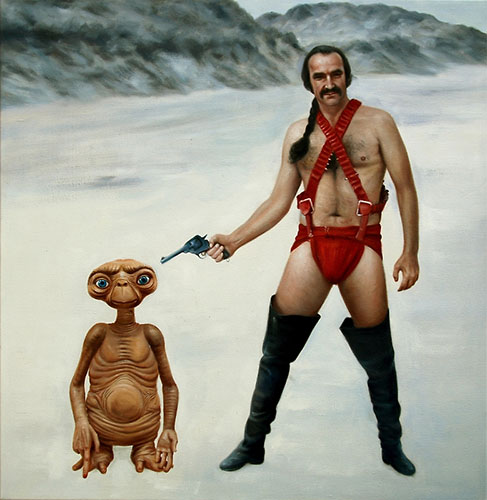 Link to products (posters, mugs, shirts, pillows, duvets, leggins, all you can wish for!)


---
"Die Gstettensaga" in Pittsburgh (at Pittsburgh Filmmakers)

"Die Gstettensaga" will be shown in Pittsburgh! And Johannes Grenzfurthner will be present to talk about monochrom and "Die Gstettensaga".

When, where? April 30, 2015, 7:30 pm at Pittsburgh Filmmakers (477 Melwood Ave, Pittsburgh, Pennsylvania 15213, USA).
---
monochrom in Boston: Context Hacking @ Boston University

A talk by Johannes Grenzfurthner, monochrom.
The term "context hacking"—like its older mimetic sibling "communication guerilla"—refers to unconventional forms of communication and/or intervention in more conventional processes of communication. Context hacking is a specific style of political action drawing from a watchful view of the paradoxes and absurdities of power, turning these into the starting point for interventions by playing with representations and identities, with alienation and over-identification.
Johannes Grenzfurthner will present some projects by monochrom, a worldwide operating collective from Vienna dealing with technology, art, and philosophy that was founded in 1993. The group specializes in an unpeculiar mixture of proto-aesthetic fringe work, pop attitude, subcultural science, and political activism. Their mission is conducted everywhere, but first and foremost "in culture-archaeological digs into the seats (and pockets) of ideology and entertainment."

April 11, 2015, 6 pm at Boston University Room B50, Stone Science Auditorium, 675 Commonwealth Avenue, Boston MA, USA.
---
"It's a bug hunt!!" featured in 'The Art of Future Warefare'

Indeed! 'The Art of Future Warefare' featured our little mash-up!
Artists Johannes Grenzfurthner and James Brothwell from monochrom have taken the iconic M41A rifle from the 1986 film Aliens and placed it in the hands of a Muppet — Kermit The Frog. The incongruous 1950s style pop art drawing is titled It's A Bug Hunt — fitting given a frog's natural appetite and Kermit's origins in that post-war decade. Those who have seen the film will recall the memorable line uttered by the film's laconic Corporal Hicks, a United States Colonial Marine who sees through his commanding officer's spin on their orders to investigate some kind of alien life form, a xenomorph. In the end, the 22nd Century's most advanced weapons and fiercest fighters are no match for what they find.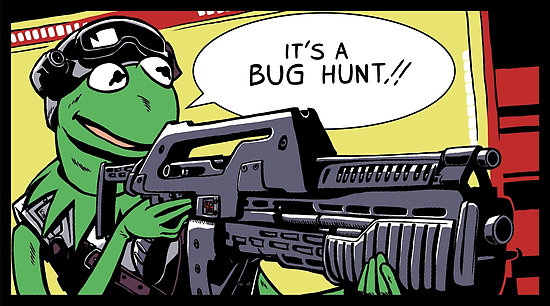 ---
Traceroute: We finished our documentary roadtrip

Eddie Codel, Jenny Marx and Johannes Grenzfurthner finished their 7000 miles roadtrip for the upcoming documentary "Traceroute" --. and what a journey it was! We will keep you updated!

"Traceroute: A Personal Journey Full Of Dangers, Creatures And More Or Less Precarious Working Conditions"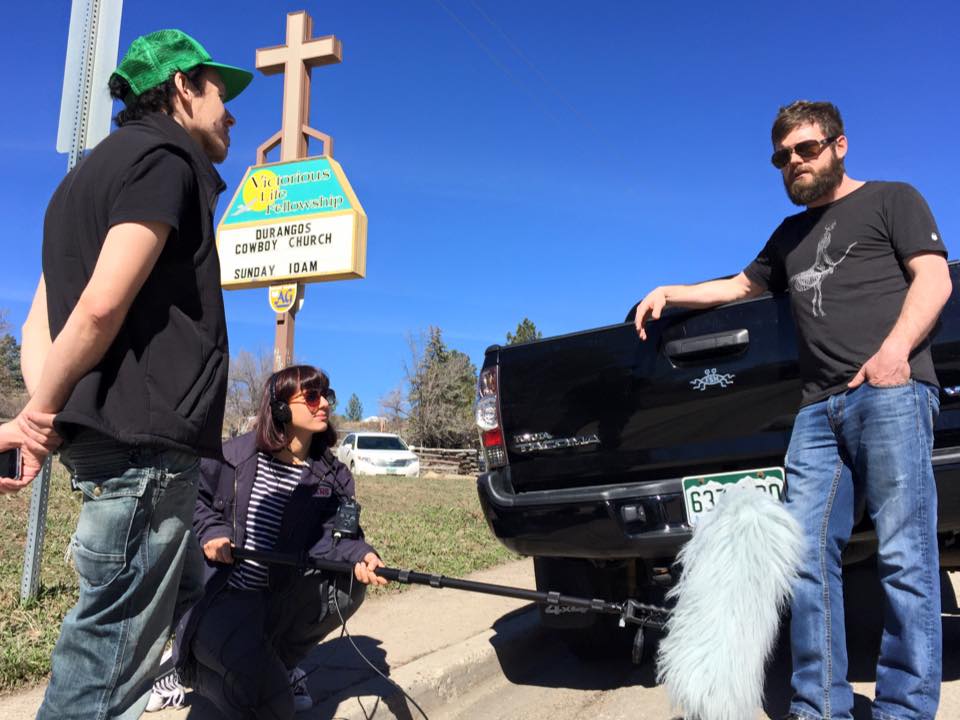 Link (Page)
Link (Facebook)
Link (IMDb)


---
Interview with Johannes Grenzfurthner in Makeplus (Chinese)

Pretty detailed interview with Johannes Grenzfurthner in Makeplus (Chinese).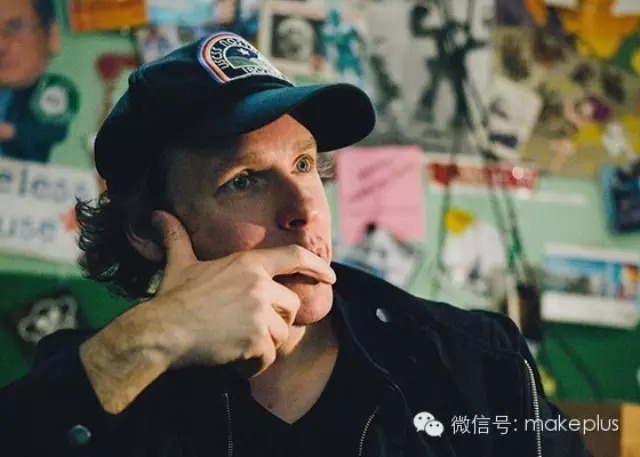 Link
---
"Die Gstettensaga": We got a honorable mention at 'The DIY Film Festival 2015' in Los Angeles

"Die Gstettensaga: The Rise of Echsenfriedl" "Gstettensaga" got a "honorable mention" at the DIY Film Fest in Los Angeles.
The award ceremony was held in LA, March 6, 2015.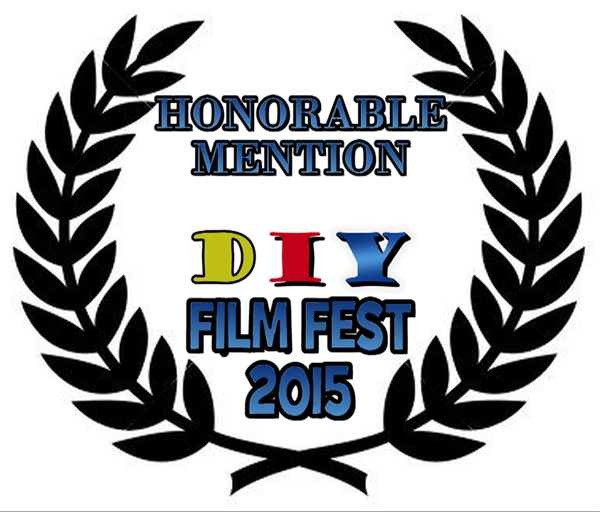 Link
---
Arse Elektronika: Sex, Tech and the Future of Screw-It-Yourself @ CMU Pittsburgh

A little lecture performance by Johannes Grenzfurthner / monochrom, as part of Paolo Pedercini's class at CMU.
We may not forget that mankind is a sexual and tool-using species.
From the depiction of a vulva in a cave painting to the newest internet porno, technology and sexuality have always been closely linked. New technologies are quick to appeal to pornography consumers, and thus these customers represent a profitable market segment for the suppliers of new products and services.
Currently, all factors show that high-tech developments owe a great deal of their success to the need for further sexual stimulation. One could cite the example provided by the science-fiction concept of a full-body interface designed to produce sexual stimulation. But it isn't science fiction anymore. It's DIY.
As bio-hacking, sexually enhanced bodies, genetic utopias and plethora of gender have long been the focus of literature, science fiction and, increasingly, pornography, this year will see us explore the possibilities that fictional and authentic bodies have to offer. Our world is already way more bizarre than our ancestors could have ever imagined. But it may not be bizarre enough. "Bizarre enough for what?" -- you might ask. Bizarre enough to subvert the heterosexist matrix that is underlying our world and that we should hack and overcome for some quite pressing reasons within the next century. Don't you think, replicants?
February 24, 2015, 6:30 PM on CMU main campus in Pittsburgh/USA, College of Fine Arts building, 3rd floor, room 307.


---
"Die Gstettensaga": Finalist at 'The DIY Film Festival 2015' in Los Angeles

"Die Gstettensaga: The Rise of Echsenfriedl" is a finalist at the 'DIY Film Festival' in Los Angeles. We are nominated for "Best Film".
The award ceremony will be held in LA, March 6, 2015.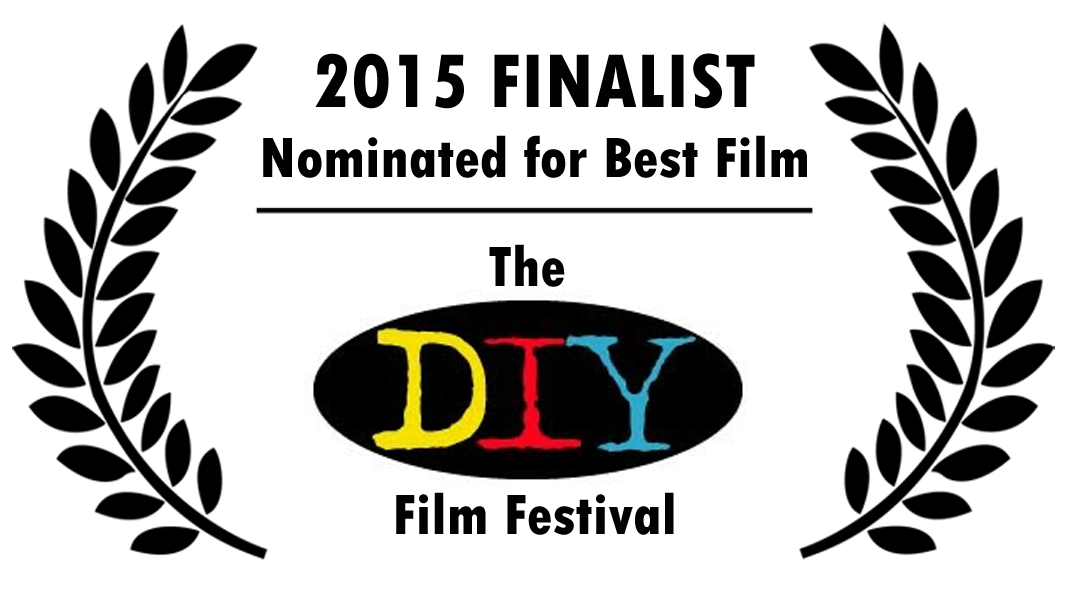 Link
---
TimeOut Israel interviews Johannes Grenzfurthner about sex, tech and Arse Elektronika


Link
---
[Archive]
---
---
---
---
---
---
---
---
---
---
---
---
---
---
---
---
---
---
.
.
.

---
---
---

Traceroute (Documentary feature, in the making)

Die Gstettensaga: The Rise of Echsenfriedl (Feature film)

Zardoz is pleased

It's a bug hunt!! (Kermit goes Aliens)

The Man (Short film)

Dogs Playing D&D

Venus of Strapondorf

Nothing To Hide (Documentary feature film)

ProPool

23 Works (Short films)

Wellness As Usual

Context Hacking (Essay)

Context Hacking (Reader)

The Altogether Horrid Street Ballad Of Paratii

Earthmoving (Short film)

Sierra Zulu (Feature film project)

Hedonistika

Enforce (Short film)

Carpet (Short film)

They used to be better

Video Jingle(s)

monochrom's ISS

Soviet Unterzoegersdorf / Sector 2 / The Adventure Game

Lidl-Girl (Music video)

Rated R Us

Portraying The Terran Condition (Game)

alt.backen: monochrom's early phase picture begging outreach interface

Antidev

Title Sequence

monoleaks

Operation Overhead

Dismalware

Tasty (Short film)

The Earth Has Been Destroyed (Music video)

Six Feet Under Club

Krach: Anderswo (Single)

monochrom's Raw Image Format / Archive

Climate Training Camp

Soviet Unterzoegersdorf vs. Cheetos (Short Films, Ads)

Krach der Roboter: Hello World!

BP, listen up!

Wikileaks: The Ballet (feat. Unicorns)

Google Wars / RPG Extravaganza

Slacking is killing the DIY industry (T-Shirt)

Carefully Selected Moments / CD, LP

Freedom is a whore of a word (T-Shirt)

#fullboycott

International Year of Polytheism 2007

For you (Short film)

Santa Claus Vs. Christkindl: A Mobster Battle

Could It Be (Video clip)

Pot Tin God

Hacking the Spaces

Kiki and Bubu and The Shift / Short film

Kiki and Bubu and The Privilege / Short film

Kiki and Bubu and The Self / Short film

Kiki and Bubu and The Good Plan / Short film

Kiki and Bubu and The Feelings / Short film

Sculpture Mobs

Nazi Petting Zoo / Short film

The Great Firewall of China

KPMG / Short film

The BRAICIN / Short film

Soviet Unterzoegersdorf / Sector 1 / The Adventure Game

I was a copyright infringement in a previous life (T-Shirt)

Brave New Pong

Leben ist LARPen e.V.

One Minute / Short film

Firing Squad Euro2008 Intervention

RFID Song

The Hackbus

A tribute to Honzo

Lessig ist lässig

I can count every star in the heavens above -- The image of computers in popular music

All Tomorrow's Condensations / Puppet show

Bye Bye / Short film

Revaluation

PC/DC patch

Proto-Melodic Comment Squad

myfacespace.com

The Redro Loitzl Story / Short film

Hax0rcise SCO

Law and Second Order (T-Shirt)

They really kicked you out of the Situationist International?

Death Special: Falco

Applicant Fisch / Short film

When I was asked to write about new economy

Taugshow #6

Taugshow #7

Taugshow #9

Taugshow #10

Taugshow #11

Taugshow #14

Taugshow #15

Campfire at Will

Arse Elektronika 2007, 2008, 2009 etc.

The Void's Foaming Ebb / Short film

Remoting Future

When you / Short film

Elf

Free Bariumnitrate

Toyps / Typing Errors

ARAD-II Miami Beach Crisis

The Charcoal Burner / Short film

Digital Culture In Brazil

Hegemonchhichi

Nation of Zombia

Lonely Planet Guide action

CSI Oven Cloth

Dept. of Applied Office Arts

Farewell to Overhead

Google Buttplug

Fieldrecording in Sankt Wechselberg / Short film

Dark Dune Spots

Campaign For The Abolition Of Personal Pronouns

Zeigerpointer

Space Tourism

In the Head of the Gardener

Entertainment (Unterhaltung) / Short film

Cthulhu Goatse

Nicholas Negroponte Memorial Cable

Coke Light Art Edition 06

Experience the Experience! (West Coast USA/Canada Tour 2005)

April 23

Overhead Cumshot

Irark / Short film

Wart

Instant Blitz Copy Fight

A Patriotic Fireman

A Micro Graphic Novel Project

Noise and Talk

The Exhilarator

H&M

The Flower Currency

Gastro-Art/Gastrokunst

A Holiday in Soviet Unterzoegersdorf

How does the Internet work?

Paraflows 2006 and up

Special Forces

Coca Cola

About Work

Turing Train Terminal

Me / Short Film

Massive Multiplayer Thumb-Wrestling Network

Doormat

Some Code To Die For

The Year Wrap-up

Soviet Unterzoegersdorf Metroblogging

Project Mendel

Display, Retry, Fail

Manifesto of Ignorantism

Actionfilm

Towers of Hanoi

Heisenberg

Opto-Hedonism

Every Five Seconds an Inkjet Printer Dies Somewhere

Milk

Mobutobe

Brandmarker

We know apocalypses

452 x 157 cm² global durability

A Good Haul

Blattoptera / Art for Cockroaches

Minus 24x

Gladiator / Short Film

Eden

An attempt to emulate an attempt

Paschal Duct-Taping

Laptop Crochetication

Russka

Somewhere in the 1930s

Soul Sale

The Department for Criticism against Globalisation

Dot Smoke

Georg Paul Thomann

Nurgel Staring

War On

Let's network it out

Nude

Mackerel Fiddlers

Whales

Disney vs. Chrusov / Short film

Bulk Mail

Easter Celebrations

Mouse Over Matter

Condolence for a Crab

Force Sting

Turning Threshold Countries Into Plows

System

A Noise

A. C. A.

Hopping Overland

Achy Breaky Heart Campaign

Hermeneutic Imperative III

Holy Water / Franchise

Roböxotica // Festival for Cocktail-Robotics

Spears

Engine Hood Cookies

Ikea

The Watch

Creative Industry 2003

This World

Cracked Foundation For The Fine Arts

Sometimes I feel

Fit with INRI

Growing Money

Catapulting Wireless Devices

Buried Alive

Illegal Space Race

Magnetism Party

Brick of Coke

1 Baud

Scrota Contra Vota

Direct Intervention Engine

Oh my God, they use a history which repeats itself! (T-Shirt)


---
---
---

.
.
.
.
.