---
Glossary of Broken Dreams: Almost done!

Some folks were already asking: "What are you working on? Why are you so quiet about your current film project? What happened to your film about Tycho Brahe?"
Well... we still needed some more money for Tycho, but in July we learned that the goddamn ORF declined to support us -- and we had to postpone the whole production for a year.

I was so mad and frustrated that I decided: fuck it all. I will do another film, right now, just for my creative sanity. So I created... GLOSSARY OF BROKEN DREAMS.

I just started working. I asked friends for their help, and I'm glad they were kind and supportive. The really cool thing was: I simply kept working and working and working without asking anyone for permission, without writing yet another godforsaken grant application, and I didn't give a damn what people might think about the project. No target audience, no marketing strategy, no necessity to please juries, nothing. I made the film that I wanted to make. And I did it with my friends... in roughly five months.
99 minutes runtime.
I am very grateful for that.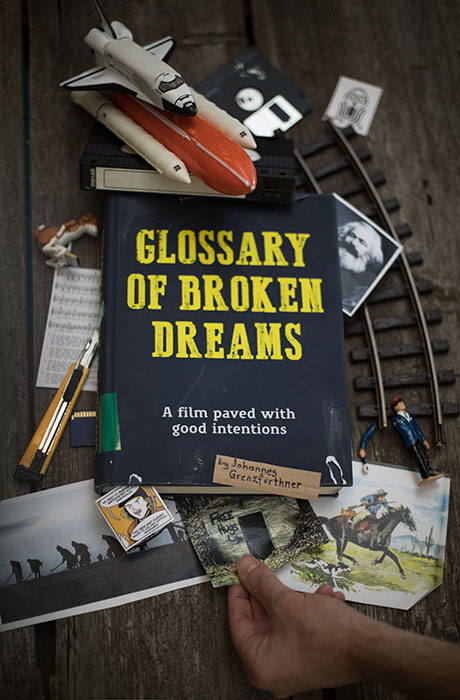 GLOSSARY OF BROKEN DREAMS is an ideotaining cinematic revue about important political concepts. Everyone is talking about freedom! Privacy! Identity! Resistance! The Market! The Left! But, yikes, I couldn't tolerate ignorant and topically abusive comments on the "Internet" anymore! Supported by my good friend and intellectual sparring partner Ishan Raval, I try to explain, re-evaluate, and sometimes sacrifice political golden calves of discourse.
It features puppets! And anime! And pixel animation! And live-action! And stock footage!

Many thanks to my performers and artistic collaborators:

Amber Benson, Max Grodénchik, Jeff Ricketts, Jason Scott, Stefanie Sargnagel, Gerald Votava, Robert Stachel, Stuart Freeman, Katharina Stemberger, Conny Lee, Jolyne Schlien Schürmann, Hannes Duscher, Roland Gratzer, Alexander Fennon, Michael J. Epstein, Michael Smulik, Kudra Owens, Martin Auer, David Dempsey, Anna Behne... and many others.



Color grading is done. Couple more days of sound design and mastering and GLOSSARY OF BROKEN DREAMS will be ready for the festival season.

---
Traceroute made it into the semi-finalist list at Filmplus Festival

Wow. Filmplus is a film festival honoring film editing and montage.
It's quite an honor to be on a list with Monika Willi, for Christ's sake!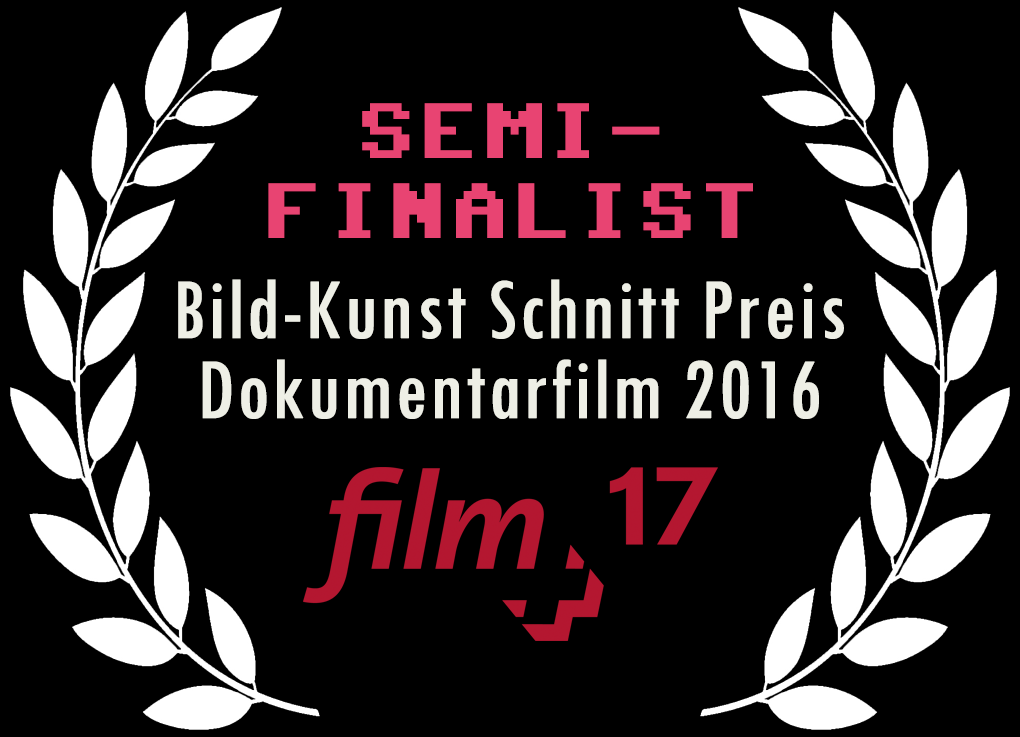 ---
Therapeutic Arson

Johannes always wanted to start a band with that name. Never did. Well, at least he has merch for it now.
Design is based on work by the wonderful Josh Ellingson.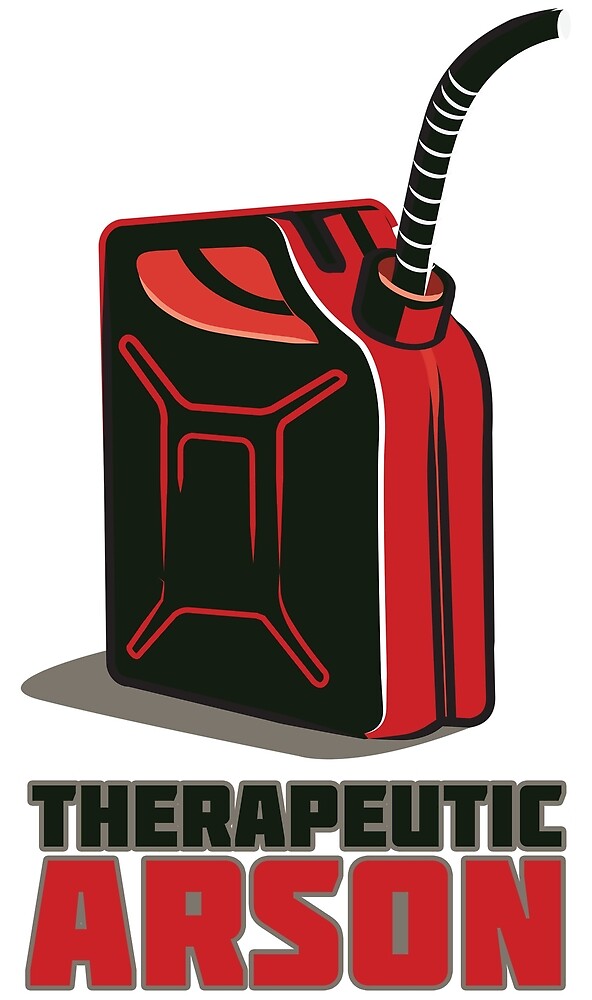 On skirts, shirts, mugs, stuff.
Link
---
Wild Thing

A little cut-cup design based on the layout of an article about feral children. (Johannes created that layout for monochrom #15-23).
On shirts, leggins, skirts, mugs, whatever.
Link
---
No name is higher

A message for believers.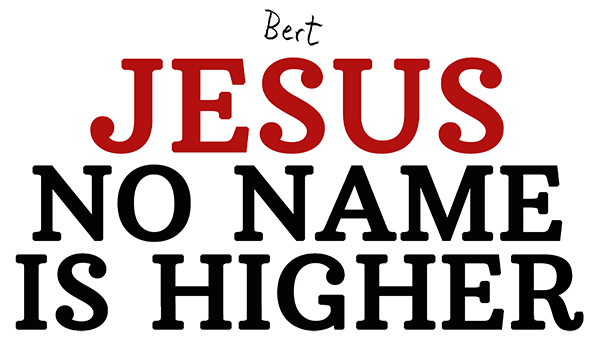 Available on shirts, mugs, posters, whaterver.

Link
---
ALF: A Clockwork Orange

"There was me, that is ALF, and my droogs, trying to make up our rassoodocks what to do with the evening."
Created by Johannes Grenzfurthner (of monochrom) and James Brothwell (of Impeccable Flith)
Johannes Grenzfurthner:
http://www.grenzfurthner.com
James Brothwell:
http://www.impeccableflith.com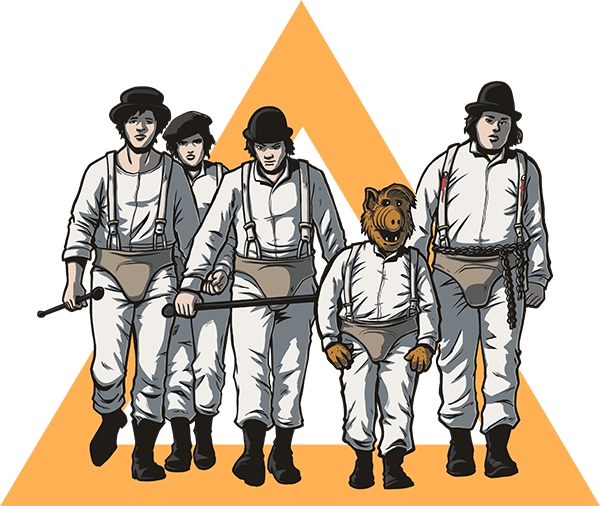 Available on shirts, mugs, posters, whaterver.

Link
---
Sleep. No more.

It's a collage. A COLLAGE!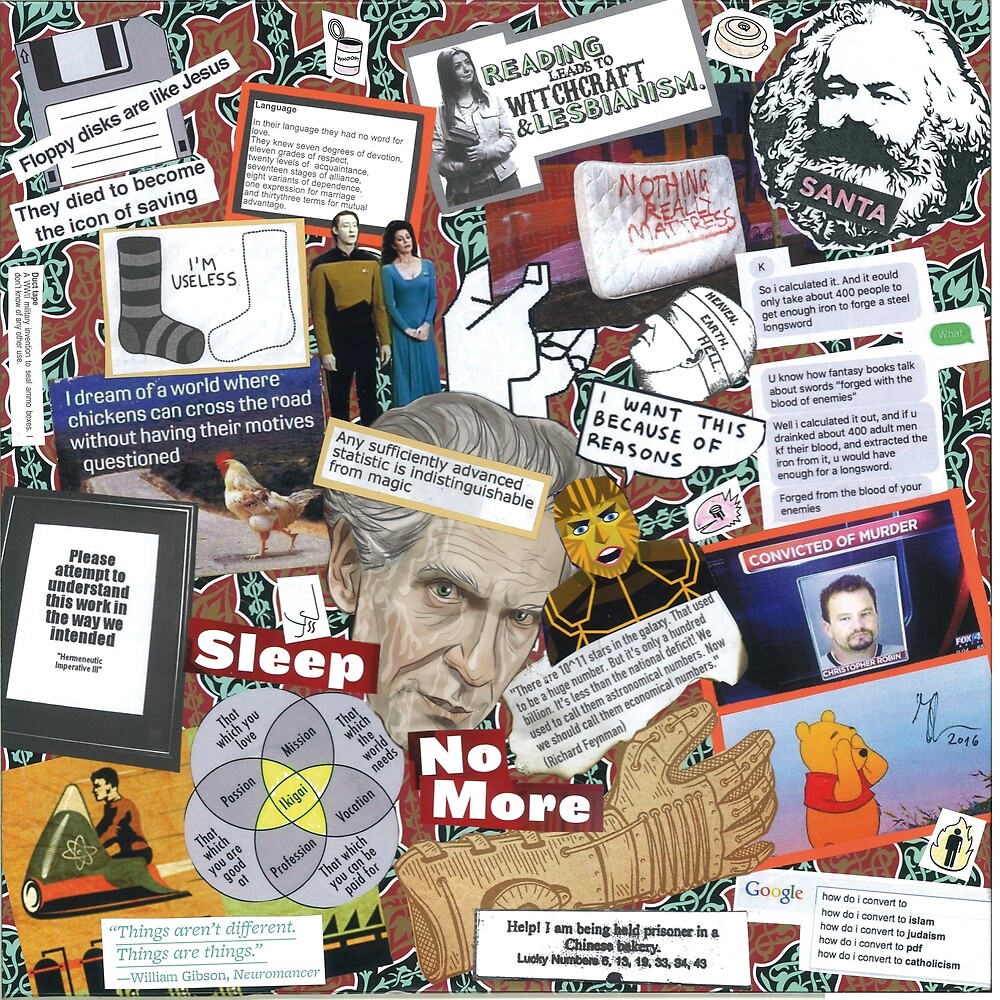 Available on shirts, mugs, posters, whaterver.

Link
---
Photoshop LAYER

Photoshop LAAAAAAAYER was first available in Adobe Photoshop 3.0 in 1994. That rocks.


Available on shirts, mugs, posters, whaterver.

Link
---
User review of Traceroute... makes us cry tears of joy

User "Pepe F" writes about Traceroute on Rotten Tomatoes. Read.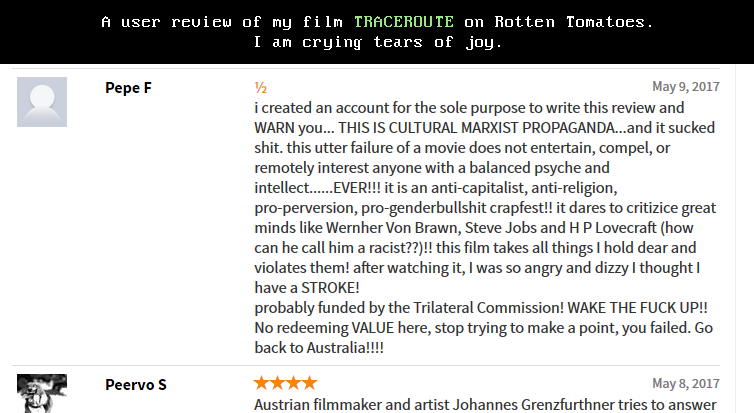 ---
Traceroute: VOD options

Traceroute is available on Vimeo On Demand and Amazon USA/UK/DE!





For DRM-free download deals please contact us (traceroute AT monochrom.at).
---
Film Threat: Feature about Johannes Grenzfurthner and Traceroute

Wow!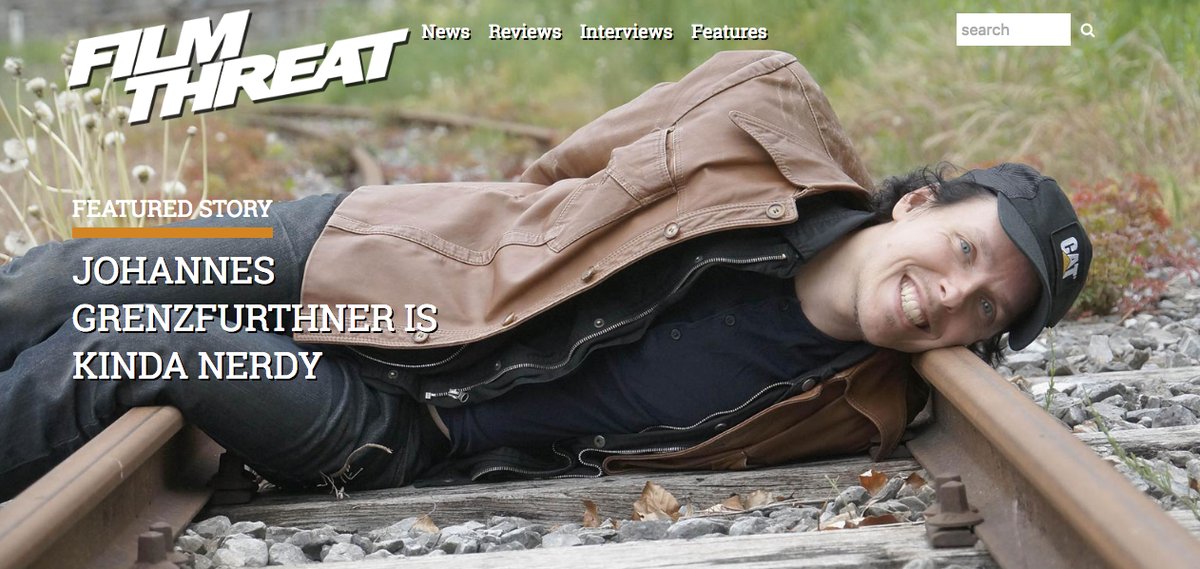 Johannes Grenzfurthner was born in 1975 and grew up in the Austrian boondocks in a small town called Stockerau. Out of the womb, Johannes was drawn to nerd culture. "I grew up with only two TV channels, and I was very happy my dad got a VHS recorder as early as 1980. It opened up a whole new telematic (as it was called back then) reality for me. I could record TV on a tape, and watch it later! Whoa! And in 1983, the first video rental store opened in my hometown, the same year as the first Chinese restaurant. That was something."

Like many geeks who grew up in the 1980s, he experienced geek culture at the beginning… before the dark times, before Disney bought, well, everything. "I wasn't allowed to go to the cinema, but my parents didn't care about my video consumption. I had a great variety of films I could pick from on tape. Close Encounters of the Third Kind stunned me, Convoy and Capricorn One made me cry for justice, and Poltergeist terrified the living, scrape-your-face-off shit out of me. And I remember when I first rented Alien. I couldn't wait to get home and see it. But at the point where the beast should have burst out of the guy's chest, there was nothing left to see except interference. All the freak-fans who had previously rented the movie had rewatched that scene so often that the tape was completely buggered. Oh my. Still, I had night terrors for days."

Johannes' interest in nerd culture was something of an obsession. "I was always interested in obscure crap. I loved science fact (Carl Sagan is still my only media idol) and science fiction, especially John Brunner and William Gibson. I always felt like a nerd, although there was no word for it in German. Later, on US Bulletin Board Systems, I learned about the term and immediately embraced it."

Johannes Grenzfurthner is as much an artist as he is a nerd. His feature documentary Traceroute (which received a rave review right here on Film Threat) is now available for digital download and the movie is a pure delight for anyone immersed in all things about nerd culture from movies to technology, the internet and even sex. In this exclusive interview, Johannes reveals what it's like to see the world wearing glasses attuned to seeing the positively geeky side of everything in life.

[...]
---
Traceroute: download it on Vimeo On Demand

Important message from Johannes Grenzfurthner...
Finally! My nerd culture documentary TRACEROUTE can be downloaded on Vimeo On Demand. It was quite a challenge creating it -- and huge thanks to all the folks who supported me... during the road trip and afterwards in post-production.

I hope you consider buying or renting it. Would mean a lot to me.
(And in case you want a DRM-free option, contact me.)

Shout-out to the great staff at Video Caption Corporation for providing us excellent subtitling/CC service!
---
Film Threat reviews Traceroute: 10/10!

Bradley Gibson of Film Threat gave Traceroute 10 of 10 points. Damn!
Traceroute is the most fun I've ever had watching a documentary. If you're a nerd (and you are) this is the road trip you've always wanted to take with your smartest, geekiest friend. You're not going to want to come home. It's Cosmos. It's DragonCon on wheels. It's your favorite sex fantasy. It's alcohol soaked nonviolent subversive protest mobile and WiFi linked. It's On The Road updated with tech, science, pseudoscience, sex, and fandom. This is Sheldon Cooper, Stan Lee, and your favorite Suicide Girls showing up at your door with an electric supercar, a bag of legal weed, and a cooler full of jello shots. No, this is Doc Brown showing up in the DeLorean saying "Where we're going we don't need roads." This is Buckaroo Banzai texting to ask you if everything is ok with the alien spacecraft from Planet 10 or should we just go ahead and destroy Russia?

You say yes.

[...]

This is Innovative breathtaking rapid-fire filmmaking raw guerrilla style with nerd friendly blandishments in titles and music and computer graphic margin notes for good measure.

Do not miss this movie.
---
"Make Tragedy Farce Again": Order it!

Created by Johannes Grenzfurthner (of monochrom)

Link to products (posters, mugs, pillows, all you can wish for!)
---
#mRIF: Neck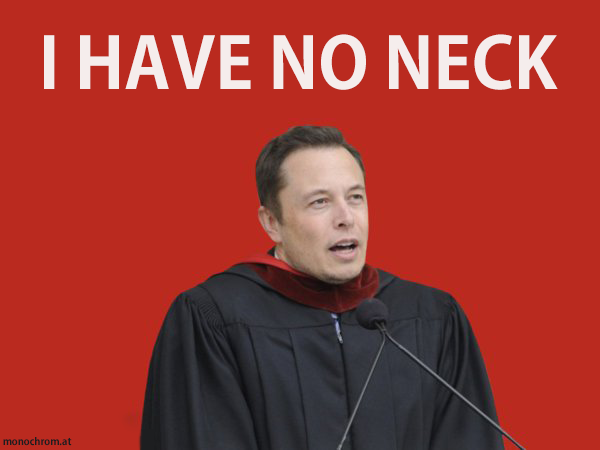 Part of monochrom's Raw Image Format, our series of daily images.


---
[Archive]
---