monochrom# 26-34 release Party in Berlin!
krach | 10 November, 2010 18:22
500 Pages of monochrom...
presented by Günther Friesinger and Johannes Grenzfurthner!
With DJ's Jimmy Trash and Frank Apunkt Schneider!
13.11.201, Karl Liebknechtstr. 9, Berlin (Alexanderplatz)
Beginn: 21.00 (sharp!).
Free Admission and Krach der Roboter *live*:
Yes!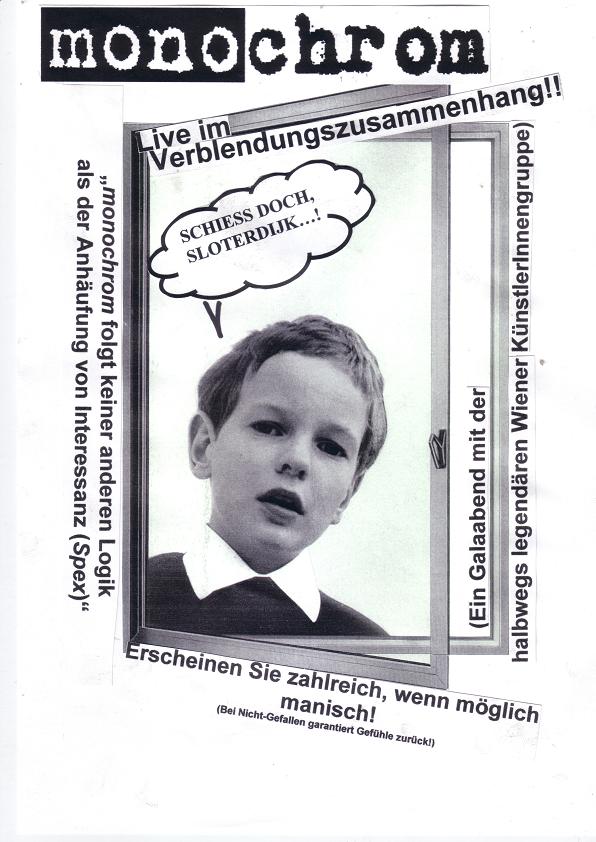 The Great Noise Swindle
krach | 25 Mai, 2010 17:10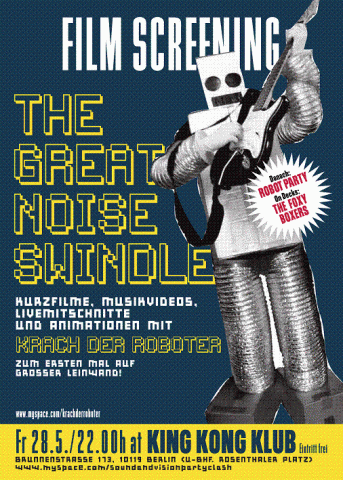 Freitag, 28.05.2010: Premiere der Krach-Doku
"The Great Noise Swindle" im King Kong Klub.
Brunnenstraße 173, 10119 Berlin, ab 22.00 Uhr
Im Anschluss: Roboter-Film Nacht mit Schlupp
vom grünen Stern und vielen anderen,
+ das elegante Foxy Boxers DJ Team!
-
Wiener Bezirkswochen
krach | 09 Mai, 2010 12:45
Zwischen 01. und 23. Juni wird es im Rahmen der Wiener Bezirkswochen
Circuit Bending Workshops mit Krach in allen Gemeindebezirken geben.
Geräte zum modifizieren können mitgebracht werden. Anfänger willkommen.
Krach @ How-To-Do for Me-&-You 11/12
krach | 08 Mai, 2010 00:21
How-To-Do for Me-&-You - "How to robot".
Songs: 'Hamster needs' and 'Vespa' taken from the album 'Hello World' by Krach der Roboter.
Robot-Drawings: Müsli Manufaktur.
Camera/Edit: Al Bird Gore.
Trash Rock Productions February 2010.