Do you remember the good old days of Roboexotica, when thousands of enthusiastic visitors celebrated the cocktail culture? Well, let's go back to where it happened: Grundsteingasse in Ottakring, right next to the Gürtel in Wien. We will turn Kunsttankstelle Ottakring into a robotic Cocktailtankstelle! Easily reachable by subway and tram, or even by a nice walk from the inner city. Why, you ask? Because Roboexotica will celebrate it's 25th anniversary! more: www.roboexotica.at
by monochrom, 2023-12-01, http://monochrom.at/blog/2023/12/01/roboexotica-25/
---
In less than two weeks Arse Elektronika 2023 is going to happen! The preparations are going full steam to offer all our visitors an exhilarating and inspiring event!

First, we want to share the final program.

Tickets
We are offering a 3-day festival pass, of which we have a cheaper early bird pass until September 3rd. We will also have day tickets for the conference program on Friday and Saturday and evening tickets for all three days.
Tickets will be offered at the entrance and at https://kupfticket.com/events/arse-elektronika-festival.
Registrations for the workshops will happen through the online ticketing system.
Please note: Arse Elektronika and ars electronica are two different events, taking place at two different venues in Linz. The substancial similarity of the names is purely historical. Arse was held in the USA almost for decades now, ars is big in Europe... Now both take place at the same time in the same city, which might be confusing. Although we have an agreement for mutual advertising, our tickets will not entitle you to enter any venues besides DH5. In return we will not accept ars electronica tickets for DH5.
Location
All of Arse Elektronika will happen at
DH5, Herrenstraße 5, 4020 Linz.
We will have the conference program in the Salon where talks and workshops will happen as well as workshops in the Kitchen and the Terrace. In the Courtyard we will have our concert stage. All the other parts of DH5 will house the Arse Elektronika exhibition.
Travel
For those who travel to Linz by train, we recommend getting a seat reservation. The trains might get very crowded due to the Ars Electronica festival.
Once you arrive in Linz you can either take a 20-minute walk to DH5 or take a tram 1, 2, 3, or 4 from Linz Hauptbahnhof towards Universität or Landgutstraße and hop off at Taubenmarkt. Tram tickets can be purchased at the tram stop or through the online app Wegfinder.
by monochrom, 2023-08-29, http://monochrom.at/blog/2023/08/29/arse-elektronika-2023-linz-schedule-and-tickets/
---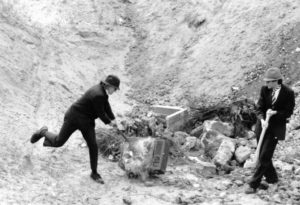 It's been thirty years... Time for a brobdingnagian extravaganza featuring old and new content! So: come! All of you! I a manic style and dressed up, if possible! A cooperation with Volkshochschulen Wien. Bam, Oida!
Thu, June 29, 2023. Doors open at 19:00, the gala is starting at 19:30.
Volkshochschule Wien-Rudolfsheim, Schwendergasse 41, 1150 Wien, Großer Saal.
No admission, but donations will not be rejected.
by monochrom, 2023-06-20, http://monochrom.at/blog/2023/06/20/ye-olde-self-exploitaition-monochrom-turns-30/
---
Arse Elektronika is back! And it is our 10th iteration!


---
September 7-9, 2023 at DH5 in Linz, Austria
---
Humans, replicants!
Technology and sexuality have always been closely connected, from ancient cave drawings of genitalia to modern virtual-reality pornography. While it is impossible to predict the future, the history of technology suggests that sex will continue to be a driving force in technological development and that technology will shape human sexuality. Despite the common belief that technology isolates us and destroys genuine human connection, it is essential to remember that humans are both sexual beings and tool users. Technology can be used to challenge and change the oppressive and male-dominated power structures within expressions of sexuality, e.g. mainstream pornography. It can also provide new opportunities for self-expression and fulfillment of underrepresented desires.
From an evolutionary perspective, sexuality is a complex and central aspect of the human experience that is not always rational or practical. Some behaviors and characteristics that result from sexual selection in animals may have negative consequences or be detrimental to an individual's survival or the survival of a population. However, homo sapiens has created a cultural environment that allows for exploring sexuality beyond the narrow purpose of reproduction. While evolution has already shaped humans to be highly sexual beings, society has imposed additional limitations and constraints on sexuality, often in the form of social barriers.
Sex technology offers a range of possibilities for communication and resistance, including teledildonics, sex machines, biohacking, and the creation of bodies with enhanced sexual capabilities. These ideas have long been explored in science fiction and literature, and it is time to consider them both intellectually and sensually. Technology, artificial intelligence, and artificial intimacy can help us to think and understand sexuality within the context of social evolution and potentially break free from these limitations.
---
Come and enjoy talks, performances, games, workshops, several machines, a system!
---
As part of the festival, "edition mono" will publish the Arse Elektronika Anthology #5. We encourage literary submissions to accompany your festival entry.
---
by monochrom, 2023-01-25, http://monochrom.at/blog/2023/01/25/arse-elektronika-2023-sexponential/
---
This year the Ars Electronica Festival asks: "So can we change not only the world we live in, but also ourselves?" Before we set out to answer this question, we want to explore the fundamental human driving force: Pleasure. To this end, Hedonistika offers a playground to inspect and reflect upon our deep desire to enjoy our time on this planet. With the help of the great enabler and alleged savior Technology, we will question the technocratic promise. A group of technophilic artists will present interactive machines and immersive experiences to elevate our pleasure, alleviate our suffering or scrutinize our peculiar desires. Through the dark of the nights, we will celebrate our virtues and vices with robotic servants of pleasure and a human nightline to keep us dancing in the right direction. Thursday, Sept 8 to Saturday, Sept 11, 2022 @ DH5, Herrengasse 5, Linz / Austria. Details can be found here.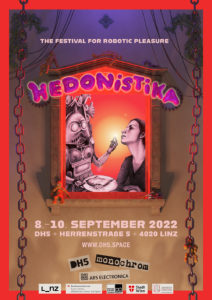 by monochrom, 2022-09-01, http://monochrom.at/blog/2022/09/01/hedonistika-2022/
---
This year monochrom will present the one and only festival for cocktail robotics ROBOEXOTICA twice:
The cooperation with Alamo Drafthouse and Fantastic Fest 2022 has just been announced. Expect not only a wine spritzer from Spritzerbot, a nicely grilled sausage from Old Sparky (Texas Sausage Massacre) or win a drink from Prostate Hero (think Dance Dance Revolution, but with a butthole). We also will see some robots from our long-term American roboexotica veterants.

Fantastic fest runs September 22nd - 29th in Austin, TX. Badge sales already started, so hurry up! (And if you are not able to attend Fantastic Fest in the United States, you still can count on the regular roboexotica extravaganza in Vienna. Save the date: Dec 1st - 4th at Freiraum, Museumsquartier Wien, Vienna, Austria. Twice the fun!)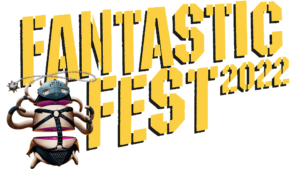 link
by monochrom, 2022-08-08, http://monochrom.at/blog/2022/08/08/roboexotica-twice-this-is-cult-fantastic-fest/
---
A New HOPE (2022) hosts a talk by Johannes Grenzfurthner. We (almost) made it through a pandemic abyss, the Trumpian "fake news" wars, right wing QAnon trollery, and pathos-laden political truthiness. As a provocateur, political artist, and activist, Johannes asks the simple question: What is there still to be done? How can there be subversion in a world that is hellbound on waging war with rationality? Is there still a potential in radical pranks and stunts in a mediaspace that is built on spectacle? What can really be done if you are (to quote a 1970s classic) mad as hell, and you are not going to take this anymore? Saturday, Jul 23, 2022, 17:00, at St. John's University in Queens, New York City.
by monochrom, 2022-07-23, http://monochrom.at/blog/2022/07/23/mad-as-hell-is-there-an-end-to-subversion/
---
Unnamed Footage Festival awarded Masking Threshold Best Editing of the Festival!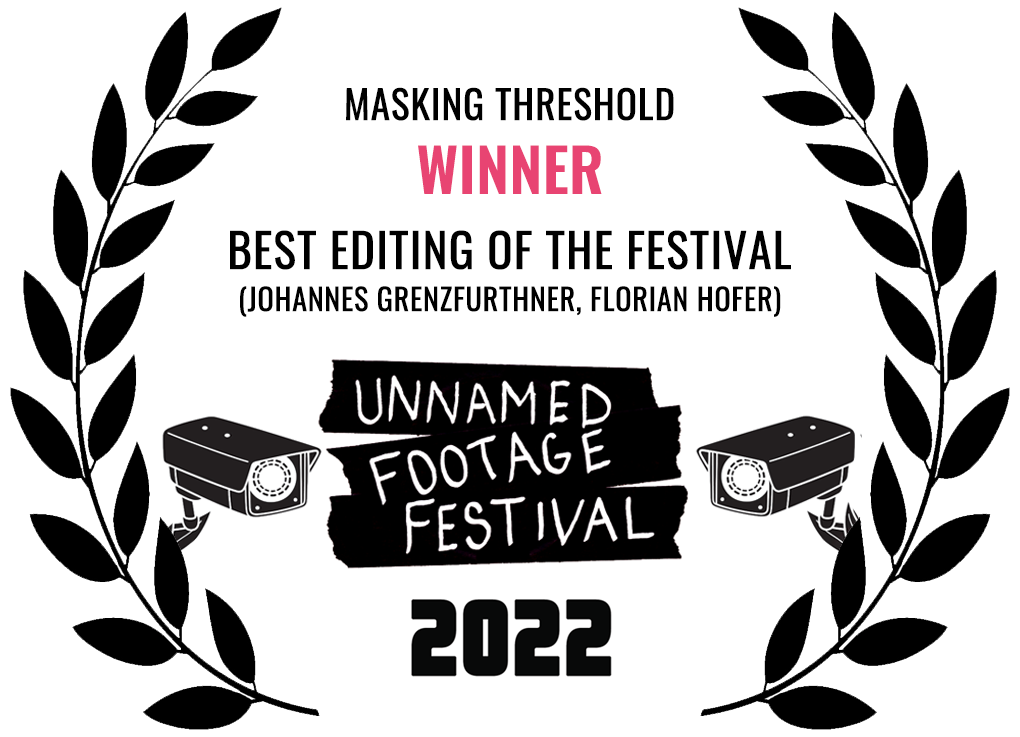 by Johannes, 2022-04-30, http://monochrom.at/blog/2022/04/30/masking-threshold-best-editing-at-unnamed-footage-festival/
---
Marina Pavido reviewed Masking Threshold for Cinema Austriaco.
Masking Threshold è il film che non ci si aspetta. Un film dalla forma ibrida, che in seguito a un iniziale approccio documentaristico assume pian piano le connotazioni di un horror in un crescendo di tensione e comicità. Johannes Grenzfurthner ha attinto a piene mani dai moderni linguaggi dei social media e, nello specifico, da Youtube. Il suo Masking Threshold diviene, così, al contempo, una profonda, semiseria riflessione sul mondo in cui viviamo e sulla società.
Link (Italian)
Link (German)
by Johannes, 2022-04-15, http://monochrom.at/blog/2022/04/15/cinema-austriaco-reviews-masking-threshold/
---
Review of Masking Threshold in FM4.
Horrorfilm, Video-Tagebuch, Psychogramm des Wahnsinns – Johannes Grenzfurthners neuer Film ist vieles, aber sicher nichts für Zartbesaitete. Im Zentrum steht ein IT-Nerd, der an einem Tinnitus leidet und sich im selbstgebauten Labor davon heilen will. Ein krudes Experiment jagt das nächste - was folgt, sind der komplette moralische Verfall und eine geballte Ladung Wahnsinn: Der Nerd wird zum Mörder.
Link
by Johannes, 2022-04-11, http://monochrom.at/blog/2022/04/11/fm4-reviews-masking-threshold/
---
Review of Masking Threshold in Kleine Zeitung.
"Was immer das ist, es ist kein Tinnitus." Geplagt macht sich ein IT-Techniker daran, dem Ursprung der Geräusche in seinem Kopf auf den Grund zu gehen. Die harmlosen Tests seines Gehörs münden in eine blutrünstige Obsession. Regisseur Johannes Grenzfurthner inszeniert diesen Horror-Trip ins Selbst mit einer Makrolinse. Die Ekeleffekte haben so größtmögliche Präzision und Detail. Die rasante Schnittabfolge reiht sich ein in die Sprache der Aufmerksamkeitskultur und Online-Parallelwelten. "Masking Threshold" ist provokant, spielt mit Verschwörungselementen – und provoziert sein Publikum.
Link
by Johannes, 2022-04-11, http://monochrom.at/blog/2022/04/11/kleine-zeitung-reviews-masking-threshold/
---
Manuel Fronhofer of Austrian magazine The Gap interviewed Johannes Grenzfurthner about Masking Threshold!
Johannes Grenzfurthner, Mitbe­gründer des Kunst- und Theorie­kollektivs Monochrom, wurde zuletzt für »Masking Threshold« inter­national auf diversen Genrefilm-Festivals gefeiert. Sein Protagonist macht sich darin wortreich und in immer unbarm­herzigeren Experi­menten auf die Suche nach einer Erklärung für den Tinnitus, der ihn – im wahrsten Sinne des Wortes – in den Wahnsinn treibt. Der wirklich außer­gewöhnliche Horror­film feiert bei der Diagonale seine Österreich­premiere.
Link
by Johannes, 2022-03-31, http://monochrom.at/blog/2022/03/31/the-gap-interview-about-masking-threshold/
---
2600 published a wonderful review of Masking Threshold by Peter Blok!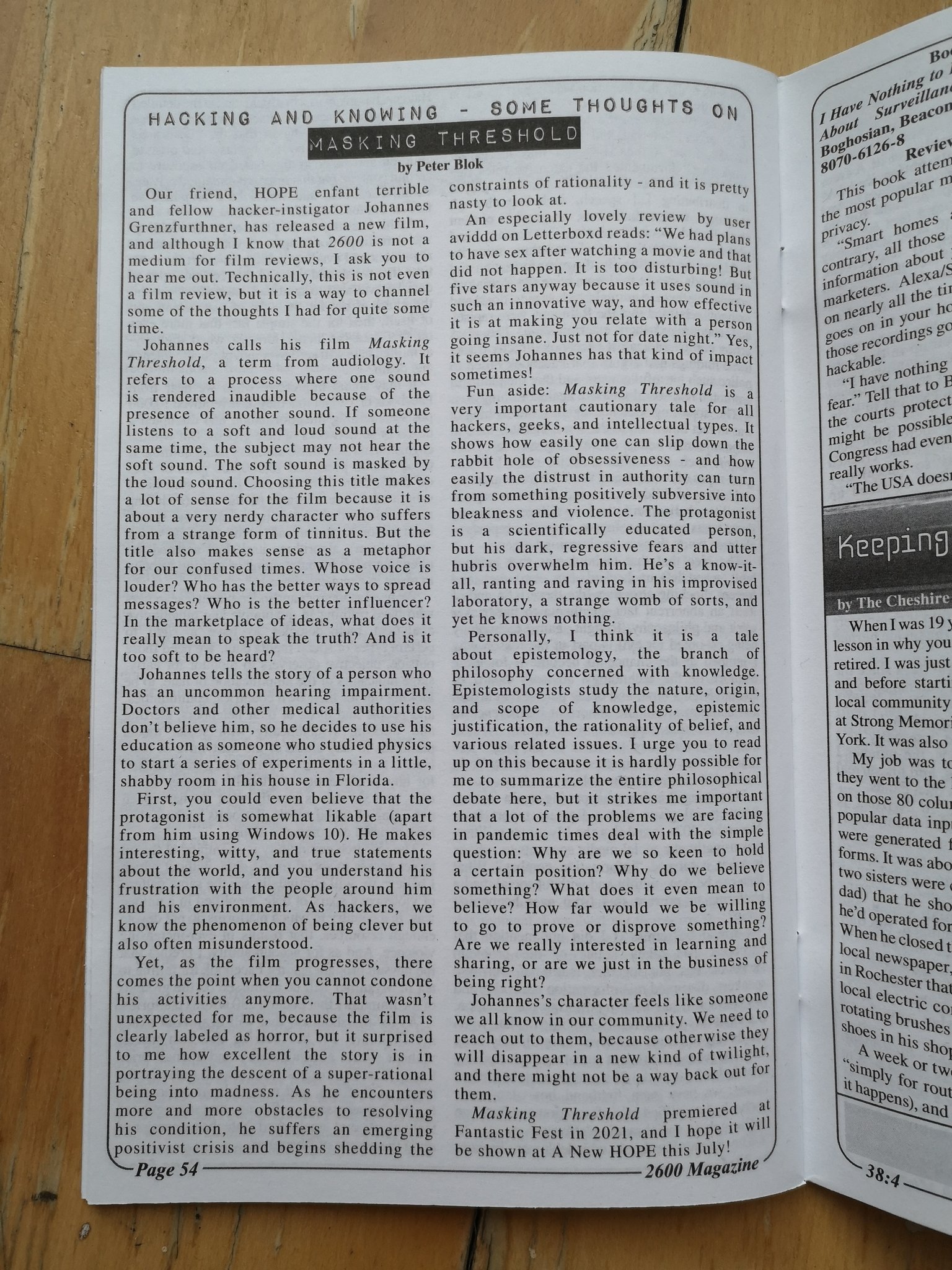 Click to enlarge
by Johannes, 2022-03-29, http://monochrom.at/blog/2022/03/29/2600-reviews-masking-threshold/
---
thepaintedman published a wonderful review of Masking Threshold!
Johannes Grenzfurthner's Masking Threshold is one of the least pleasant viewing experiences I've had in a long time. Don't mistake this for me saying that it's a bad film, though… it's inventive, unique, and clever. It's a truly singular vision. But that vision is not an easy one to endure. In fact, this found footage fanatic would argue that it's probably one of the best example of the POV filmmaking methodology I've ever seen, a film that is truly inseparable from the filmmaking style and couldn't be done any other way without losing serious effectiveness.
Link
by Johannes, 2022-03-28, http://monochrom.at/blog/2022/03/28/the-farsighted-reviews-masking-threshold/
---
Adam Symchuk published a great review (4.5/5!) of Masking Threshold!
It is pretty uncommon to come across a unique feature in cinema, not to say there is a lack of original ideas, but a fully new concept and approach is a rarity in the age of mass media. Masking Threshold marks itself as one of the most unique and ambitious found footage films ever crafted, an impressive feat in a genre already pushing the bounds of ingenuity and finding new ways to terrorize its audience.
Link
by Johannes, 2022-03-20, http://monochrom.at/blog/2022/03/20/grimoire-of-horror-reviews-masking-threshold/
---
Giant Pictures releases movies and series across major streaming platforms like Apple TV, Netflix, Tubi, The Roku Channel, Pluto TV, IMDb TV and Peacock. Drafthouse Films' first two acquisitions are NR. 10, directed by Alex van Warmerdam ('Borgman'), and Masking Threshold, a psychological horror pic from director Johannes Grenzfurthner.

Both genre pics bowed at Fantastic Fest and will be released this spring in Alamo Drafthouse theaters. NR. 10 and Masking Threshold will then become available across Giant Pictures' streaming platforms and via the Alamo On Demand platform.
Link
by Johannes, 2022-03-10, http://monochrom.at/blog/2022/03/10/the-hollywood-reporter-masking-threshold-will-be-released-by-drafthouse-films/
---
It's official. And insane. Masking Threshold will be released by Drafthouse Films! More in this article on Variety!
Johannes Grenzfurthner directed "Masking Threshold," a psychological horror film that Drafthouse Films is calling "an experience not for the faint of heart." One part chamber play, one part scientific procedural and one part YouTube unboxing video, "Masking Threshold" follows a skeptic IT worker who conducts a series of experiments in his makeshift home-lab to cure his harrowing hearing impariment. But, the logline teases, "where will his research lead him?" The distribution deal for "Masking Threshold" was negotiated by Emma Manfredi for Drafthouse Films with Bill Straus of Bridge Independent on behalf of the filmmakers.
Link
by Johannes, 2022-03-09, http://monochrom.at/blog/2022/03/09/masking-threshold-will-be-released-by-drafthouse-films/
---
San Francisco, here we go! Masking Threshold got accepted at the great Unnamed Footage Festival!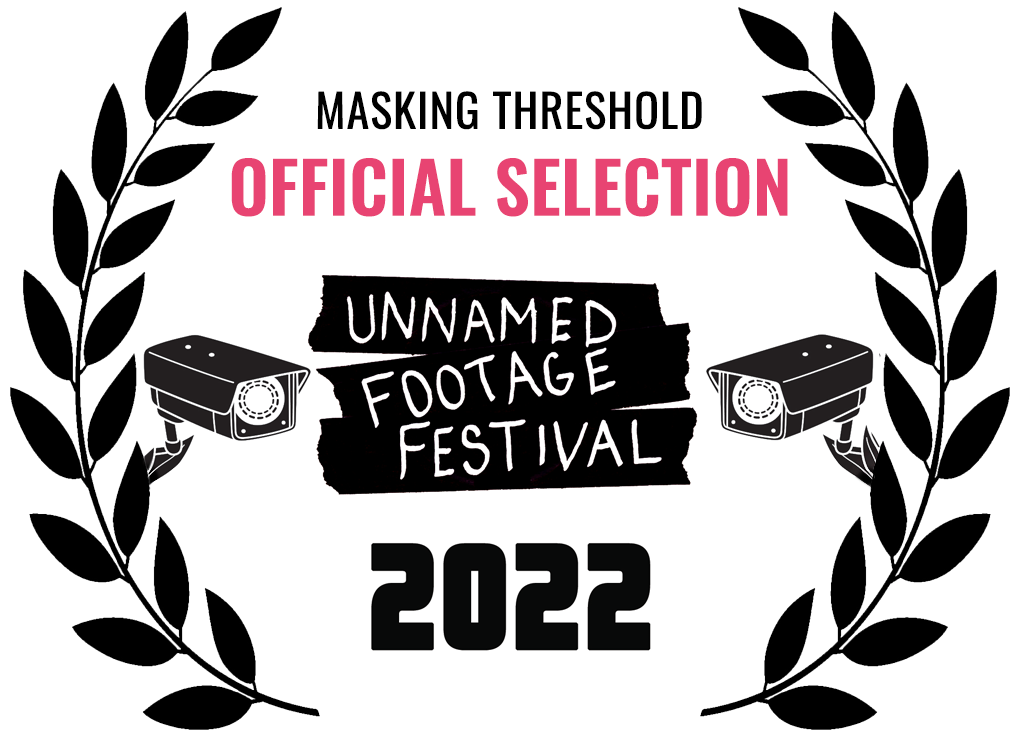 by Johannes, 2022-02-23, http://monochrom.at/blog/2022/02/23/unnamed-footage-festival-2022-official-selection-masking-threshold/
---
FILM MAUDIT 2.0 Festival awarded Masking Threshold Best Feature Film!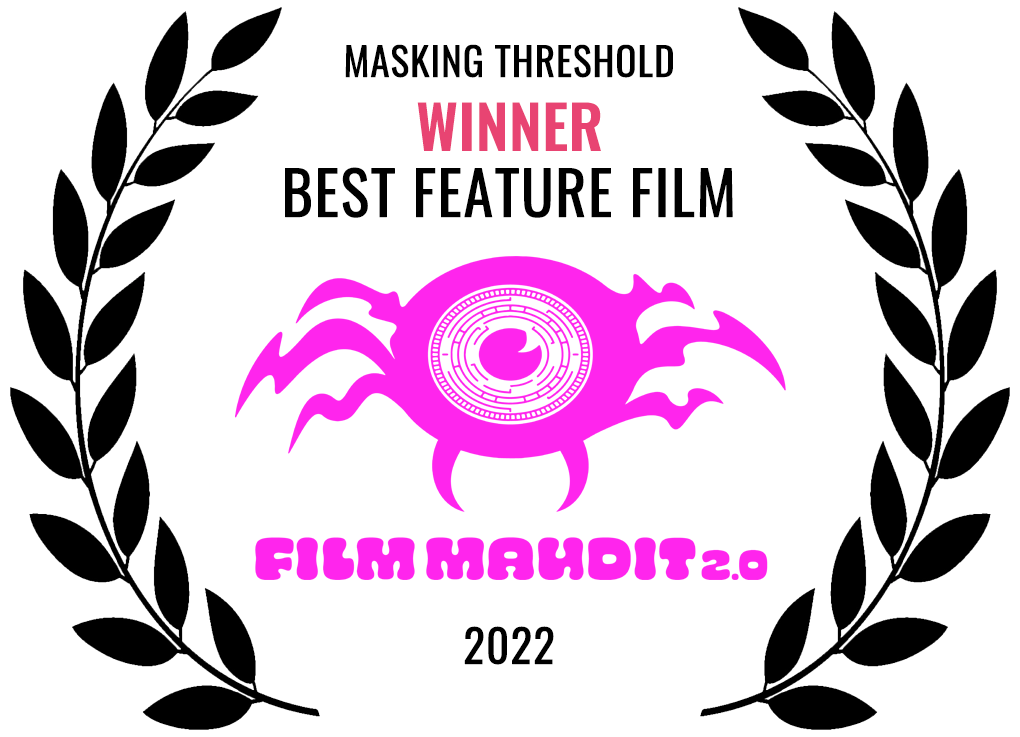 Link
by Johannes, 2022-01-28, http://monochrom.at/blog/2022/01/28/masking-threshold-best-feature-film-at-film-maudit-2-0/
---
Very nice review of Masking Threshold by Brandon Judell as part of his overview of all the goodies that are on start at the wonderful Film Maudit 2.0 Festival in LA!
With one of the best screenplays of recent years (preferable to Licorice Pizza's), with the superb cinematography of Florian Hofer, and the awe-inducing editing by both Grenzfurthner and Hofer, Masking Threshold is a wry, dissective look at modern society's derangement. It might get a little too Grand Guignol for some in its closing moments, but if you can embrace a character that's equal parts Woody Allen, Norman Bates, and the Cartoon Network's Dexter, has Festival Maudit got a film for you!
Link
by Johannes, 2022-01-12, http://monochrom.at/blog/2022/01/12/brandon-judell-reviews-masking-threshold/
---
---