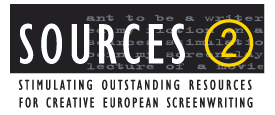 SOURCES 2 is a series of high-powered work units for scriptwriters and teams of writers and co-writers, directors or producers with a specific film project in development.
Sierra Zulu's Roland Gratzer and Johannes Grenzfurthner will take part in the upcoming workshop in Haparanda (Northern Sweden). There is not a lot of daylight, but tons of time to discuss and refine some exciting scripts.
And there is a sauna.