Was genau ist das
"ZukunftsWeb"? Welche Chancen und Risiken birgt das Web von morgen für
Individuum, Gesellschaft und Wirtschaft? Stichworte lauten etwa "Digital Citizen", "Web of Data", "Web of Things", "Open Government Data" und mehr. Internationale Medien identifizierten vielerorts unabhängig voneinander die Brisanz und Vielfalt des Themas und formulierten die "Frage des Jahres 2010": Wie verändert uns das Internet?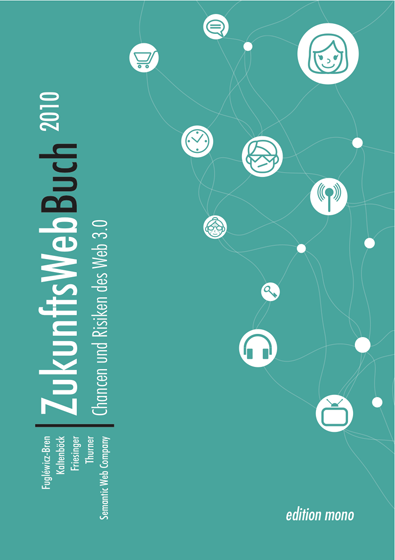 Im Rahmen des Projektes
www.zukunftsweb.at
stellten sich Fachleute aus Wirtschaft, Wissenschaft, Medien und die interessierte Ouml;ffentlichkeit einer Reihe von offenen Fragen zu diesem Themenkreis. Das ZukunftsWebBuch 2010 vermag in essayistischer Form prickelnde Antworten, Ausblicke und Perspektiven zu liefern.
HerausgeberInnen: Marion Fuglewicz-Bren, Martin Kaltenböck, Günther Friesinger, Thomas
Thurner, Semantic Web Company
Auch auf Amazon.
Link edition mono.