What can a wide-eyed, talking robot teach us about trust?

A lot, according to Northeastern psychology professor David DeSteno, and his colleagues, who are conducting innovative research to determine how humans decide to trust strangers — and if those decisions are accurate.

The interdisciplinary research project, funded by the National Science Foundation (NSF), is being conducted in collaboration with Cynthia Breazeal, director of the MIT Media Lab's Personal Robots Group, Robert Frank, an economist, and David Pizarro, a psychologist, both from Cornell.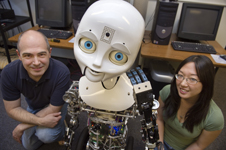 Link