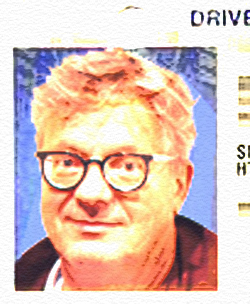 During his stay in Los Angeles, Johannes had the distinct pleasure to meet with Mark Mothersbaugh at Mutato Muzika. The guys chatted about crystals, testicles and movies — and Mark wants to compose a couple of songs for Sierra Zulu's score.
So, let's make it happen, comrades!
What has Mark been up to?
Emmy award-winning composer Mark Mothersbaugh has written the music for more than 70 film and television projects. He first came to prominence in the music world in the 1970s as lead singer and keyboard player of the progressive new wave/rock band DEVO, who released a series of highly eclectic and satirical albums including "Are We Not Men?" and "Freedom of Choice."
In the mid-1980s, Mothersbaugh began to write music for commercials where he received a Clio award for his work.
He then went on to composing music for numerous television projects including the memorable theme song and underscore for Pee-Wee's Playhouse.
He then scored the popular children's series Rugrats. He also wrote the music for the hugely successful The Rugrats Movie.
In 1996, Mothersbaugh met Wes Anderson and scored the filmmaker's critically acclaimed Bottle Rocket. He wrote the music for Anderson's Rushmore starring Bill Murray and The Royal Tenenbaums starring Gene Hackman, Gwyneth Paltrow, Anjelica Huston and Owen Wilson. The Life Aquatic With Steve Zissou marks Mothersbaugh's fourth collaboration with Anderson.
Mothersbaugh's other feature film credits include Cloudy with a Chance of Meatballs, Catherine Hardwicke's Lords of Dogtown and Thirteen, Joe and Anthony Russo's Welcome to Collinwood starring George Clooney, Happy Gilmore starring Adam Sandler, 200 Cigarettes and The New Age from director Michael Tolkin and producer Oliver Stone, among others.
Mark's record and song production credits include work with artists like Vampire Weekend, David Bowie, Cypress Hill, David Byrne, Beck, Iggy Pop, B-52's, Jacob Dylan, Cindy Lauper and A Tribe Called Quest.
Mark was the recipient of BMI's distinguished Richard Kirk Lifetime Achievement Award.
Recent television credits include HBO's Enlightened and Big Love.
Further extending his musical palate, Mothersbaugh has scored numerous video games including The Sims and Boom Blox.
Mothersbaugh is a world-renowned artist who cites Andy Warhol as inspiration. His paintings and drawings have been shown in galleries around the world.
He continues to perform with DEVO, which has had resurgence in recent years. The group has played concerts across the country including Central Park in New York and the 2010 Winter Olympics in Vancouver.
Mothersbaugh was born in Ohio and studied at Kent State University.