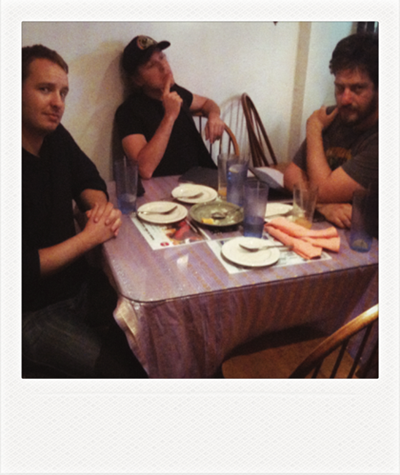 (Above: consultants, directors, sticky rice)
What does a movie production really need? Experts. At least a few.
Our wonderful script & production consultants Ben Rock and Tore Schmidt live and work in Los Angeles — and that's why monochrom's Johannes Grenzfurthner met them for a decadent Thai dinner to talk about business and perversions.
Let us introduce our friends…
Ben Rock began his career as a production designer, breaking out with the blockbuster 1999 movie The Blair Witch Project. As one of the creators of the mythology of the film (as well as creating the infamous "stickman"), Ben moved into directing in 2000 in the budding "viral marketing" industry. Following that, Rock wrote, directed, and produced the mock-documentary The BPRD Declassified to market the release of Hellboy, directed a series of award-winning shorts produced for Audi, directed 29 viral videos for USA Network's The 4400 and 56 viral videos for HBO's series True Blood. Rock directed his first feature, Alien Raiders, for Warner Brothers' signature genre label Raw Feed. The film, which was shot in fifteen days with a modest budget, took the film festival world by storm, winning numerous awards and playing to packed houses across the country.
Tore Schmidt studied Film and Communication Sciences at UCLA's School of Theater, Film and Television and Georg-August-University in Goettingen, Germany. He began his career working as a producer and production manager on narrative and documentary features in his native Germany; he then returned to Los Angeles to join Venice-based Menemsha Films as VP Acquisitions and Marketing where he was involved in the distribution of foreign art house films for the American market. Mr. Schmidt then moved to Gail Mutrux' Pretty Pictures (Kinsey, Quiz Show, Nurse Betty) where he served as Story Editor and CE and was actively involved in the development and production of all company projects. He is currently the Head of Development at Pretty Pictures at Universal Studios.
They are currently giving us feedback on version 3.6 of our script. Let's hope they will soon be able to help us with hands-on aspects of our production… but that's another story.