Our friend Andreas Rausch lives in Bamberg/Germany and works as an independent illustrator and storyboard artist.
We are highly delighted that we could convince him to join our team as the official storyboard maestro.
What's Andreas story?
After finishing school, Andreas began work in the field of ceramics as a potter, painter and sculptor. While working with ceramics in 1994, he started his career as an illustrator and comic artist for various magazines, postcard manufacturers and comic books publishers, which lead to his independence as an artist in 1997.
In 2000 he began to work as a storyboard artist and set illustrator and painter, which included productions for cinema and TV.
In 2005 his graphic documentary Zappaesk was published by Ehapa, and was given a 2-page feature in Rolling Stone magazine.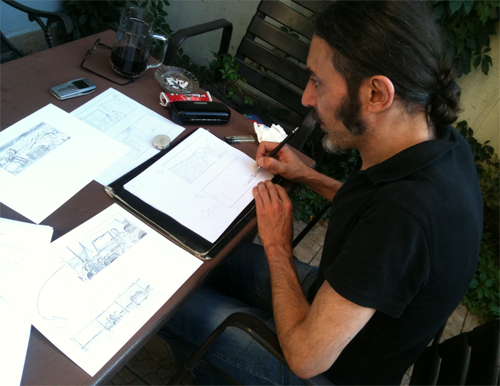 (Above: Andreas is drawing some early storyboard images; August 2011 in Vienna)
What's a storyboard anyways?
A film storyboard is essentially a series of sketches produced beforehand to help a film team visualize the scenes and find potential problems before they occur. In creating a motion picture with any degree of fidelity to a script, a storyboard provides a visual layout of events as they are to be seen through the camera lens.
When can we see the first sketches for Sierra Zulu?
Patience is a virtue, comrade… but here is a first glimpse.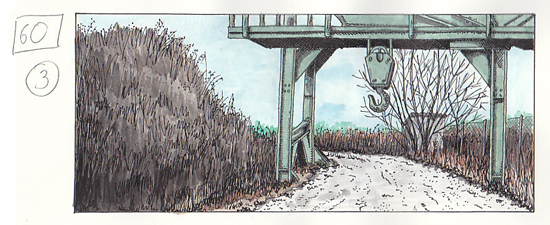 (Above: a first glimpse)