Today I visited SFX luminary Steve Tolin in his studio in Pittsburgh, Pennsylvania.
Steve is our creature effects specialist, an overall great chap, and I think he just offers what we need for Sierra Zulu.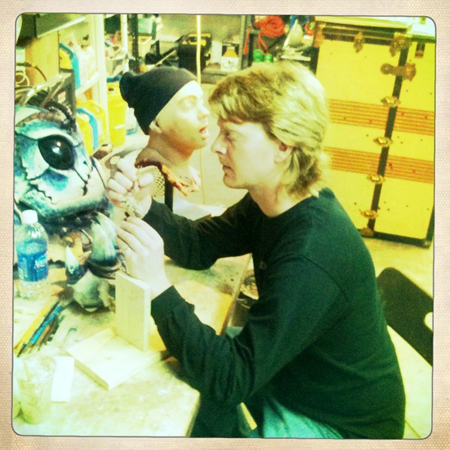 (Above: Steve, working on a small action figure in his basement creature shop.)
What's Steve's background?
Steve is the award winning owner and operator of Tolin FX, an American special effects design and fabrication studio. Tolin FX focuses on the design and fabrication of Special Effects Make-up, Special FX Props, Radio Controlled, Cable Driven, and Hand Operated Puppets, and Computer Visual Effects. From conceptualization to execution, Steve and Tolin FX provide cost effective, creative solutions to complex and specialized problems. And that's exactly what we need in Soviet Unterzoegersdorf: cost-effectiveness.
Steve has also made his film production debut as a member of Clear Conscience Pictures, creating a feature length science fiction adventure entitled, It Came from Yesterday.
To learn more about Steve Tolin and Tolin FX and to see some of their work, please visit http://www.tolinfx.com. To find out more about It Came from Yesterday and Clear Conscience Pictures, please see http://http://www.itcamefromyesterday.com/.
Creature effects? WTF?
Yes. But we are not telling you anything more. Period.