Counter culture? Art? Your average guy does not go to exhibitions, concerts nor does he get in touch with art and counter culture media. Counter culture and the art world are niche places. And even if people would go there they would consider what happens there to be 'just art'. Art is the place where things might be reflected. But that amounts to nothing because it is not linked to everyday life. Art is a special task and a special place for special people. Many post-bourgeois artists were trying to bring the art back to the people — not as a handy service (as it is to the bourgeois elite art consumer) but as a form of irritation. They created many forms of street theatre and pranks. But even art hackers are often helpless against official "art in public space"! Oh, the horror! Those endless atrocities! All of them labeled "sculpture in public space"! Ah! Monstrous "public art installations" on roundabouts, on main streets, in shopping malls!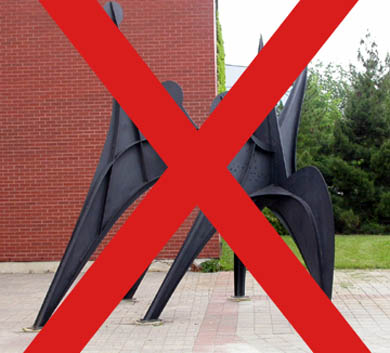 It is time to reclaim the street art! It is time to create your own public art! Get your hammers! Get your welding equipment!
It is time for
SCULPTURE MOBS
!
Between November 3 and 5, 2010 we will administer a couple of basic Sculpture Mob training sessions in Barcelona, Spain — as part of Mozilla's Drumbeat Festival 2010. We will create a simulated parking space and workshop participants will learn how to erect a sculpture in just 5 minutes before "security" is called.

Project page