---
Die Gstettensaga: Best Hacker Feature 2014 auf dem "PhutureCon Festival"
WINNER! We won Best Hacker Feature 2014 at PhutureCon Festival.
PhutureCon Festival will take place October 11 in Denver, Colorado.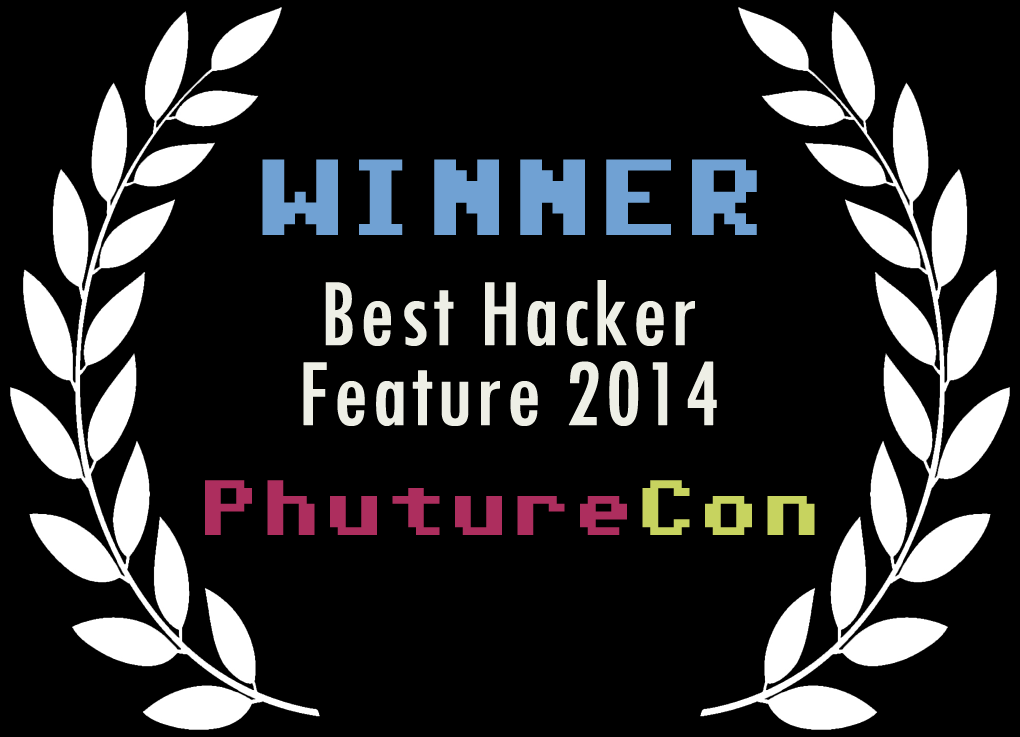 STOLZ!

Link


---
"Die Gstettensaga": Maker Film Fest of Durango 2014 Official Selection
Schön!
"Die Gstettensaga: The Rise of Echsenfriedl"

has been selected to screen

at the Maker Film Fest of Durango 2014.
The festival will be held in Durango, Colorado, August 9-10, 2014.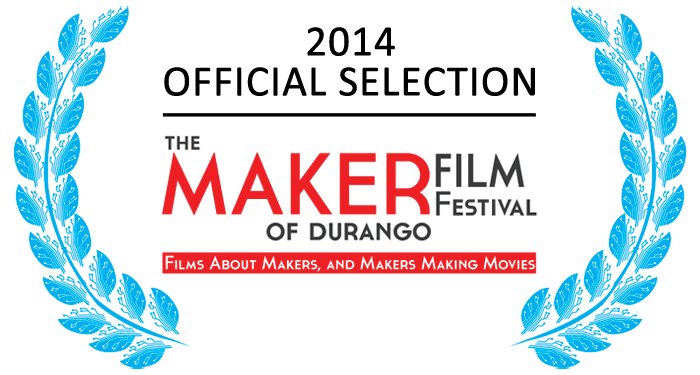 Link
---
monochrom @ "Make your movie: a conversation with the low-budget feature filmmakers of Fright Night/Fandomfest"
Panelists will each briefly talk about the challenges they faced and the hurdles they overcame, from funding to
final cut, to finish their feature film that is screening at Fright Night / Fandomfest. The group will field questions from aspiring filmmakers, encouraging everyone to make a movie of their own!

Panelists:
Sophia Cacciola / Michael J. Epstein (Somerville, MA, USA) - TEN (movie)
Johannes Grenzfurthner/monochrom (Vienna, Austria): Die Gstettensaga
Eamon Hardiman (Charleston, WV, USA) - Pig Girl
David L. Eblen (Portland, OR, USA) - Ravana's Game
Jesse Knight (Boone, NC, USA) - The Orbs
Jaysen Buterin (Greensboro, NC) - The Gospel According to Booze, Bullets & Hot Pink Jesus

Spread the word!
2. August 2014; 12:15 mittags im Raum 211 auf dem Fright Night/Fandomfest in Louisville, Kentucky.

Link


---
Boing Boing empfiehlt unsere "Gstettensaga" Nordamerika-Tour
Award-winning post-apocalyptic hackploitation comedy 'Die Gstettensaga' is coming to a couple North American hacker conventions, film festivals and other cool locations.

July 28 it will be shown at Betalevel (a mysterious art dungeon in LA's Chinatown), August 1 at Fright Night Film Fest in Louisville, KY, but also at Gen Con, The Indie Gathering, SF Global Movie Fest etc. Or, well, PirateBay.
Link
---
Lebendig begraben: Weltbekannt in NÖNsterreich
Wieder mal jemanden eingegraben. Und der Lokalpresse taugts immer.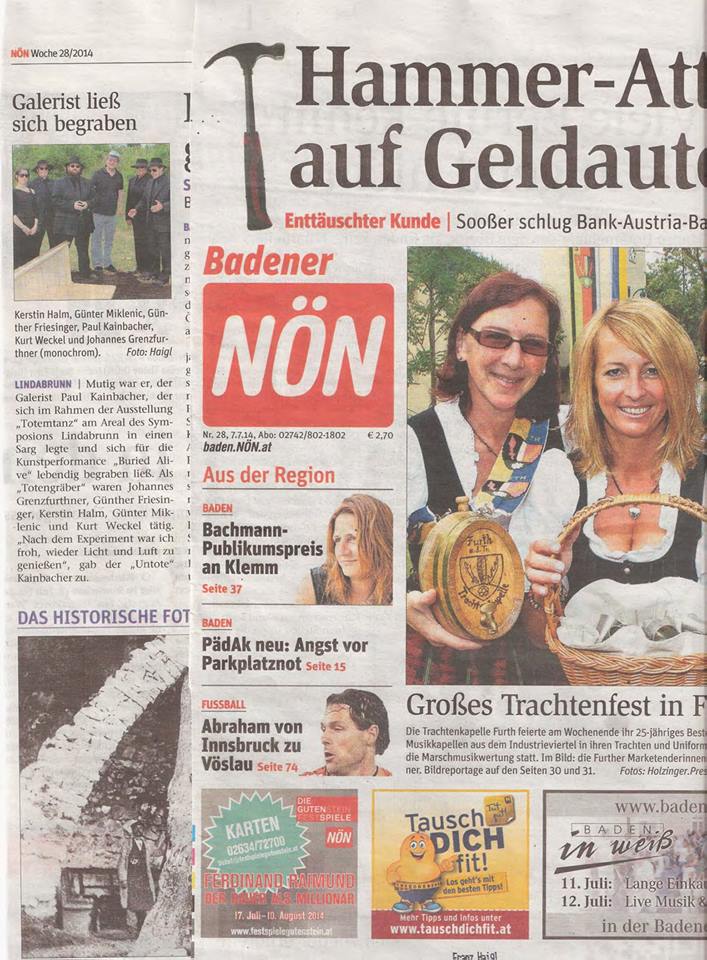 (Klick zur Vergrößerung)
---
Hedonistika-Buch: Call for Papers
"Hedonistika: Montréal" was an exhibition held at the Musée d'art contemporain in Montréal as part of the International Digital Arts Biennial (BIAN) in May 2014. The exhibition was a multi-modal event that brought together food scholars, artists, and roboticists to examine the innumerable (and often hidden) ways in which technology and food are related. By engaging with the hegemony-challenging ideology of hacking and creating, participants interrogated and exposed the mutually constructive bonds of food and tech, while proposing alternative, playful, and stimulating reconfigurations. The event proposed a hack: a hybrid of bricolage, play, criticality, and cross-disciplinary collaboration. The goal of Hedonistika was to reflect and perhaps undo the assumptions and habits that frame our everyday interactions with both food and technology, while making evident their often-neglected entanglements. The goal was to merge research-creation with critical analysis, and community engagement with celebration. To compliment the exhibition catalogue we are now looking for papers that explore the critical issues within these realms.

See

http://janetingley.com/

hedonistika/ and

http://

www.hedonistika.com/ for details of the exhibition.

We are looking for a diverse range of text – from academic to more experimental. Your contribution should not exceed 40 000 characters including the title, a short biography (max. 10 lines) and references. In addition, the number of images (diagrams, etc.) should be reduced to an absolute minimum. The images must be sent as separate files in print-quality (300dpi) and must be accompanied by complete captions (copyright information, source, etc.). The language of publication is English.

We would like you to complete the finished text by October 31st 2014 by the latest and send the electronic version (as a Word document, Times New Roman, font size 12 for the main text, font size 10 for block quotations) to <office AT monochrom.at>

Thank you in advance for your efforts!

Very best wishes,
Guenther Friesinger, Johannes Grenzfurthner, Jane Tingley and Simon Laroche

Link
---
Video ist online: "Fuckhackerfucks! An audience bashing" @ HOPE X
Johannes of art tech group monochrom will indulge in a public rant about hacker culture and why it has to be saved from itself. Expect strong language, indecency, and valid critique of the status quo of hackdom. (No wonder his 2008 Google Tech talk got censored and never made it onto Google's YouTube channel.)
Link (video)


---
Fuckhackerfucks! An audience bashing @ HOPE X
Johannes Grenzfurthner of art tech group monochrom wants to indulge in a public rant about hacker culture, and why it has to be saved from itself. Expect strong language, indecency and valid critique of the status-quo of hackdom. (No wonder his 2008 Google Tech talk got censored and never made it on Google's YouTube channel.)
Auf der HOPE X (20. Juli 2014; 13 Uhr), Hotel Pennsylvania, New York City, USA.


---
"Die Gstettensaga": Utopia Festival Tel Aviv 2014 Official Selection
Sehr gut!
"Die Gstettensaga: The Rise of Echsenfriedl" has been selected to screen at Utopia Festival of Fantastic Film Tel Aviv 2014.
The festival will be held in Tel Aviv, Israel, September 13-20, 2014.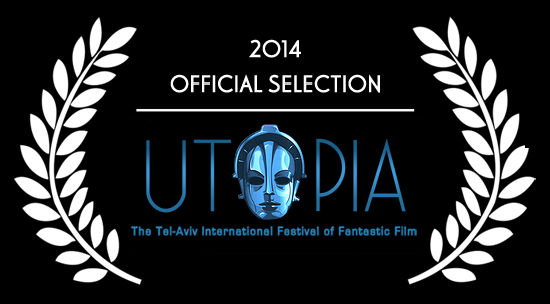 Link
---
Review von "Wellness As Usual": Die Wellness-Situation
Aus Krisen und Niederlagen können Chancen werden. Das wissen nicht zuletzt die Chinesen, die übrigens trotzdem nicht dasselbe Wort für Krise und Chance benutzen. Und das weiß auch die Kunst- und Performance-Gruppe monochrom. Einer ihrer Mitglieder führt im deutschen Bamberg einen Plattenladen. Eine dabei häufig angewandte Taktik: Man kauft auf eBay Plattenpakete für wenig Geld an, und zwar in der Hoffnung, dass sich darin einzelne Schätze befinden, die man mit Gewinn weiterverkaufen kann. Eines dieser Pakete stellte sich für besagten Monochromler allerdings als Horrorgeschäft heraus. Es war randvoll mit Wellness-CDs. Absolut unverkäuflich.

Doch monochrom wäre nicht monochrom, wenn sie nicht aus der Not eine Tugend machen würden.
Das Verlustgeschäft wurde zum Ausgangspunkt für die Performance "Wellness as usual", in die man noch bis Sonntag im Raum D im MQ Wien eintauchen kann. Als Zuschauer legt man sich dabei in einen dunklen Raum. "Dunkel" meint hier nicht abgedimmt, sondern finster, schwarz – eine absolute Dunkelheit, die man in den eigenen vier Wänden nicht hinkriegen würde. Langsam beginnt man Meeresrauschen zu hören. Leichte Pianoklänge. Walgesänge. Panflöten. So ziemlich jedes Element von Wellness-Musik, das man eigentlich nur lieben oder hassen kann, je nach persönlichem Empfinden. Langsam wird die Musik übereinander geschoben, überlagert, bis sich irgendwann mehrere dutzend Formen der "entspannenden" Musik zu einem ohrenbetäubenden Rauschen steigern.

Man liegt also dort, im Dunkeln, hört keine einzelnen Elemente mehr. Weiß nicht mehr, ob man seine Augen geschlossen oder geöffnet hat. Wird seltsam körperlos, zeitlos und nur auf sich selbst zurückgeworfen. Und so funktioniert die Aktion auch als Kommentar auf das Individualitätsstreben des Menschen: Beim "Wellness"-Begriff schwingt ja auch immer auch das Sich-selbst-etwas-gönnen mit. Die ganze Woche ist die Welt, der Job, der Alltag dran, jetzt bist es DU. Deshalb können und dürfen Wellness-Behandlungen auch teuer sein. Der Mensch belohnt sich damit selbst. Dahinter steckt aber auch das Dilemma, mit dem "Wellness as usual" sehr gekonnt spielt: Der postmoderne Mensch will sich mit sich selbst beschäftigen, sich selbst ergründen, hat aber gleichzeitig Angst vor dem, was er dort finden könnte. Deshalb hat er ständig das Handy, das Tablet oder ein anderes Device in der Hand. Die Stille, das Nichtstun wird Feindbild. Wenn ich Unbehagen mit mir selbst verspüre, kann ich die totale Individualität nur simulieren – die eigentliche Selbstbeschäftigung wird als erschreckend empfunden, weil man dabei Dinge über sich lernen könnte, die man gar nicht lernen will.

monochrom konfrontiert die Menschen damit gleich mit zwei Dingen, die sie sonst eher selten erleben: mit absoluter Dunkelheit und sich selbst. Zur Sicherheit sitzt immer jemand von monochrom mit im Raum, der auf ein vorher vereinbartes Sicherheitswort hin einschreitet. Bisher war dieser "Psycho-Bademeister" aber unnötig. "Wellness as usual" läuft bereits seit dem letzten Wochenende. Und nach ein paar Tagen kann man sagen: Jeder erlebt die Aktion sehr individuell, aber durchweg sehr positiv. Das erzählt Günther Friesinger von monochrom. Manche sehen Formen, Landschaften, Tiere vor sich. Viele bedanken sich im Nachhinein für die ungewöhnliche Erfahrung. Eine Erfahrung, die man diese Woche nicht verpassen sollte.
"Wellness as usual" von monochrom läuft im Rahmen des "MQ Summer of Sounds" noch bis Sonntag, 20.7., im Raum D/quartier 21. Jeden Tag um 19 Uhr. Der Eintritt ist frei.
Link
---
Eröffnungszeremonie! monochroms "Wellness As Usual" in Wien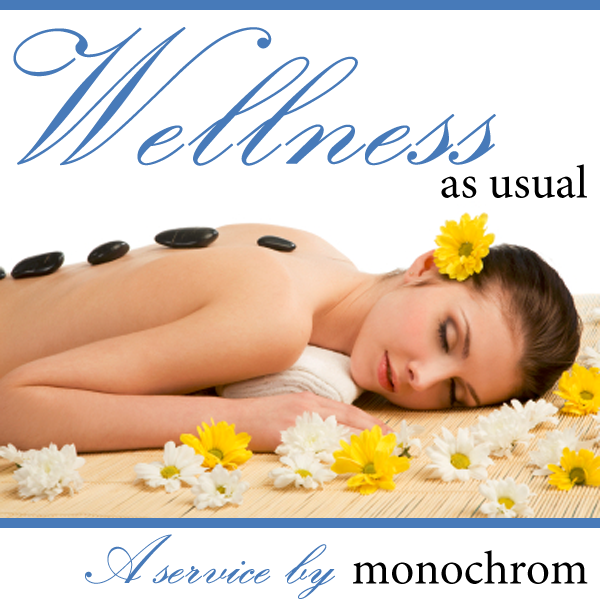 Die Kunst/Theorie/Bastelneigungsgruppe monochrom will sich der fleischgewordenen Multi-Layer-Rezeption individueller Glücksseligkeit stellen. Aberdutzende Gesundheits- und Esoterik-CDs sollen sich in einer kakophonischen Wolke des Gutgehenlassens ins Unendliche verschleifen. Walgesänge und Bachrauschen, Synthie-Gebirge und Harfenbrandung. IN ABSOLUTER DUNKELHEIT! LASSEN SIE ES ZU!

Wann, wo?
Im Raum D im Museumsquartier. Eröffnung am 12. Juli um 19 Uhr. Dann jeden Tag bis 20. Juli um 19 Uhr.

Link
---
Gstettensaga-Interview mit Grenzfurthner in BR Zündfunk
Hier ein MP3-Mitschnitt des Interviews mit Johannes Grenzfurthner zur Gstettensaga. Wurde am 30. Juni 2014 auf BR Zündfunk aufgestrahlt.
Auf der BR-Seite steht:
Österreich verrücktestes Hirn: Johannes Grenzfurthner
Na bitte.

Link (MP3)



---
Die Gstettensaga: Best Foreign Horror Feature 2014 auf dem "The Indie Gathering International Film Festival"
GEWINN! Wir haben den Preis für "Best Foreign Horror Feature 2014" auf dem The Indie Gathering International Film Festival gewonnen.
The Indie Gathering wird von 15. bis 17. August 2014 im The Clarion Inn & Conference Center in Hudson/OH stattfinden.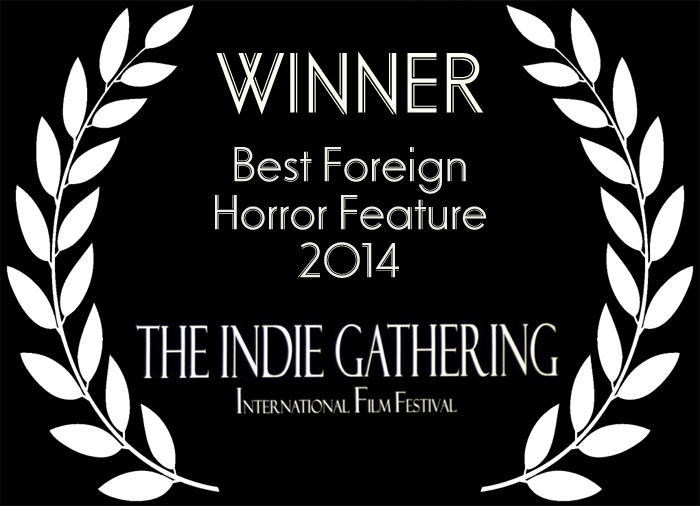 Stolz, ja!
---
"Let Me Ascertain You" präsentiert Johannes/Six Feet Under Club
The Civilians aus NYC sind zurück mit ihrer Serie "Let Me Ascertain You" -- und sie beschäftigen sich diesmal mit Sex und Tod. Und da darf natürlich Johannes von monochrom mit dem "Six Feet Under Club" nicht fehlen. Johannes wurde also interviewt und in der Performance dann von einem Schauspieler dargestellt.

This first podcast in the series focuses on death as the ultimate turn-on. To start us off, we have Stephen Plunkett performing a monologue from an interview we did with famed porn director Craven Moorehead. Then we have Sam Breslin Wright performing an interview with Johannes, an Austrian who runs an arts/technology festival that buries people alive, aptly named, "The Six Feet Under Club." Following that, cabaret superstar Lady Rizo performs her original song "Under" which she wrote with Yair Evnine. This song is based on our interview with Kitty, a "Six Feet Under Club" participant who got buried alive with her lover.
Link
---
Gstettensaga-Vorführungen in Roswell, München und Linz
Wann, wo?
Roswell, New Mexico (auf dem Roswell International Sci Fi Film Festival): Freitag, 27. Juni 2014

München (im iRRland): Montag, 30. Juni 2014; 20:30

Linz (bei qujOchÖ): Donnerstag, 3. Juli 2014; 21:00
Kommet!


---
[Archiv]
---
---
---
---
---
---
---
---
---
---
---
---
---
---
---
---
---
---
.
.
.

monochrom *1993. ursprünglich zeitschrift. lebt z. zt. als haufen bzw. neue unübersichtlichkeit im museumsquartier wien, bamberg und unter www.monochrom.at. arbeitet unter anderem als künstler/innen/gruppe, linksextremistischer partyservice, info-point, archiv, sloterdijk ii, liveband, gruppentherapie, computerspiel und als konkursmasse etc. monochrom besteht aus johannes grenzfurthner, evelyn fuerlinger, franky ablinger, harald homolka list, frank apunkt schneider, daniel fabry, gnther friesinger, anika kronberger, roland gratzer sowie gott und der welt. immerhin!
[mehr]

monochrom buchen:
[europa]
[usa]
monochrome infos:
[projekte / dokumentation]
[termine / chronologie]
[mono print / jahrbuch]
[mailing list]
[blog / english]
externe monochrom-Links:
[monochrom wikipedia]
[monochrom flickr]
[monochrom blip.tv]
[monochrom youtube]
[monochrom facebook]
[monochrom itunes]
[monochrom twitter]
[monochrom soup]
[monochrom imdb (de) ]
[monochrom imdb (us) ]
[monochrom vimeo]
[monochrom twitter]
[monochrom foursquare]
[monochrom myspace]
[monochrom amazon]
[monochrom abebooks]
[monochrom vine]

Kontakt:
[office at monochrom.at]

---
---
---