---
Promovideo für "Die Gartenbahn ist die Keimzelle der Gesellschaft"
Featuring den jungen Grenzfurthner. Und ebenselbe Gartenbahn, die wir am 2. Juli 2017 beim werkzeugH einsetzen werden. Dang.
---
monochrom: Die Gartenbahn ist die Keimzelle der Gesellschaft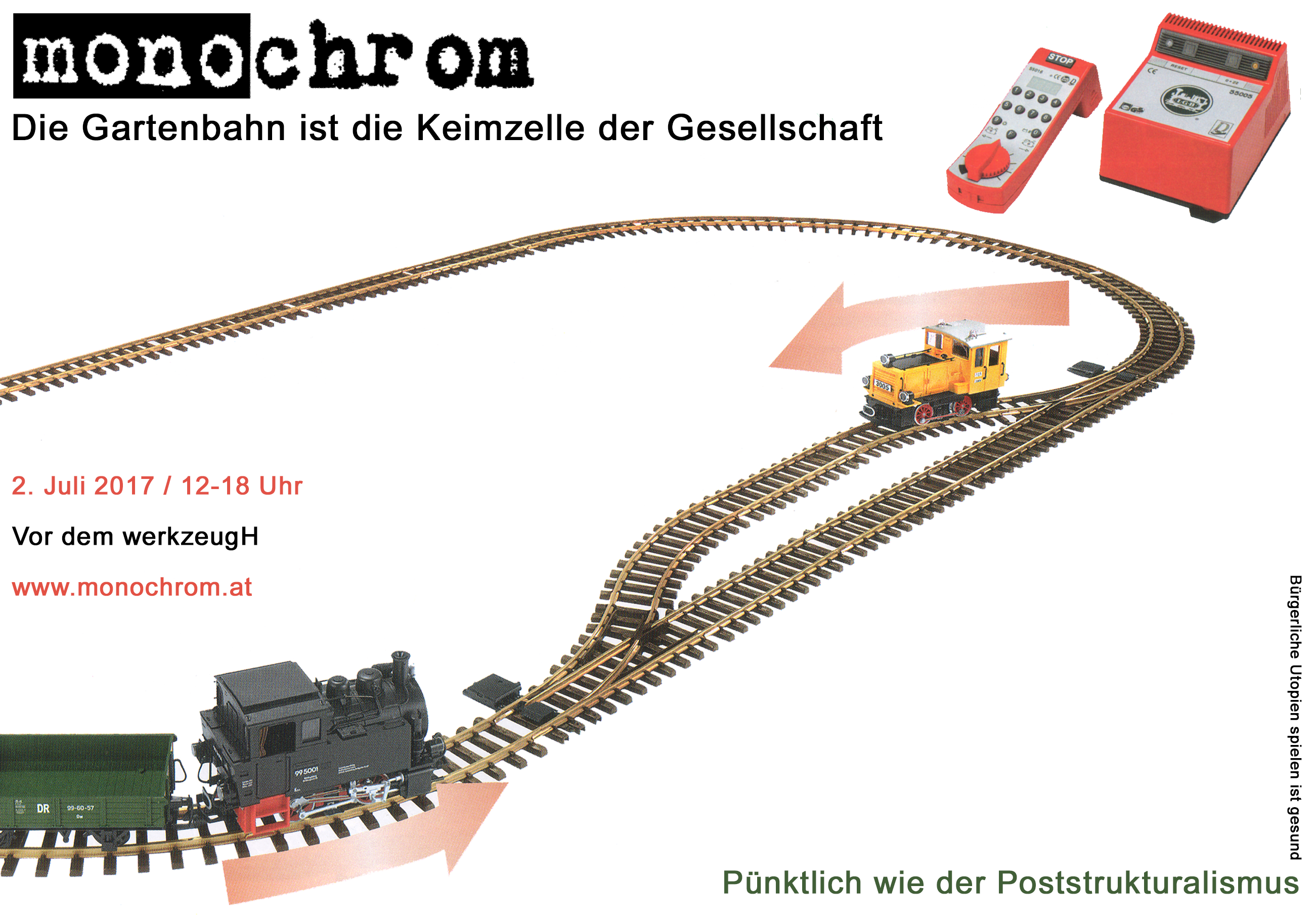 Am 2. Juli 2017 von mittags bis 18 Uhr im/vor dem werkzeugH (Schönbrunner Straße 61) in Wien.
Ja!
---
Wild Thing
Cut-up design. Basiert auf dem Layout eines Artikels über Wolfskinder, das Johannes für monochrom #15-23 gemacht hat.
Erhältlich auf Shirts, Leggings, Häferl, und anderem Zeug.
Link
---
Situationismus, mit Wortspende von monochrom
Johannes Grenzfurthner (monochrom) wurde von Thomas Mießgang zum Situationismus befragt. Und der Streichelnazi ist auch dabei.
Im Jahr 1967, als schon das Gespenst des Studentenaufstandes in Europa umhergeisterte, erschien ein Buch mit dem Titel "Die Gesellschaft des Spektakels". Der Autor Guy Debord beschreibt darin die ökonomische Gegenwart unter kapitalistischen Produktionsbedingungen als seelenlose, perfekt organisierte Maschine, in der Opposition nur simuliert wird und Geschichte und Zeit wie gefroren wirken: "Das ganze Leben," schreibt der Künstler und Theoretiker, "erscheint als eine ungeheure Ansammlung von Spektakeln. Alles, was unmittelbar erlebt wurde, ist in eine Vorstellung entwichen".

Die Vision von einer Gesellschaft, die sich im Performativen und im Theatralischen auflöst und existentielle Tiefe vermissen lässt, kann erst heute, in Zeiten der sozialen Netzwerke, der globalen Bilderflut und eines Kultes der Oberfläche in vollem Umfang begriffen werden.
Guy Debord, der mit dem Künstler Asger Jorn 1957 die Situationistische Internationale gegründet hatte, formulierte im Rahmen dieser radikalen Avantgardegruppierung schon in den 1960er Jahren scharfe Kritik an einer Konsumgesellschaft, "in der die Ware sich selbst in einer von ihr geschaffenen Welt anschaut" und übte damit großen Einfluss auf das Denken der Studentenbewegung und die Tumulte des Mai 68 aus.

Guy Debord war ein vielseitig begabter Polyhistor, und ein Denken der Dringlichkeit an der Schnittstelle von Kunst und Politik, Architektur und Wirklichkeit favorisierte. Er prägte Slogans, die bis heute durch die Gegenkultur irrlichtern, zum Beispiel "Unter dem Pflaster liegt der Strand" und "Verbieten ist verboten". Oder: "Ne travaillez jamais", zu Deutsch: "Arbeit? Niemals!"
---
Kinderzungen
Sind lecker.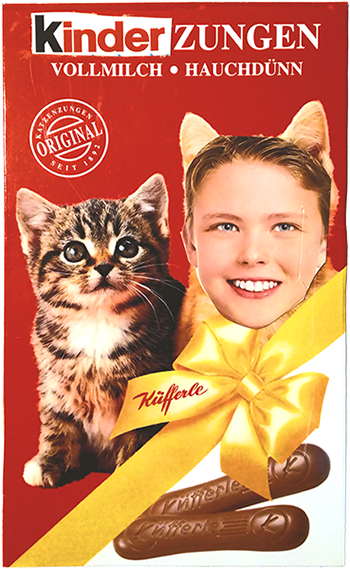 Gibts absofort auf Shirts, Häferl, Poster, such dir was aus.

Link
---
No name is higher
Eine Botschaft.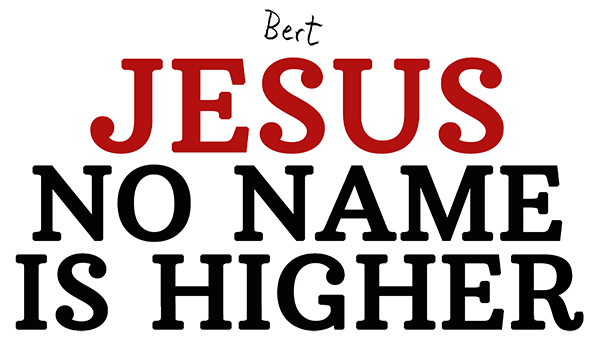 Gibts auf Shirts, Häferl, Poster, such dir was aus.

Link
---
ALF: A Clockwork Orange
"There was me, that is ALF, and my droogs, trying to make up our rassoodocks what to do with the evening."

Created by Johannes Grenzfurthner (of monochrom) and James Brothwell (of Impeccable Flith)

Johannes Grenzfurthner: http://www.grenzfurthner.comJames Brothwell: http://www.impeccableflith.com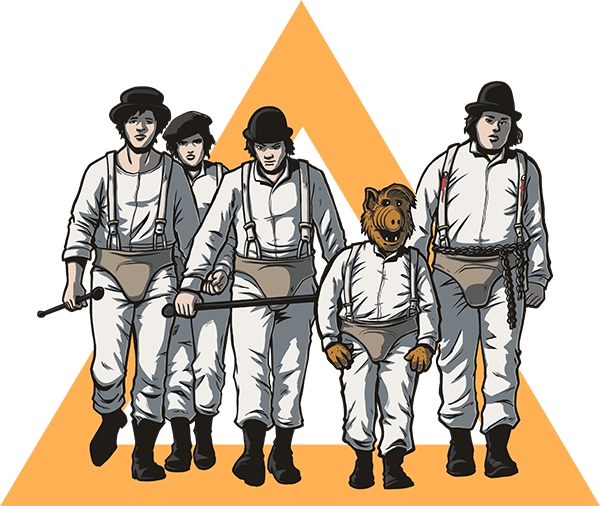 Gibts auf Shirts, Kaffeetassen, Postkarten, Kleber, was auch immer.

Link
---
Sleep. No more.
Es ist eine Collage. EINE COLLAGE!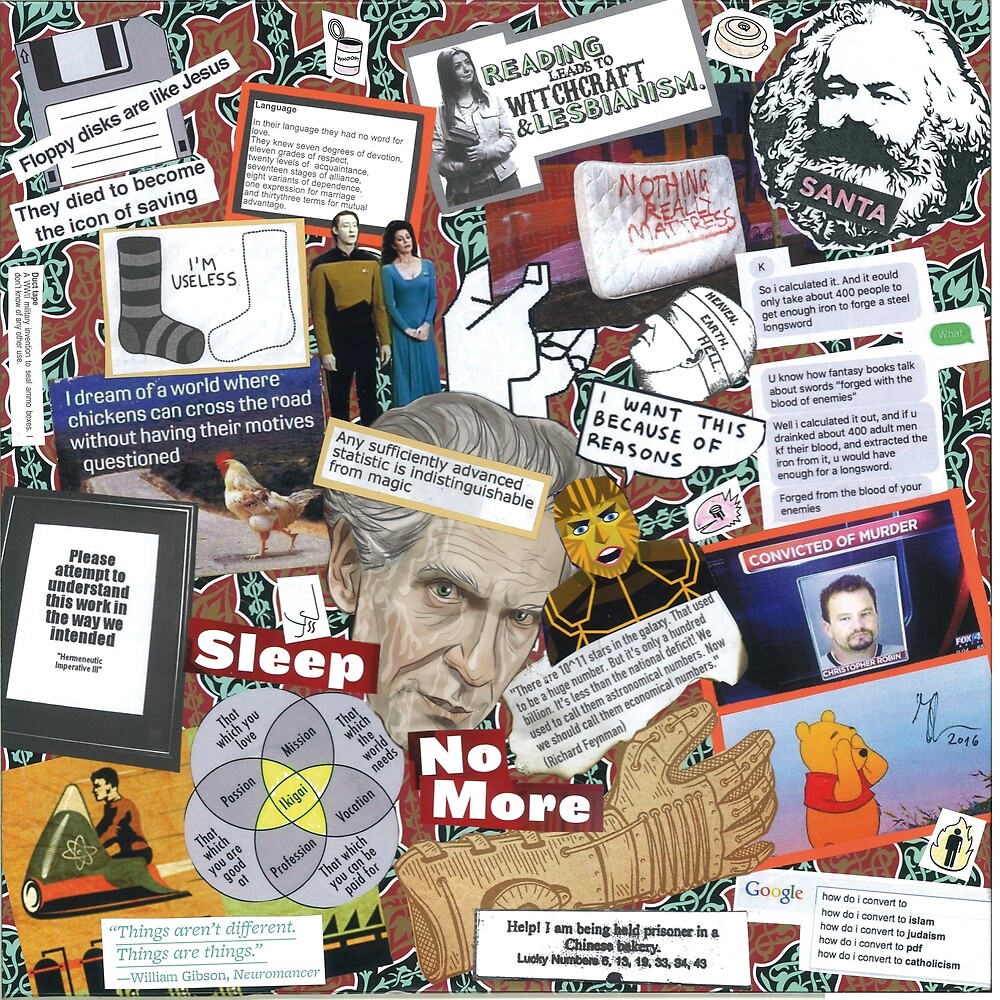 Auf Shirts, Handyhüllen, was das Herz begehrt.

Link
---
Photoshop LAYER
Photoshop LAAAAAAAYER was first available in Adobe Photoshop 3.0 in 1994. That rocks.
Auf T-Shirts, Postern, Häferln und anderem Tand.

Link
---
User-Review von Traceroute... Tränen der Freude
User "Pepe F" hat ein Review von Traceroute auf Rotten Tomatoes hinterlassen. Lesen.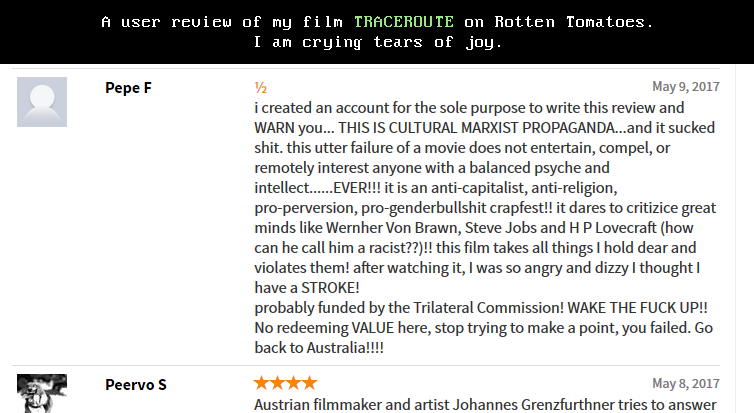 ---
Thomas Gratzer (in 'The Gap') über monochrom
Thomas Gratzer vom Rabenhof-Theater spricht in The Gap in der Serie "20 Menschen der heimischen Kulturszene über definierende Momente".
Ich denke aber auch an die äußerst befruchtende Zusammenarbeit mit dem schrägen Kunstkollektiv Monochrom.

Ein ziemlich abgedrehtes »Musical« unter dem Titel »UDO77« mit einem Plot, den man sich als »Prozess« in einem Bonitätsprüfungs-Computerprogramm vorzustellen hat. Aber in Wirklichkeit ging es um Aufstieg und Fall des kriminellen Selbstdarstellers, Mörders, Szene- und Politclowns Udo Proksch.
---
Traceroute: VOD-Optionen
Traceroute ist auf Vimeo On Demand und Amazon USA/UK/DE verfügbar.





Für DRM-freie Downloads schreibt uns bitte eine Email: traceroute AT monochrom.at
---
Film Threat: Feature über Johannes Grenzfurthner und Traceroute
Na servas!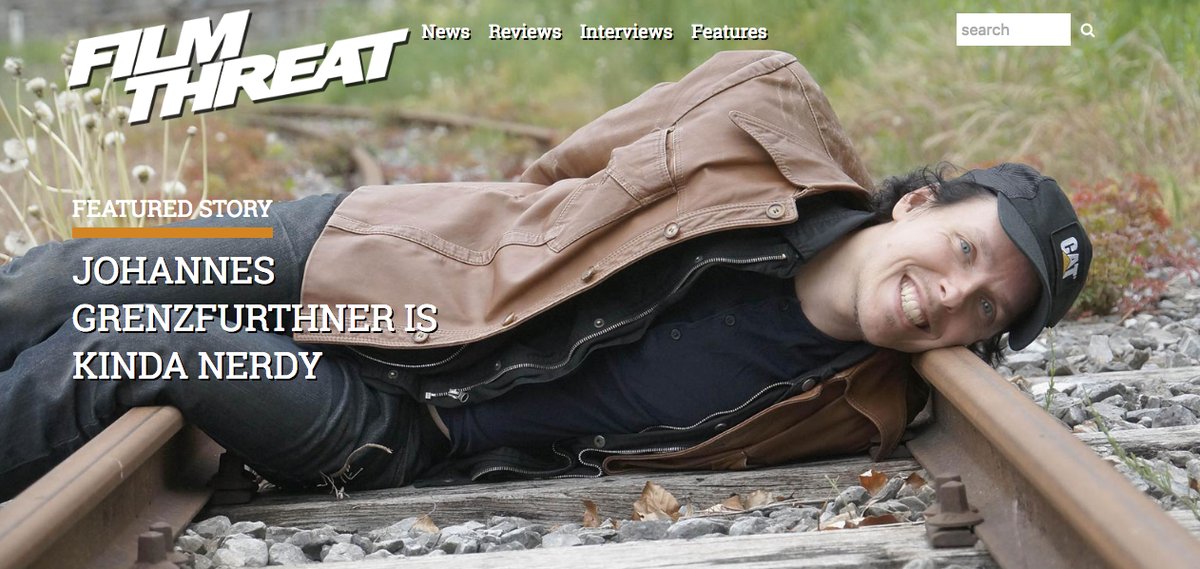 Johannes Grenzfurthner was born in 1975 and grew up in the Austrian boondocks in a small town called Stockerau. Out of the womb, Johannes was drawn to nerd culture. "I grew up with only two TV channels, and I was very happy my dad got a VHS recorder as early as 1980. It opened up a whole new telematic (as it was called back then) reality for me. I could record TV on a tape, and watch it later! Whoa! And in 1983, the first video rental store opened in my hometown, the same year as the first Chinese restaurant. That was something."

Like many geeks who grew up in the 1980s, he experienced geek culture at the beginning… before the dark times, before Disney bought, well, everything. "I wasn't allowed to go to the cinema, but my parents didn't care about my video consumption. I had a great variety of films I could pick from on tape. Close Encounters of the Third Kind stunned me, Convoy and Capricorn One made me cry for justice, and Poltergeist terrified the living, scrape-your-face-off shit out of me. And I remember when I first rented Alien. I couldn't wait to get home and see it. But at the point where the beast should have burst out of the guy's chest, there was nothing left to see except interference. All the freak-fans who had previously rented the movie had rewatched that scene so often that the tape was completely buggered. Oh my. Still, I had night terrors for days."

Johannes' interest in nerd culture was something of an obsession. "I was always interested in obscure crap. I loved science fact (Carl Sagan is still my only media idol) and science fiction, especially John Brunner and William Gibson. I always felt like a nerd, although there was no word for it in German. Later, on US Bulletin Board Systems, I learned about the term and immediately embraced it."

Johannes Grenzfurthner is as much an artist as he is a nerd. His feature documentary Traceroute (which received a rave review right here on Film Threat) is now available for digital download and the movie is a pure delight for anyone immersed in all things about nerd culture from movies to technology, the internet and even sex. In this exclusive interview, Johannes reveals what it's like to see the world wearing glasses attuned to seeing the positively geeky side of everything in life.

[...]
---
Traceroute: ab sofort auf Vimeo On Demand
Wichtige Nachricht von Johannes Grenzfurthner...
Finally! My nerd culture documentary TRACEROUTE can be downloaded on Vimeo On Demand. It was quite a challenge creating it -- and huge thanks to all the folks who supported me... during the road trip and afterwards in post-production.

I hope you consider buying or renting it. Would mean a lot to me.
(And in case you want a DRM-free option, contact me.)

Shout-out to the great staff at Video Caption Corporation for providing us excellent subtitling/CC service!
---
Film Threat bespricht Traceroute: 10/10!
Bradley Gibson von Film Threat gibt Traceroute 10 von 10 Punkte. Herrjeh!
Traceroute is the most fun I've ever had watching a documentary. If you're a nerd (and you are) this is the road trip you've always wanted to take with your smartest, geekiest friend. You're not going to want to come home. It's Cosmos. It's DragonCon on wheels. It's your favorite sex fantasy. It's alcohol soaked nonviolent subversive protest mobile and WiFi linked. It's On The Road updated with tech, science, pseudoscience, sex, and fandom. This is Sheldon Cooper, Stan Lee, and your favorite Suicide Girls showing up at your door with an electric supercar, a bag of legal weed, and a cooler full of jello shots. No, this is Doc Brown showing up in the DeLorean saying "Where we're going we don't need roads." This is Buckaroo Banzai texting to ask you if everything is ok with the alien spacecraft from Planet 10 or should we just go ahead and destroy Russia?

You say yes.

[...]

This is Innovative breathtaking rapid-fire filmmaking raw guerrilla style with nerd friendly blandishments in titles and music and computer graphic margin notes for good measure.

Do not miss this movie.
---
[Archiv]
---