---
"Traceroute": Ethnocineca Film Festival 2016 Official Selection
"Traceroute" has been selected to screen at Ethnocineca (International Documentary Film Festival) 2016.
The festival will be held in Vienna, Austria, May 2016.
---
"Traceroute": Austrian Film Festival 2016 Official Selection
"Traceroute" has been selected to screen at Austrian Film Festival 2016.
The festival will be held in Vienna, Austria, June 2016.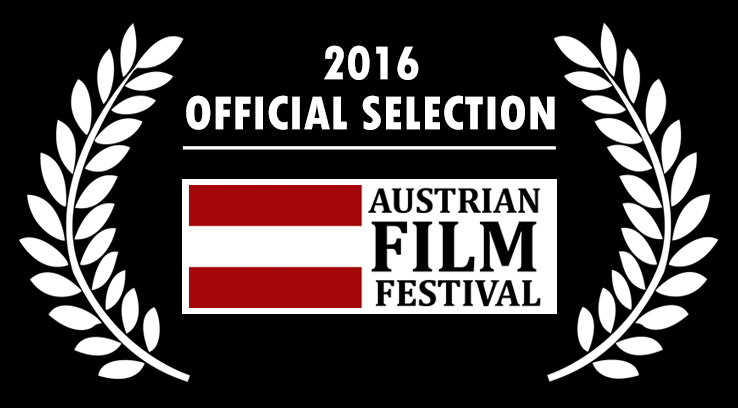 ---
Tycho! - The Musical
Es ist offiziell. monochroms nächstes Spielfilmprojekt ist: "Tycho!" - ein Biopic-Musical über das Leben und Streben von Tycho Brahe.

Regie: Johannes Grenzfurthner.
Drehbuch, Libretto: Johannes Grenzfurthner, Harald Homolka-List and Roland Gratzer.
Produziert von monochrom, Traum & Wahnsinn und Reisenbauer Film.

---
Silvester Stoeger of cartography and organic machines
Neu in der edition mono/monochrom! Silvester Stöger – of cartography and organic machines

Der Katalog bietet einen erstmaligen Überblick in das Schaffen des Wiener Künstlers Silvester Stöger. Der stark von digitaler Kartografie beeinflusste Medienkünstler arbeitete in den letzten Jahren überwiegend im Medium der Tuschezeichnung wobei sich der Kontext zunehmend verschiebt und ein abstrakter Charakter die Oberflächen seiner Bilder zu beherrschen beginnt. Repetitive Strukturen, gebrochene Op-Art, nüchterne Psychedelika. Neben zahlreichen Abbildungen umfasst der Katalog ein Gespräch der Münchner Kuratorin Viktoria Wilhelmine Tiedeke mit dem Künstler, als auch einen poetischen Text des Wiener Schriftstellers Thomas Ballhausen, der die Werke literarisch assoziativ für weitere Interpretationen öffnete.

Herausgegeben und vertrieben von Silvester Stöger und Günther Friesinger
Verlag: edition mono/monochrom, 96 Seiten, 2016
Sprachen: Deutsch/Englisch
ISBN: 978-3-902796-40-0
Preis: € 15,-

Link auf die Verlagsseite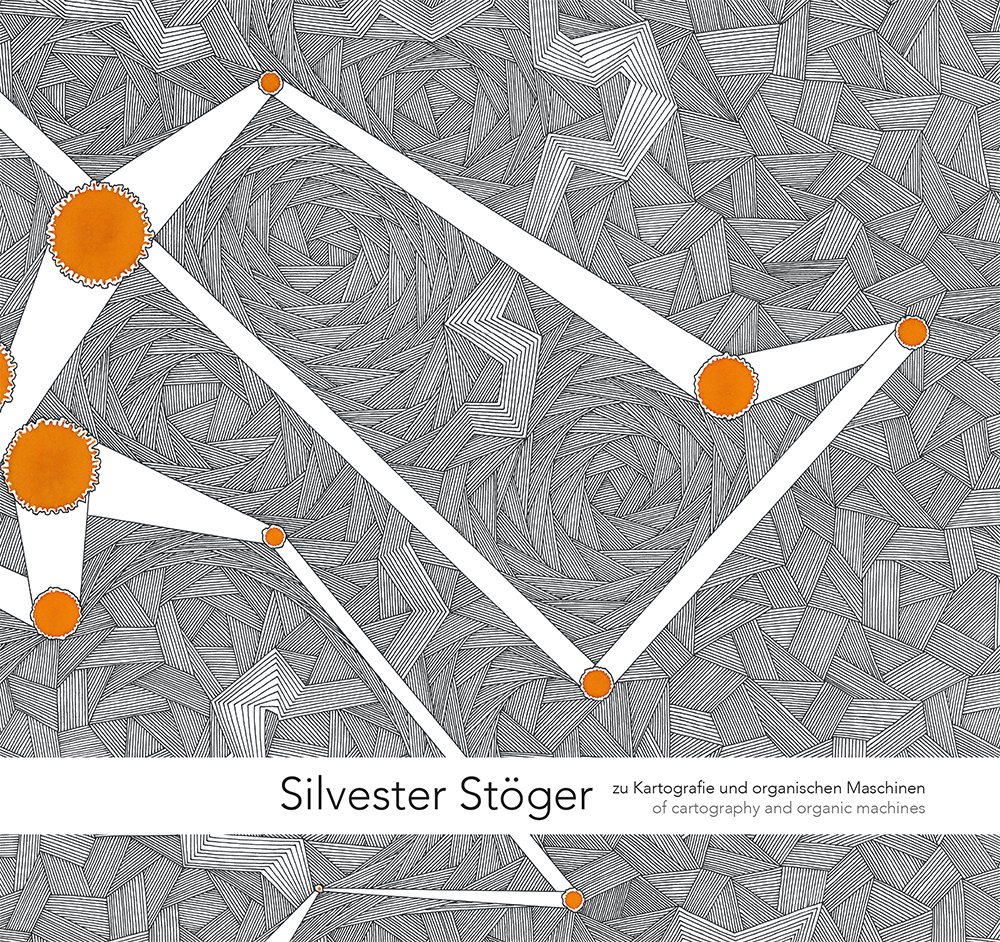 Am Abend der Präsentation im weisses haus, Hegelgasse 14, 1010 Wien, 28.01.2016, um 19h treten die Verfasser der Beiträge erneut in Dialog mit dem Künstler.

19:00 Begrüßung: Alexandra Grausam und Günther Friesinger
19:20 Performative Lesung: Thomas Ballhausen
19:30 Vorstellung des Künstlers: Viktoria Wilhelmine Tiedecke
19:40 Live Vertonung des Kataloges: Thomas Wagensommerer
---
EMEE Toolkit Series!
YES! The EMEE (EuroVision – Museum Exhibiting Europe) book series is finally finished and available under OPEN ACCESS at the website of edition mono/monochrom

http://edition-mono.at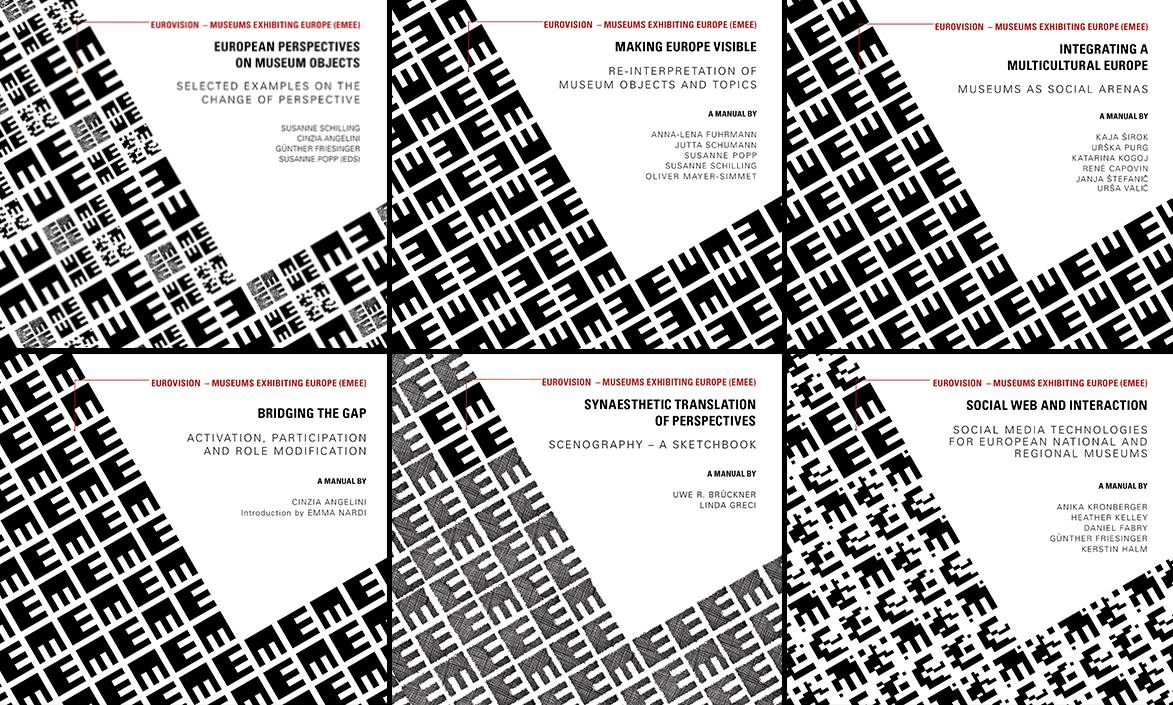 ---
Johannes Grenzfurthner über Traceroute: Unterwegs mit dem Leitnerd
---
Boing Boing empfiehlt "Die Gstettensaga"
Boing Boing empfiehlt "Die Gstettensaga": unser Science-Fiction-Film über die Google Wars.
Wir haben die Film als kleines Weihnachtsgeschenk komplett online gestellt.

---
"Die Gstettensaga: The Rise of Echsenfriedl" ist online! Frohe Weihnachten!
Ein kleines spielfilmlanges Weihnachtsgeschenk von monochrom und Traum & Wahnsinn.
"Die Gstettensaga: The Rise of Echsenfriedl" ist endlich auf Vimeo!
Prosit!
"5 stars! Grenzfurthner's outspoken, swiftly flying little flick is the must-see indie of 2014, as far as I'm concerned. Everyone, be they intellectuals, political-types, or simply those that love great blackly comic, sensual horror, will fall madly in love with 'Die Gstettensaga: The Rise of Echsenfriedl'. See it, as soon as possible, and I promise you'll never be bored at the movies again."
(Amy R. Handler, Film Threat)
"4 stars! It's rare to hear a movie audience burst out with such delightful laughter. A brilliant creation that redefines the term 'horror.'"
(Bianca Hofbauer, Press Play)
"The best kind of low-budget filmmaking... it is like watching an absurdist play by Beckett, if Beckett decided to work on the Mad Max franchise."
(Jason Scott, Textfiles)
"Setting the film in the future forces hackers to confront a choice: Will we let ourselves and our ingenuity be recuperated by all-consuming market forces? Or will we come together - as is our potential - as the class that ends capitalism's conquest to secure all means of production?"
(Ishan Raval, 2600 Magazine)
"I'm overenthusiastic about Gstettensaga - because it distracts the Hollywood canon, because it is such a genre bender, a satiric H bomb, going for the unexpected dialectical turns of current history."
(Stefan Tiron)
"A pure nerdy underground gem between Monthy Python and the Frêres Denis."
(France Culture, Politique de l'algorithme)
"A mad post-collapse satire of information culture and tech fetishism, in a weird sort of melding of Stalker, Network, and The Bed-Sitting Room."
(Richard Kadrey)
"The old world has been reduced to ashes by the earlier beacons of hope (China stands for Maoism and Google for alternative culture). All that remains are stretches of land governed by idiocy and dialects. As Marxists, the people from Monochrom know that only the revolution can free us from capitalism. And yet the revolution is no more alive than unicorns are."
(Sebastian Vetter)
"Forces us to think deeper about the fact that much of today's romanticized revolutions often go eerily hand in hand with the development of digital capitalism. Few films today, if any, manage to do such a feat."
(Bonni Rambatan)
"Hackploitation art house... reimagining the makerspace as grindhouse ... the Gstettensaga's fascinating cinematic pastiche is more than just a firework of rhizomatic intertextuality, a symptom of the depthlessness of postmodern aesthetics or excessive enthusiasm for experimentation in the field of form."
(Stefan Lutschinger, Furtherfield)
---
monochrom Weihnachtsratte 2015
Dass die Weihnachtsratte schon wieder vor der Tür steht, habt ihr bisher erfolgreich verdrängt. Entkommen könnt ihr auch dieses Jahr nicht!

Einen Ausweg aus der Geschenkfindungskrise bietet auch dieses Jahr wieder die große monochrom-Aktion mit gabentischrelevanten Preiserniedrigungen und erregenden Paketangeboten.

Alle Angebote gelten ab jetzt und bis zum 10.01.2016.
Sie werden unverzüglich ausgeführt; gezahlt wird per beiliegender Rechnung.

http://edition-mono.at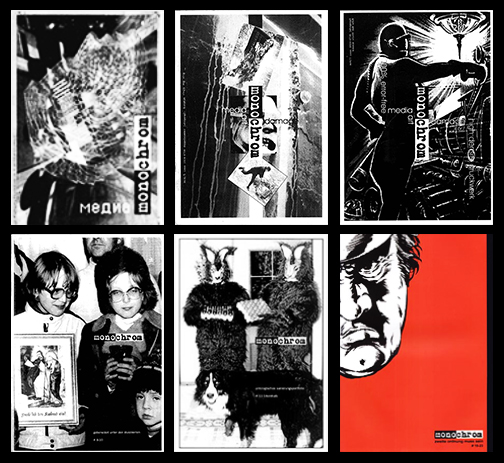 Wir bieten alle in der edition mono / monochrom erschienen Publikation um 20% billiger an als auf der Website ausgepreist
ab 2 Artikel sogar je 25%
ab 4 Artikel je 30%
ab 6 Artikel je 40%
ab 7 Artikel je unfassbare 50%
Porto nach Bestellmenge; ab 9 Artikeln portofrei!!!

Außerdem ergehen folgende Sonderkonditionen:

arse elektronika-Paket:
* pr0nnovation
* Do Androids Sleep with Elecrtic Sheep
* Of Intercourse and Intracourse
* Screw the System
50 statt 80 EUR

Neue Musik Paket:
* Das Wesen der Tonalität
* Die Leiden der Neuen Musik
* Serial Composition and Tonality
* Zwischentöne
* Neue Musik Heute?
50 statt 80 EUR

mono Print Paket (alle noch lieferbaren Ausgaben)
monochrom # 36 (= Sonne Busen Hammer 19)
monochrom # 35 (= Sonne Busen Hammer 18)
monochrom #26-34
monochrom # 25 (= Sonne Busen Hammer 17)
monochrom # 24 (= Sonne Busen Hammer 16)
monochrom #15-23 (nur noch wenige Exemplare vorhanden)
monochrom #11-14½ (nur noch wenige Exemplare vorhanden)
monochrom #8-10 (nur noch wenige Exemplare vorhanden)
50 statt 70,50 EUR

Bestellungen an vertrieb@monochrom.at
---
Wer erschoss Immanenz? von monochrom unter OPEN ACCESS erhaeltlich!
Wer erschoss Immanenz? Betrachtungen zur Dynamik von Aneignung und Intervention bei Georg Paul Thomann steht nun unter OPEN ACCESS zur Verfügung!

Since the early 1960s, Georg Paul Thomann has devoted himself to the grey zones where systems intersect: the art (market), politics, economics, pop, gaiety, vanity, good clean fanaticism, crisis, language, culture, self-content, identity, utopia, Georg Paul Thomann, mania and despair. The technique underlying his work is that of being and working in the fields of painting/the fine arts, Pop/avant-garde, theory/reflection, interventionism/politics, gaiety/lust/tragedy, (self-)configuration/mystification, and city/village. "Urban and rural zones are like a circulator pump in a brown, stinking little garden pond. They're feeding each other, they're sucking and spitting happily ever after" (interview with Thomann, in de:bug, Berlin, 1999). The project he pushes into and beyond these fields is 'networking' events, people, possibilities, material, impetus and identities. However, the networking here does not aim at constructing a transcendental mesh of contacts, but rather an ever-expanding and self-decentralising field of immanence, taking into account the phenomenon of rampancy as its determinate form of motion.
Rampancy here does not only mean prospering and thriving, growing beyond inherent boundaries, as suggested by a popular misreading of theoretical text, but sheer growth, growth in and on and through all levels. This is a movement of redundancy and contingency that genuinely implies its own counter-tendencies: splitting and implosion, even self-termination, self-sublimation, and re-cycling, several segments getting horny, putrefaction, cartilagination, hunchbackedness, fermentation, and repulsiveness ... Just as Thomann himself announces in his Maschinist Thomann manifesto: "If you use postmodern clichés, please at least do it properly!"
His strategic approach to interacting with and facing the 'outside' turns Thomann's form of networking into a non-dialectic dialectics of distance and nearness, presence and absence, hostile take-over and friendly separation, particularisation and formation of fractions and, of course, the everlasting readiness for alliance. Thomann calls it "die and let live" (Georg Paul Thomann: Zum 100. Geburtstag Der 80er Jahre. Majuskeln, Vienna, 1992).
In this context, Thomann's oeuvre is a manifestation of his own personal progression through and in the counter-cultures of the post-war era. Little of his oeuvre is qualified to be memorised, kept or historicised, let alone shown in a museum. A good deal of it has simply been left by the side of the road. The paintings, the music, public appearances and other forms of statement by the "enfant terrassé of the Austrian art scene" (Thomann on Thomann) are intended to be consumed and processed quickly since, like secret messages in old spy-movies, they start to dissolve in the socio-physical givens of exposure as soon as they come into contact with them.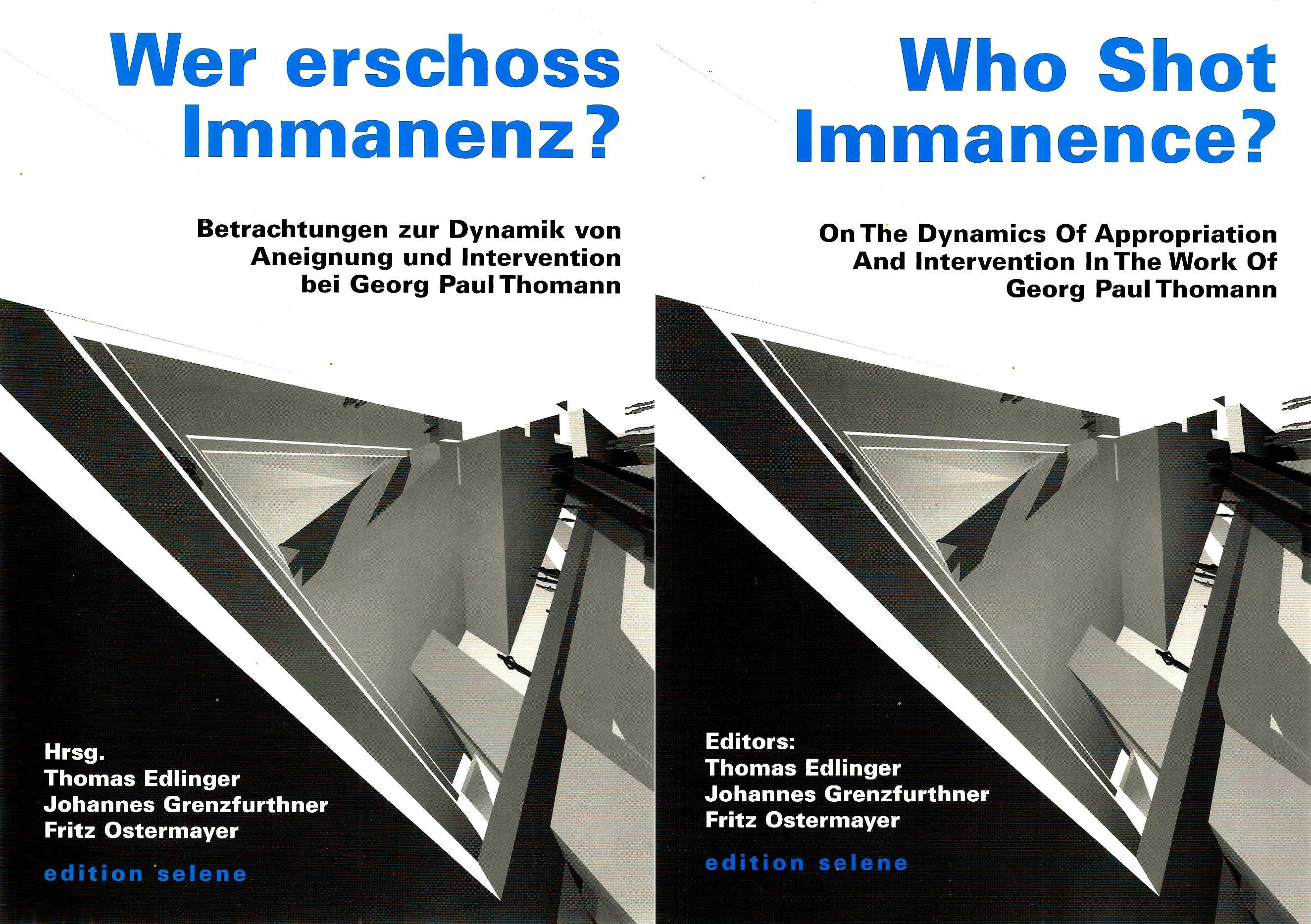 Edited by Thomas Edlinger, Johannes Grenzfurthner, Fritz Ostermayer

With contributions by: Martin Büsser, Stella Rollig, Roland Schöny, Stefan Grissemann, Lioba Reddeker, Peter von Trapp, Thomas Meineke, Zdenka Badovinac, Geert Lovink, Hans Temnitschka, Cosima Rainer, Michael Nagula, Amina Handke, Andreas Findeisen, Johannes Ullmaier, Claudia Slanar, Lorenz Seidler, Frank Apunkt Schneider, Gabu Heindl, Beat Weber, Tonki Gebauer, Didi Bruckmayr, Gerhard Stöger, Thomas Raab, Christian Kobald.

Published by edition selene, Vienna in german and english language, 2002
Paperback, 604 pages.
ISBN: 3-85266-183-8
Preis: Euro 34,80

Open Access at edition mono / monochrom
---
Boing Boing empfiehlt Traceroute trailer
Boing Boing meint du solltest dir den Traceroute-Trailer anschauen!
---
Traceroute-Trailer: Premiere auf der WCSFP in Wien
Hurra! Der Trailer von Traceroute wurde heute auf dem World Congress of Science and Factual Producers in Wien präsentiert.
---
Quo Vadis, Logo?! Das Buch zum Thema Globalisierungs- und Konsumkritik von monochrom unter OPEN ACCESS erhaeltlich!
Anlässlich des Kauf-Nix-Tages stellt monochrom das Buch Quo Vadis, Logo?! zum Thema Globalisierungs- und Konsumkritik unter OPEN ACCESS zur Verfügung!

Wie erhält ein Konzern ein Gesicht? Wie entsteht eine erfolgreiche Marke? Wie kommt eine spektakuläre Werbeidee zustande? Wie wichtig ist Kommunikation für die Wirtschaft? Fragen über Fragen… Konzerndomänen bestehen aus legal geschützten Symbolen, Logotypes und anderen grafischen Marken, die sich weltweit bewegen und den Konzern direkt repräsentieren. Diese Marken verkörpern den Konzern, personalisieren ihn und stellen ein Interface für die Öffentlichkeit dar. Die Marke ergänzt das Produkt, vielmehr noch, sie wird zum Produkt. Angepriesen werden nicht mehr die greifbaren Dinge hinter den Brands, sondern Images und Lebenshaltungen. Als Reaktion kommt es zu einem verstärkten Bewusstsein von KonsumentInnen hinsichtlich De-Branding und Trend-Zapping. AutorInnen wie Naomi Klein kritisieren mit ihren Arbeiten offen die Machenschaften der Konzerne. Es stellt sich nun die Frage, ob mit dieser Kritik nicht der Grundstein einer neuen Generation von Werbestrategien und Marken gelegt wird …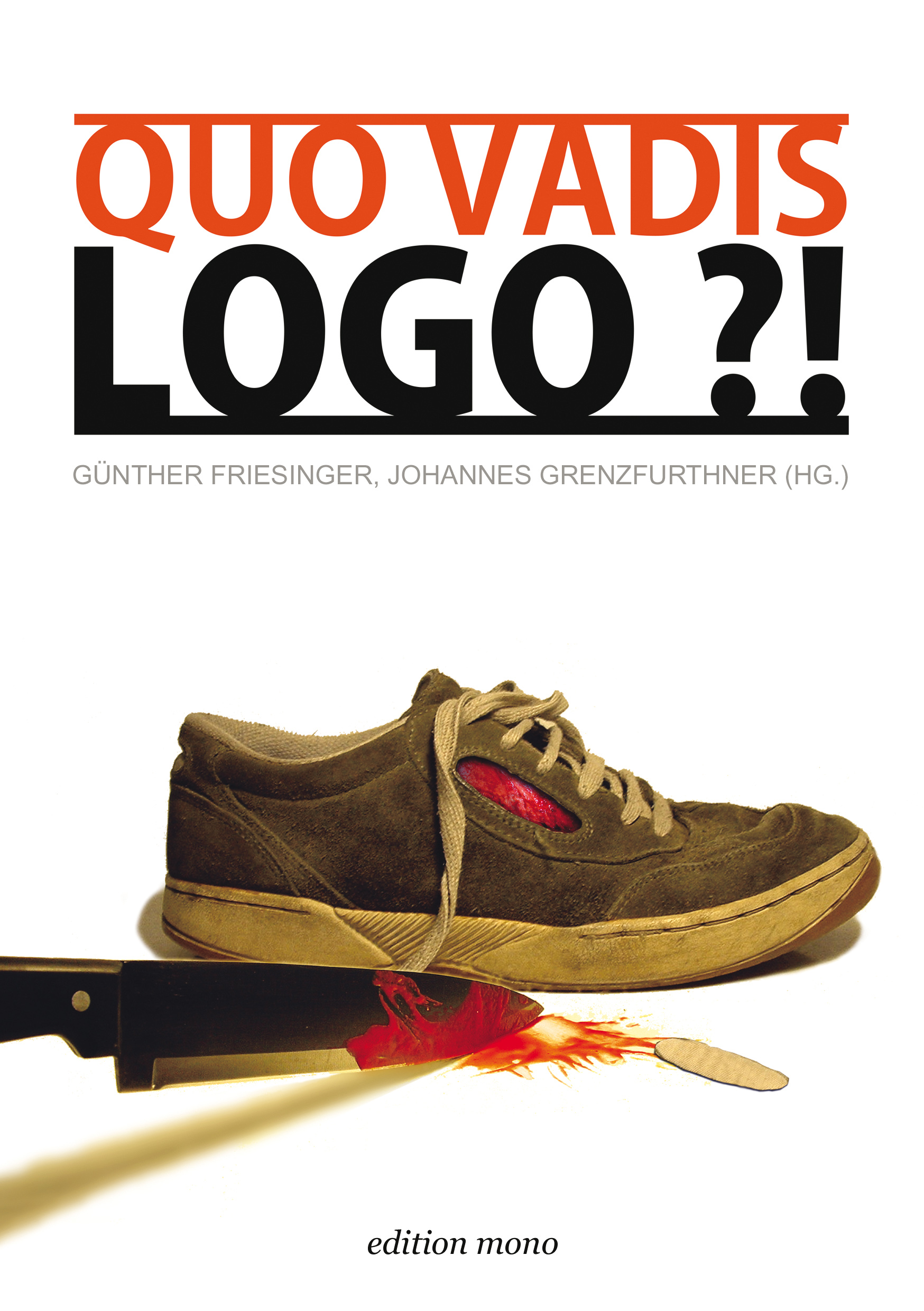 Hrsg.: Günther Friesinger und Johannes Grenzfurthner
Beiträge von: Adbusters, Anita Aigner, Norval Baitello, Anette Baldauf, Thomas Ballhausen, Cuba Libre, Karin Frank, Holm Friebe, Gruppe Or-Om, Herbert Hrachovec, Robert Kana, Günter Krenn, Karin Mairitsch, monochrom, new art, niij°, Processed World, Reclaim Democracy, Andrea Ressi, Christian Rupp, Urtica, Beat Weber, Bernhard Wolf und Christian Zillner
Taschenbuch: 146 Seiten
Verlag: edition mono/monochrom, 2006
Sprache: Deutsch
ISBN: 978-3-9500731-5-9
Preis: Euro 15,-

Die Open Access-Version des Buches steht auf der Website der edition mono / monochrom
zum freien Download!

Link
---
Wir schweigen nicht mehr!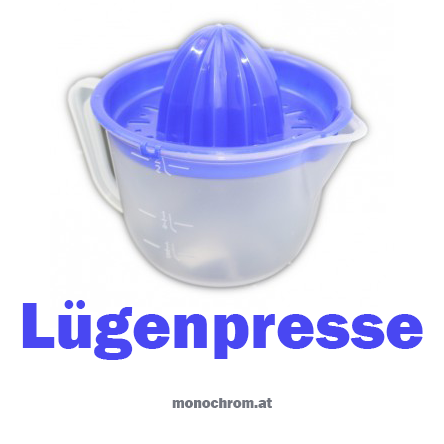 ---
Roboexotica speis
lounge? salon? nein - wir haben die project speis. gemütliches beisammensitzen bei musik. gedankenaustausch, gemeinsamer abend. einfach sich was entwickeln lassen und sachen anschauen.

als vorbereitung zur roboexotica 2015 laden wir zum vernetzungstreffen zur roboexotica, der weltweit ersten und zwangsläufig immer noch führenden veranstaltung zum thema cocktail-robotik für alle die schon immer mal einen roboter bauen wollten, sich aktiv an der organisation beiteiligen wollen oder nur neugierig sind - kommt vorbei am 26. november ab 19 uhr im raum d, qdk, quartier21, mq wien, museumsplatz 1, 1070 wien!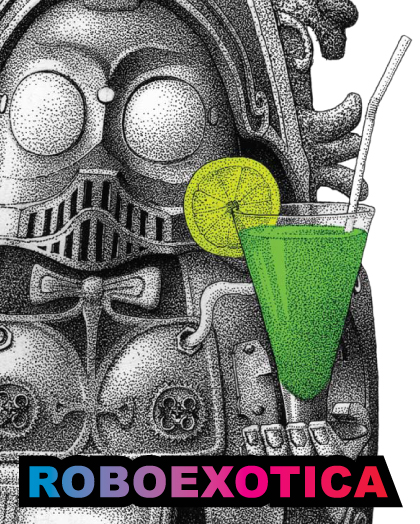 die roboexoitca wird von monochrom, shifz und das bureau für philosphie organisiert und findet 2015 vom 18. bis 20. dezember 2015 in wien im brick-5, fünfhausgasse 5, 1150 wien statt. http://www.roboexotica.org
---
[Archiv]
---
---
---
---
---
---
---
---
---
---
---
---
---
---
---
---
---
---
.
.
.

monochrom *1993. ursprünglich zeitschrift. lebt z. zt. als haufen bzw. neue unübersichtlichkeit im museumsquartier wien, bamberg und unter www.monochrom.at. arbeitet unter anderem als künstler/innen/gruppe, linksextremistischer partyservice, info-point, archiv, sloterdijk ii, liveband, gruppentherapie, computerspiel und als konkursmasse etc. monochrom besteht aus johannes grenzfurthner, evelyn fuerlinger, franky ablinger, harald homolka list, frank apunkt schneider, daniel fabry, gnther friesinger, anika kronberger, roland gratzer sowie gott und der welt. immerhin!
[mehr]

monochrom buchen:
[europa]
[usa]
monochrome infos:
[projekte / dokumentation]
[termine / chronologie]
[mono print / jahrbuch]
[mailing list]
[blog / english]
externe monochrom-Links:
[monochrom wikipedia]
[monochrom flickr]
[monochrom youtube]
[monochrom facebook]
[monochrom itunes]
[monochrom twitter]
[monochrom soup]
[monochrom imdb (de) ]
[monochrom imdb (us) ]
[monochrom vimeo]
[monochrom twitter]
[monochrom foursquare]
[monochrom myspace]
[monochrom amazon]
[monochrom abebooks]
[monochrom vine]

Kontakt:
[office at monochrom.at]

---
---
---