---
Arse Elektronika 2015: Termin!
Wir haben endlich einen Termin!
2. bis 4. Oktober 2015 im Center for Sex and Culture in San Francisco!
Prost!
---
Pittsburgh CityPaper empfiehlt die Gstettensaga
PGH CityPaper hat unseren Film "Die Gstettensaga" als Empfehlung der Woche!
Underground accolades accompany Die Gstettensaga: The Rise of Echsenfriedl, a 2014 indie horror flick from Austria getting its local premiere. The darkly comic film is set in the aftermath of apocalyptic warfare between superpowers China and ... Google, as a journalist and a technician traverse the hinterlands to find a legendary character. The festival favorite won Best Narrative Feature at Colorado's Maker Film Festival, and critic Cory Doctorow calls writer-director Johannes Grenzfurthner "a brilliant lunatic of surpassing and delightful weirdness." Meet Grenzfurthner at the Q&A after tonight's free, VIA-sponsored screening at Melwood Screening Room. BO 7:30 p.m. 477 Melwood Ave., Oakland. Free (18 and over)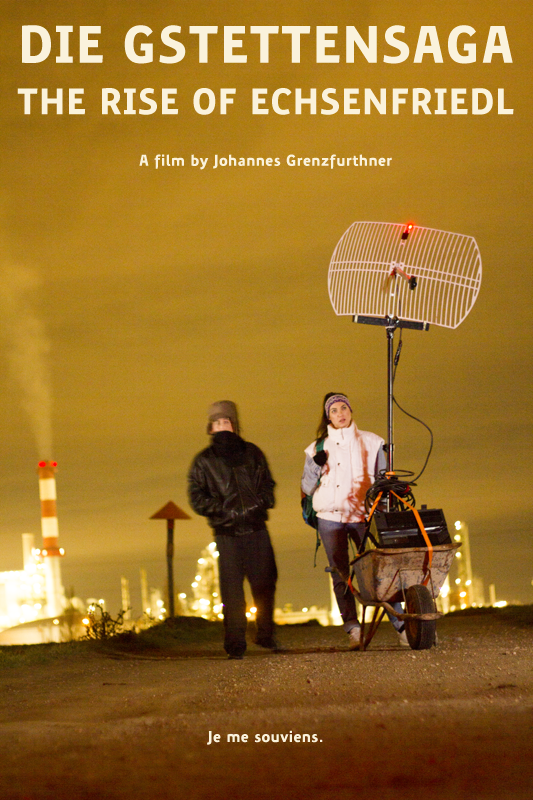 Link
---
Boing Boing empfiehlt "Zardoz is pleased" (Zardoz Vs. ET)
Cory Doctorow von Boing Boing mag "Zardoz is pleased"! Er hats geblogged!
Und ihr könnt das gute Ding auf Shirts und Posters kaufen...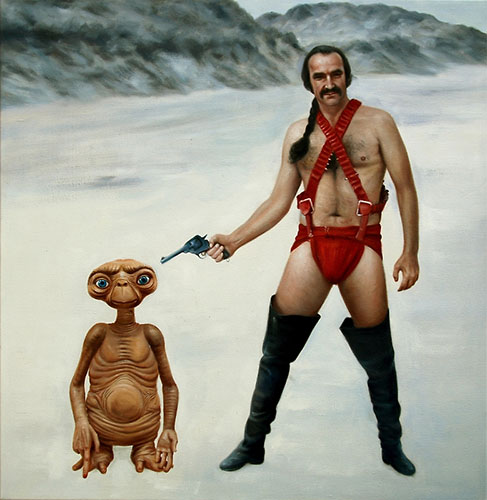 Link
---
Zardoz is pleased: monochroms Johannes Grenzfurthner und Cha präsentieren jemanden, der einfach nur nach Hause telefonieren will
It's actually pretty easy: a) The penis is evil. b) Don't destroy the Vortex. c) Phone home.
But our little friend had to learn his lesson the hard way. Is there more to say?

Hi-resolution reproduction of original oil painting from 2015.

Created by Johannes Grenzfurthner (of monochrom) and Cha

Johannes Grenzfurthner: http://www.grenzfurthner.com
Cha (contact): yan AT monochrom.at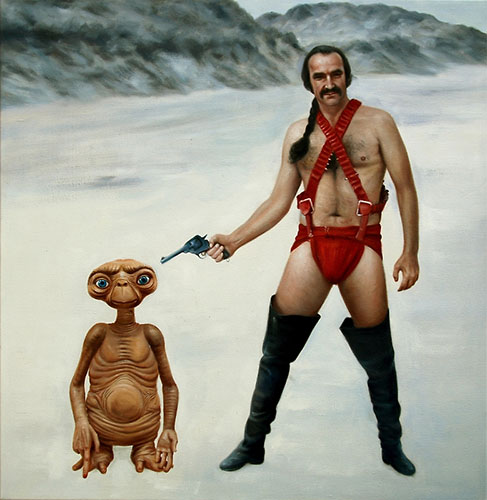 Link zum Warenangebot (Kaffeetassen, Leiberl, Poster, Handyzeug, Leggins, alles was das Herz begehrt!)


---
monochrom bei UEBERSCHREITUNGEN
Das digitale Nähe-Distanz-Problem

Wie sieht menschliche Nähe in der Zeit der digitalen Revolution aus? Wie werden Freundschaften und Beziehungen angebahnt und erhalten? Wie kann Technologie emotionale Momente unterstützen, speichern, evaluieren oder sogar erzeugen? Lässt sich menschliche Entwicklung als Abfolge technologischer Innovationen begreifen, bei der einfache durch komplexere Werkzeuge ersetzt wurden? Diese und viele andere Themen und Fragen werden bei der Medien Kunst Ausstellung ÜBERSCHREITUNGEN am Symposion Lindabrunn aufgeworfen und mit eindrucksvollen künstlerischen Positionen herausgearbeitet.

Künstler_innen und Werkliste:

Michael Heindl, The Same Old Story (2012)
Juliana Herrero, Milieu (2014)
Herwig Holzmann, Heimatnähe (2013)
Korinna Lindinger + Anna Haber, Schwellenobjekte (2011)
monochrom, Laughing Squirt (2013) + Schatzkästchen der Produktionsbedingungen (2013)
Julie Nymann, Kys | kyss (2012)
Andrea Peregrini, Wachsbalsam & Seelenheil (2015)
Roswitha Weingrill, True Colours (2015)
Kurator: Günther Friesinger

Vernissage: 25. April 2015, 18:00 Uhr
Laufzeit der Ausstellung: 26. April - 14. Juni 2015
Öffnungszeiten: Freitag: 15–19 Uhr, Samstag: 10–12 und 14–19 Uhr, Sonntag: 14–19 Uhr
Am Samstag, 16. Mai 2015 geschlossen

Symposionshaus, VSL - Verein Symposion Lindabrunn
Steinbruchstrasse 25, 2551 Enzesfeld /Lindabrunn

---
"Die Gstettensaga" in Pittsburgh (bei den Pittsburgh Filmmakers)
"Die Gstettensaga" wird in Pittsburgh gezeigt! Und Johannes Grenzfurthner wird Rede und Antwort stehen!
Wann, wo? 30. April 2015, 19:30 bei den Pittsburgh Filmmakers (477 Melwood Ave, Pittsburgh, Pennsylvania 15213, USA).

Link (FB)
---
monochroms Space Speis
Lounge? Salon? nein - Wir haben die Space Speis. eine Subvariante der project speis. Gemütliches Beisammensitzen bei Musik. Gedankenaustausch, gemeinsamer Abend. Einfach sich was entwickeln lassen. Und Sachen anschauen.
An diesem Abend die monochrom-Kurzfilme "gonna go mars" (2000), ISS (Folge 8, 2011, das ist die Folge mit den Chinesen) und "Columbia Space Shuttle and Rocket" - ein Frühwerk von Johannes Grenzfurthner.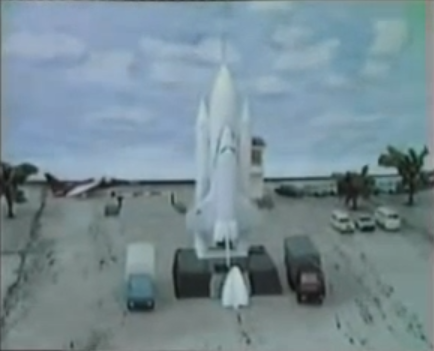 Am Donnerstag, 23. April 2015, ab 19 Uhr im Raum D, QDK, quartier21, MQ Wien, Museumsplatz 1, 1070 Wien.
---
monochrom in Boston: Context Hacking @ Boston University
Vortrag von Johannes Grenzfurthner (monochrom).
The term "context hacking"—like its older mimetic sibling "communication guerilla"—refers to unconventional forms of communication and/or intervention in more conventional processes of communication. Context hacking is a specific style of political action drawing from a watchful view of the paradoxes and absurdities of power, turning these into the starting point for interventions by playing with representations and identities, with alienation and over-identification.
Johannes Grenzfurthner will present some projects by monochrom, a worldwide operating collective from Vienna dealing with technology, art, and philosophy that was founded in 1993. The group specializes in an unpeculiar mixture of proto-aesthetic fringe work, pop attitude, subcultural science, and political activism. Their mission is conducted everywhere, but first and foremost "in culture-archaeological digs into the seats (and pockets) of ideology and entertainment."
Am 11. April 2015 um 18 Uhr an der Boston University (Room B50, Stone Science Auditorium, 675 Commonwealth Avenue, Boston MA, USA).


---
Unser Sowjet-Unterzögersdorf-Spiel auf VICE
Auf einmal laden ein Haufen Leute unser Sowjet-Unterzögersdorf-Spiel herunter. Und wir haben auch die Ursache entdeckt. VICE berichtet über ein neues Adventure-Game -- und wir sind erwähnt.
Mit der interaktiven Kurzgeschichte "A Fragment of Her" hat das junge Studio chronerion entertainment heimische Adventure-Fans aufhorchen lassen. Wie oft hört man schon von klassischen Point-and-Click-Produktionen aus Österreich? Um genau zu sein, fallen uns spontan zwei Beispiele ein, beide übrigens auch im Bezug auf Story in Österreich angesiedelt und weltanschaulich herrlich entgegengesetzt: Das Bank-Austria-Werbespiel Arnie Goes 4 Gold aus dem Jahr 1994—ja, Anfang der 90er war es tatsächlich eine plausible und im deutschen Sprachraum durchaus verbreitete Geschäftsstrategie, junge Kunden mithilfe von Adventures zu ködern—und das satirisch-kritische Sowjet-Unterzögersdorf des Künstlerkollektivs monochrom aus dem Jahr 2005.
Link
---
"It's a bug hunt!!" auf der Website von 'The Art of Future Warefare'
Und wie! 'The Art of Future Warefare' stellt unseren kleinen Mash-Up vor.

Artists Johannes Grenzfurthner and James Brothwell from monochrom have taken the iconic M41A rifle from the 1986 film Aliens and placed it in the hands of a Muppet — Kermit The Frog. The incongruous 1950s style pop art drawing is titled It's A Bug Hunt — fitting given a frog's natural appetite and Kermit's origins in that post-war decade. Those who have seen the film will recall the memorable line uttered by the film's laconic Corporal Hicks, a United States Colonial Marine who sees through his commanding officer's spin on their orders to investigate some kind of alien life form, a xenomorph. In the end, the 22nd Century's most advanced weapons and fiercest fighters are no match for what they find.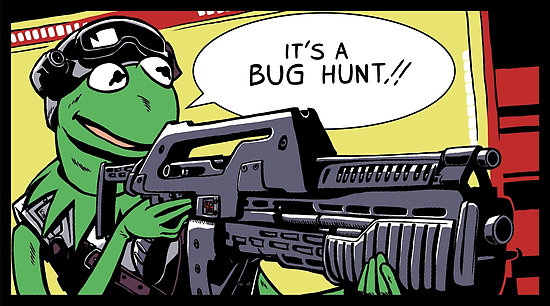 Link
---
Traceroute: Wir haben die Dokumentation abgedreht!
Eddie Codel, Jenny Marx und Johannes Grenzfurthner haben die 11000 Kilometer lange Reise hinter sich gebracht und die Dokumentation "Traceroute" ist im Kasten. Wir halten euch auf dem Laufenden!

"Traceroute: A Personal Journey Full Of Dangers, Creatures And More Or Less Precarious Working Conditions"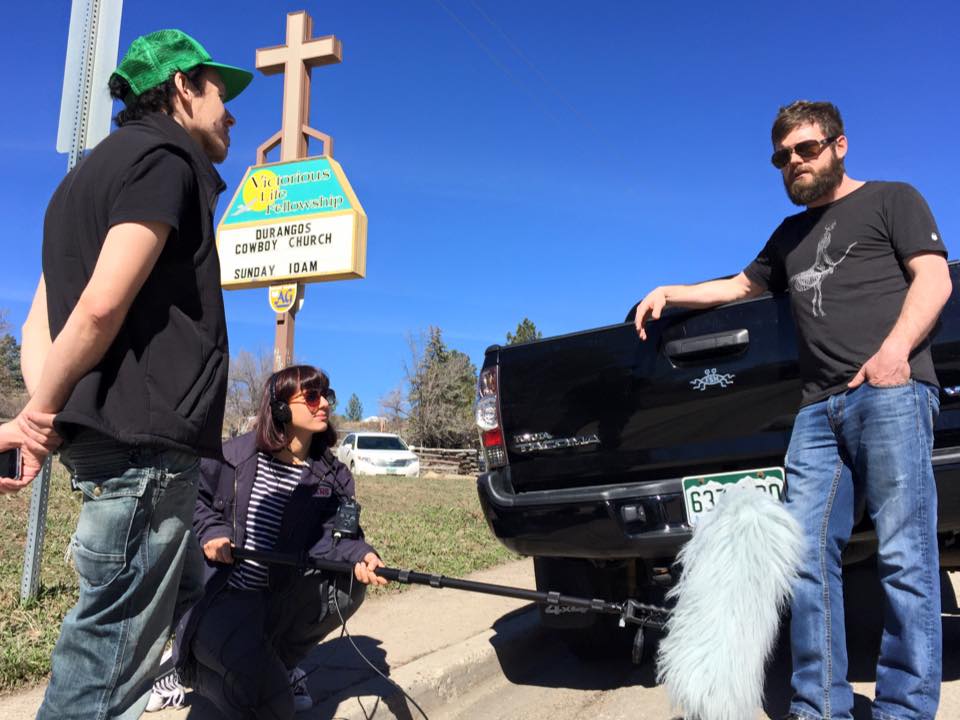 Link (Page)
Link (Facebook)
Link (IMDb)


---
Interview mit Johannes Grenzfurthner in Makeplus (Chinesisch)
Sehr ausführliches Interview mit Johannes Grenzfurthner in Makeplus (Chinesisch).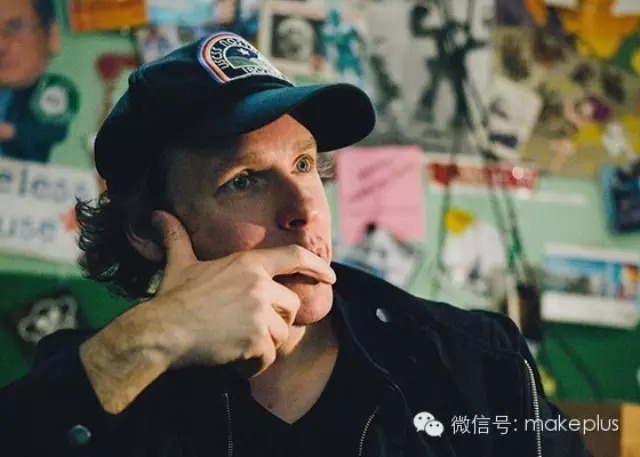 Link
---
KiG: "Was ist da los?" mit Johannes Grenzfurthners Einkommensverhältnissen
Unser Johannes ist ab sofort Celebrity. Denn es werden öffentlich seine Einkommensverhältnisse diskutiert.
Da denkst Du, es gibt so ein paar Konstanten in der Welt. Die Sonne geht im Osten auf, die österreichische Bundesregierung besteht im großen Ganzen aus Ohrwascheln, the internet is for porn, und auf Produktion und ungefähre Haltungskoordinaten der "Kunstneigungsgruppe" monochrom ist meistens Verlass: Hyperaktiv am Ausschlachten produktiver Mißverständnisse zwischen Pop, Technologie und Diskurs hauen sie Projekte, Kongresse, Videospiele, Filme mit einer Taktung raus, dass man sich nicht bemühen muß, ihnen zu folgen - nicht Du findest die Sachen von monochrom, sondern die Sachen von monochrom finden Dich.

Die Liste ist lang. Meine persönlichen Highlights darauf sind: Das Diskurspuppentheater "Kiki & Bubu". Die umfangreiche Monographie "Who shot Immanence?", die Leben und Arbeit eines faktisch inexistenten Künstlers zum Gegenstand hat, der gleichwohl mit monochrom zur Biennale nach Sao Paulo fuhr. Das Spiel "Sowjet-Unterzögersdorf", bei dem die obsolete(?) Form des Adventure-Games auf die obsolete(?) Ideologie der Sowjetunion trifft (und sich die Frage stellt: "Was ist ein SLAYER?"). Das Udo-Proksch-Musical. Zuletzt natürlich der sehr supere Spielfilm "Die G'stettensaga: The rise of Echsenfriedel". Wie gesagt: Es war bislang Verlass drauf, dass ich mich ungefähr einmal im Jahr über irgendwas Eigenartiges von monochrom freuen darf, das mich ganz ohne mein Zutun findet.
Link
---
"Die Gstettensaga": Wir haben eine 'honorable mention' auf dem 'DIY Film Festival 2015' in Los Angeles bekommen
"Die Gstettensaga: The Rise of Echsenfriedl" "Gstettensaga" got a "honorable mention" at the DIY Film Fest in Los Angeles.
The award ceremony was held in LA, March 6, 2015.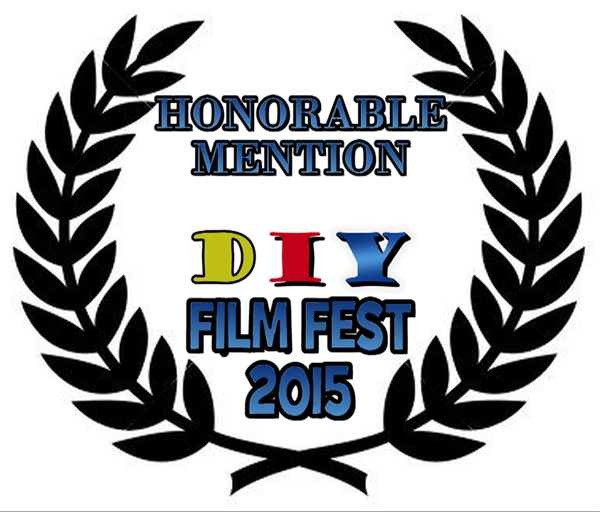 Link
---
Arse Elektronika: Sex, Tech and the Future of Screw-It-Yourself @ CMU Pittsburgh
Eine kleine Lecture-Performance von Johannes Grenzfurthner / monochrom, als Teil von Paolo Pedercinis Vorlesung an der CMU.
We may not forget that mankind is a sexual and tool-using species.
From the depiction of a vulva in a cave painting to the newest internet porno, technology and sexuality have always been closely linked. New technologies are quick to appeal to pornography consumers, and thus these customers represent a profitable market segment for the suppliers of new products and services.
Currently, all factors show that high-tech developments owe a great deal of their success to the need for further sexual stimulation. One could cite the example provided by the science-fiction concept of a full-body interface designed to produce sexual stimulation. But it isn't science fiction anymore. It's DIY.
As bio-hacking, sexually enhanced bodies, genetic utopias and plethora of gender have long been the focus of literature, science fiction and, increasingly, pornography, this year will see us explore the possibilities that fictional and authentic bodies have to offer. Our world is already way more bizarre than our ancestors could have ever imagined. But it may not be bizarre enough. "Bizarre enough for what?" -- you might ask. Bizarre enough to subvert the heterosexist matrix that is underlying our world and that we should hack and overcome for some quite pressing reasons within the next century. Don't you think, replicants?
24. Februar 2015, 18:30 auf dem CMU main campus in Pittsburgh/USA, College of Fine Arts, 3. Stock, Zimmer 307.


---
[Archiv]
---
---
---
---
---
---
---
---
---
---
---
---
---
---
---
---
---
---
.
.
.

monochrom *1993. ursprünglich zeitschrift. lebt z. zt. als haufen bzw. neue unübersichtlichkeit im museumsquartier wien, bamberg und unter www.monochrom.at. arbeitet unter anderem als künstler/innen/gruppe, linksextremistischer partyservice, info-point, archiv, sloterdijk ii, liveband, gruppentherapie, computerspiel und als konkursmasse etc. monochrom besteht aus johannes grenzfurthner, evelyn fuerlinger, franky ablinger, harald homolka list, frank apunkt schneider, daniel fabry, gnther friesinger, anika kronberger, roland gratzer sowie gott und der welt. immerhin!
[mehr]

monochrom buchen:
[europa]
[usa]
monochrome infos:
[projekte / dokumentation]
[termine / chronologie]
[mono print / jahrbuch]
[mailing list]
[blog / english]
externe monochrom-Links:
[monochrom wikipedia]
[monochrom flickr]
[monochrom blip.tv]
[monochrom youtube]
[monochrom facebook]
[monochrom itunes]
[monochrom twitter]
[monochrom soup]
[monochrom imdb (de) ]
[monochrom imdb (us) ]
[monochrom vimeo]
[monochrom twitter]
[monochrom foursquare]
[monochrom myspace]
[monochrom amazon]
[monochrom abebooks]
[monochrom vine]

Kontakt:
[office at monochrom.at]

---
---
---