---
Johannes Grenzfurthner über Sex und Technologie in 'de:bug'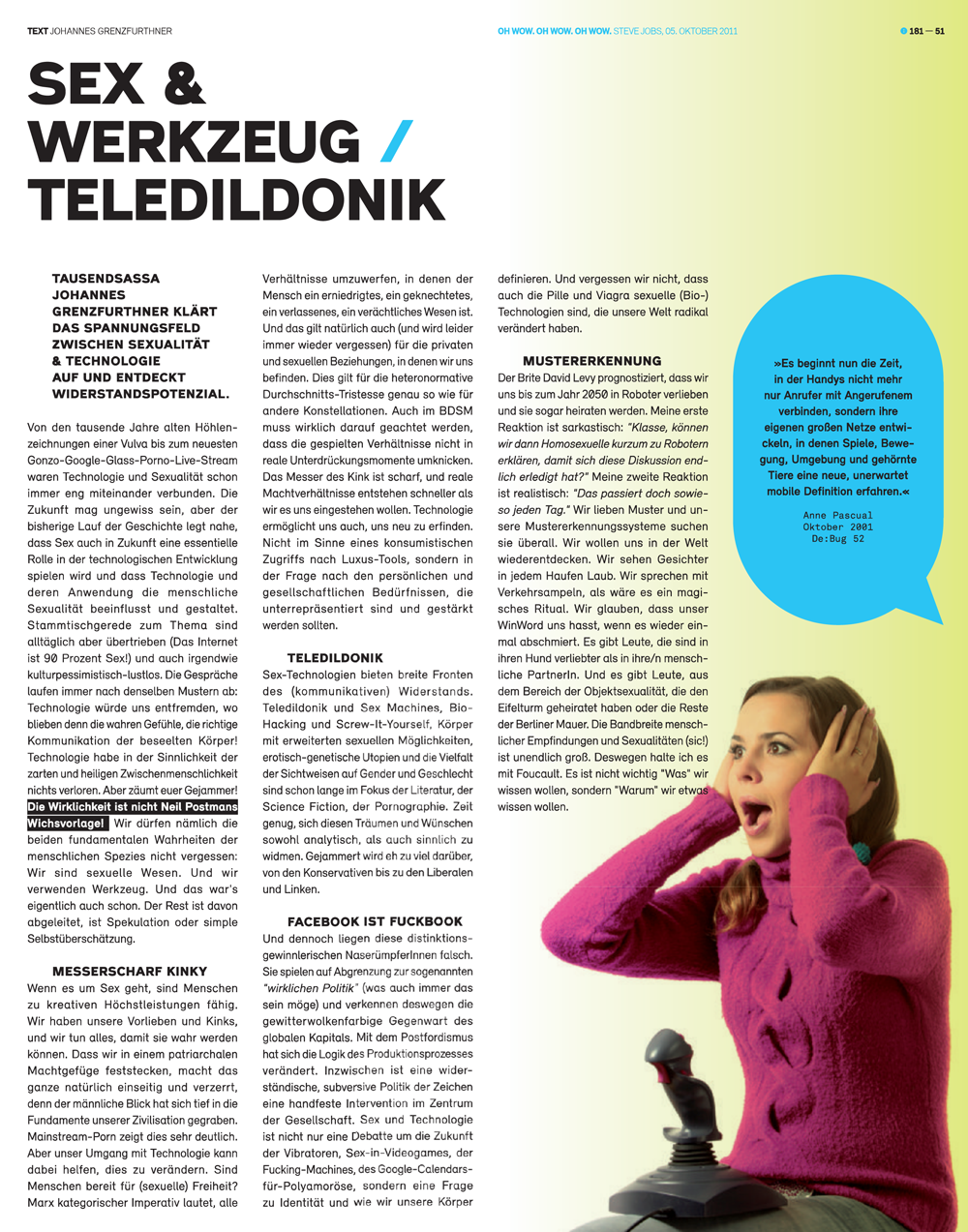 (Klick für Vergrößerung.)


---
Gstettensaga auf Laughing Squid
Oh yes.
Die Gstettensaga: The Rise of Echsenfriedl is a feature length sci fi comedy set in a post apocalyptic future in which the world has been devastated by the "Google Wars." The film is the first feature length production from Austrian art and technology group Monochrom. It was directed by Johannes Grenzfurthner.
Mehr hier (inklusive des Dingslinks)


---
Kleines Arse Elektronika Schmankerl im Playboy
Kleine Arse Elektronika Nennung im US-Playboy, März 2014.
Voila!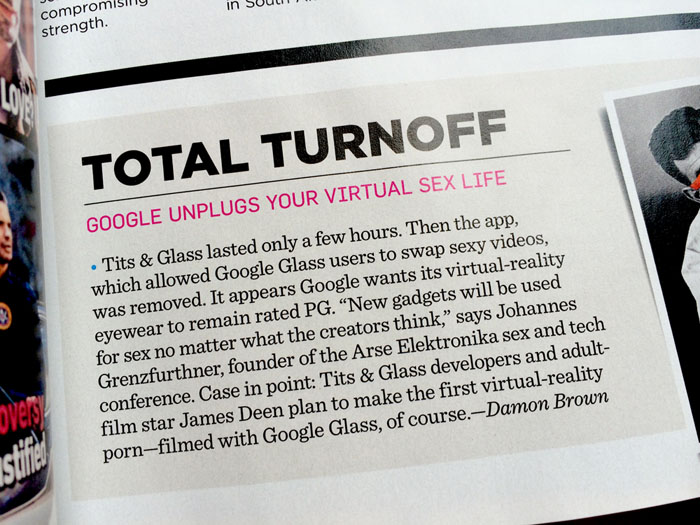 ---
Die Gstettensaga: Review auf Telepolis
Schöne Rezi der Gstettensaga auf Telepolis.
Die Künstlergruppe Monochrom erregte in der Vergangenheit unter anderem mit André-Hitler-Plattencovern, der Aktion Eigenblunzn, dem Computerspiel Sowjet Unterzögersdorf und einer ISS-Weltraum-Sitcom Aufsehen. Nun hat sie mit der Gstettensaga ihren ersten (zumindest halbwegs) abendfüllenden Spielfilm fertiggestellt – nach eigenen Angaben eine "No-Budget-Produktion", die nur 5000 Euro gekostet hat.

Die gnostisch angehauchte Groteske spielt auf dem Gebiet Österreichs nach einem dritten Weltkrieg zwischen den beiden Supermächten China und Google. Wie es sich für ein postapokalyptisches Szenario gehört, sind zahlreiche jetzt selbstverständliche Technologien verloren gegangen, so dass der Mogul Thurnher von Pjölk mit dem wiedererfundenen Druck mit beweglichen Lettern die öffentliche Meinung in der Megacity Schwechat beherrschen kann.
Link
---
Die Gstettensaga: Review auf PlanetNeukoln.tv
Stefan Tiron hat ein wunderbares Review unseres Films "Die Gstettensaga" veröffentlicht.
I recently had the great satisfaction to watch a preview of a very fresh postapocalyptic feature film + a directorial debut, that premiered on Austria's ORF in March this year. What I was asking myself this time was to try and appreciate an entirely different kind of algorithmic force that was once again set loose by Johannes Grenzfurthner (of monochrom fame) upon unsuspecting survivors of the last 35 years of road-warrior, post-nuke, after-the-bomb films.

As a friend just tweeted, now every Hollywood blockbuster seems to be written by some underlying algorithm. The end credits are just the cinematic equivalent to a CAPTCHA response – trying to identify the film crew as human, even if this last human verification test is untenable and obsolete.
Well, I kinda have this incredible (and maybe you do too!) and perverse desire to get to the bottom of actual directorial algorithms – trying very hard to enter the loop and be able to forget how Hollywood movie after movie manages to push an exact quota of car explosions, 3D makeover, eye-popping HD footage, hero worship, body count, family values, rescue missions ad infinitum into box office paradise.

Let's be clear, I'm overenthusiastic about Gstettensaga – because it is such a genre bender, a satiric H bomb, a horror movie and ex-auction house vaudeville going for the unexpected dialectical turns of current history, and leading us into the untrodden and definitely outrageous wastelands that could be populated by the likes of Surf Nazis Must Die, Escape from NY, Steel Dawn or America 3000.
[...]
Link
---
Crowdvernaderung funktioniert! Die Wahrheit über "Die Gstettensaga: The Rise of Echsenfriedl"
"Die Gstettensaga: The Rise of Echsenfriedl" contains a text insert similar to watermarks used in festival viewing copies: "This viewing copy is provided for awards consideration only." The text insert asks the viewer to report the film as copyright infringement by calling a premium-rate phone number (1.09 EUR/minute). The film aired on Austrian national television in March 2014. Art group 'monochrom' co-financed the film with proceeds from the premium-rate number. They call this new strategy 'crowdratting.'
Mehr Trivia? Hier!


---
"Are You Ready to Fuck Like a Nerd?" -- Arse Elektronika auf dem Vice-Blog
Sure, classic nerds might be into MythBusters, Magic: the Gathering, and Minecraft. But they're also into sex. In fact, the crossover between sex and the more traditional realms of nerd interest is longstanding; science fiction, for example, is frequently pointed at as a source of progressive and even transgressive sexual theory.

In devising alternate universes, authors, filmmakers, and fans imagine new ways of living, loving, and fucking. Sci-fi and comics are full of latex and leather and futuristic orgy planets where anything goes. Everyone loves it. Conventions like Arse Elektronika exist exclusively to provide an intersection for the worlds of sex and tech.
Link
---
monochrom: Context-Hacking-Workshop in Linz
As it emerged in the 90s, the concept "communication guerilla" was, not least of all, a response to the exhaustion of traditional leftist activism after the fall of the Berlin wall. The search for new forms of praxis led (at least in some points) to a new, transversal praxis beyond the realm of the "old" activism - even though the point of departure for this search was the experience of a seminal defeat of the left. Today, following the rise and possibly already the incipient downfall of a new global movement, the situation is a different one, and the question arises as to the extent to which this concept from the 90s is still useful. The new activism has become more global, more networked, but most of all, it has developed a new dynamic beyond political and national borders. At the same time, however, this activism still evinces many features of the old polit-activism, not only in the neo-communist party version of the SWP (Socialist Workers Party) and Globalize Resistance. Despite all the rhetoric, activism often still has a stance that is strangely separated from people's everyday life, even that of its own protagonists. The future of this global activism will depend on whether it succeeds in being capable of action at the local level, the level of everyday life, while continuing to develop its transversal, border-crossing character at the same time. The most important border that has to be crossed is the border that constitutes the activist her or himself in a separation from the "rest" of society. We think that the praxis of the communication guerilla can contribute to this kind of border-crossing.
An der Kunstuni Linz, Kollegiumgasse 2, 4. Stock, Linz.
27 und 28. April 2014, 10:30 bis 17 Uhr.
---
FM4-Interview über "Die Gstettensaga"
Interview mit Regisseur Johannes Grenzfurthner über "Die Gstettensaga: The Rise of Echsenfriedl".

Link (MP3)


---
"Die Gstettensaga: The Rise of Echsenfriedl" -- TV-Premiere
Eine postapokalyptische Sci-Fi-Fantasy-Horror-Groteske von Johannes Grenzfurthner. Produziert von monochrom/Traum&Wahnsinn, gestaltet für ORF III AiR.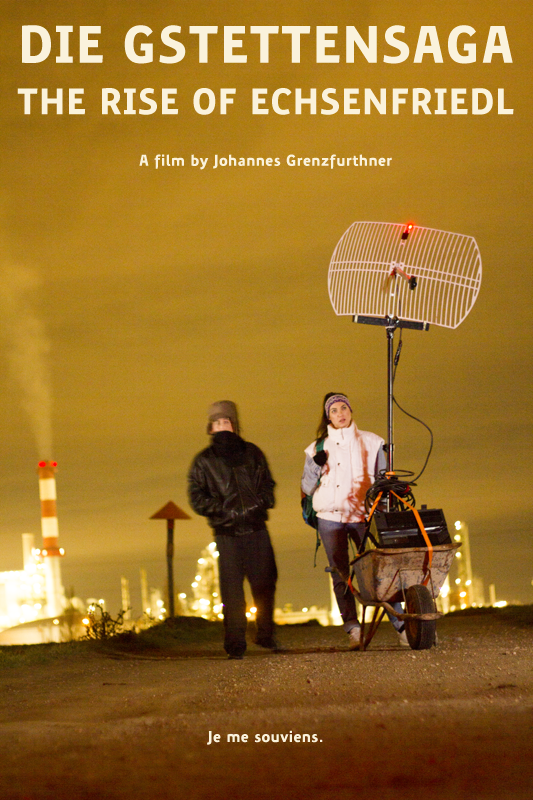 Das gute Ding läuft am 10. März 2014 um 23:45 auf ORF III. Wir werden uns die TV-Premiere gemeinsam anschauen. Um 22:30 treffen wir uns zum Umtrunk im Raum D, Museumsquartier, Wien.

Link


---
Heute: Premiere der "Gstettensaga"
7. März 2014: Heute berichtet über die Premiere unseres ersten Spielfilms.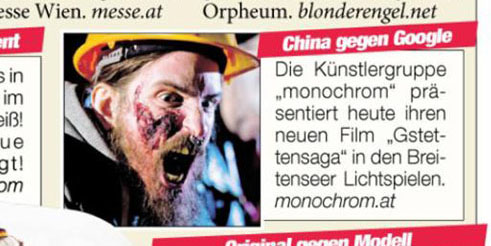 Info (Film)


---
Deutscher Trailer! -- "Die Gstettensaga: The Rise of Echsenfriedl"

Link
---
Penzing liebt Echsenfriedl
PENZING. Die Science-Fiction-Groteske "Die Gstettensaga: The Rise of Echsenfriedl" feiert am 7. März seine Premiere in den Breitenseer Lichtspielen. Regie geführt und auch mitgeschrieben am Drehbuch hat der Wiener Johannes Grenzfurthner, unterstützt von Roland Gratzer.
Link
---
monochrom im neuen Reader "Truth is Concrete"
A handbook for artistic strategies in real politics.

How does art play a role in social and political struggles all over the world? Can it be a tool with which to shape the world rather than just reflect it? Following on from the "Truth is concrete" 24/7 marathon camp at the 2012 steirischer herbst festival, a manual of artistic strategies in politics and society is to be published in spring 2014 and is now available for pre-ordering. "Truth is concrete" collects 100 strategies by artists, activists and theorists, mapping the broad field of engaged art and artistic activism today. Additional essays focus on the philosophy, structures and modalities behind the many fights to make this world a better place.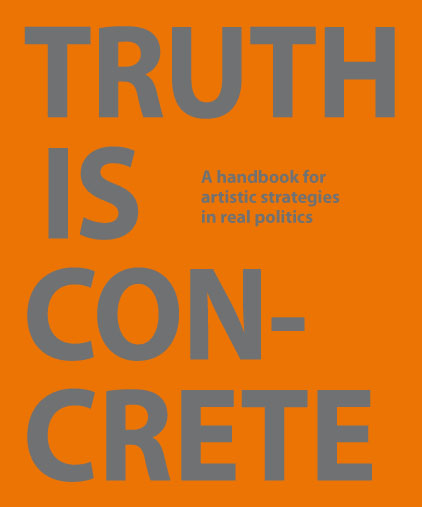 Essays by Stephen Duncombe & Steve Lambert, Alanna Lockward, Chantal Mouffe, Florian Malzacher, Gerald Raunig & Jonas Staal
A conversation with etcetera, Nato Thompson & WHW

Original contributions by Adbusters, Jonathan Allen, Udi Aloni, Hector Aristizabal, Artleaks, Katherine Ball, Leah Borromeo, Andrew Boyd, Tania Bruguera, Boris Buden, Carlos Celdran, Center for Political Beauty, chto delat, church of kopimism, Santiago Cirugeda, Corrupt Tour, Gabriela Csoszó, Minerva Cuevas, Neil Cummings, Diedrich Diederichsen, Charles Esche, Roza El Hassan, Femen, Noah Fischer, Andrea Fraser, Isabelle Fremeaux, Christine Gaigg, Ganzeer, Federico Geller, Marina Grznic, Núria Güell, Erdem Gündüz, Hans Haacke, Stefano Harney, Carl Hegemann, iconoclasistas, Institute for Human Activities, International Institute for Political Murder (IIPM), Janez Janša, Khaled Jarrar, Anna Jermolaewa, Jeudi Noir, John Jordan, Kaddu Yarrax, Kavecs, Janice Kerbel, Jisun Kim, Omer Krieger, Mierle Laderman Ukeles, André Lepecki, Lexxus Legal, Lawrence Liang, Liberate Tate, Geert Lovink, Matteo Lucchetti, Oliver Marchart, Joana Mazza, Tomislav Medak, Markus Miessen, Monochrom, Mosireen, Jean Luc Moulène, Rabih Mroué, Michael Murin, Marina Naprushkina, Neue Slovenische Kunst (NSK), occuprint, Ahmet Öüt, Robyn Orlin, Sibylle Peters, Pixadores, Sra Popovi, Raivo Puusemp, raumlaborberlin, Reverend Billy, Richard Reynolds, Scott Rigby, Irit Rogoff, Florian Schneider, Shared Inc., Gregory Sholette, Stevphen Shukaitis, Mladen Stilinovi, Kuba Szreder, Claire Tancons, The Haircut Before The Party, The Laboratory of Insurrectionary Imagination (LABOFII), The Pinky Show, the vacuum cleaner, The Yes Men, Tiqqun, Tools for Action, Ultrared, Marina Vishmidt, VOINA, Joanna Warsza, WochenKlausur, Stephen Wright, Yomango, Salam Yousri, Wu Yuren et al.

Edited by steirischer herbst & Florian Malzacher
Co-edited by Anne Faucheret, Veronica Kaup-Hasler, Kira Kirsch, Andreas R. Peternell & Johanna Rainer

Sternberg Press
April 2014, English
16 x 22 cm, approx. 300 pages
Retail price € 19.00
(Till 12/04/2014: € 17,00)
Link
---
Herr Ostrowski, monochrom und das frühe Graberl
"Herr Ostrowski sucht das Glück: In der Einsamkeit" wurde am Dienstag, den 18. Februar 2014 um 23.00 Uhr auf ORF1 ausgestrahlt.

Michael Ostrowski macht den Selbstversuch, ob Einsamkeit glücklich macht und worin der Unterschied zwischen Einsamkeit und Alleinsein liegt. Dazu reist er in den Weltraum, verbringt eine Zeit lang als Eremit im Linzer Mariendom und lässt sich lebendig begraben. Natürlich von uns monochroms. Wir haben da schon Erfahrung.


Link
---
[Archiv]
---
---
---
---
---
---
---
---
---
---
---
---
---
---
---
---
---
---
.
.
.

monochrom *1993. ursprünglich zeitschrift. lebt z. zt. als haufen bzw. neue unübersichtlichkeit im museumsquartier wien, bamberg und unter www.monochrom.at. arbeitet unter anderem als künstler/innen/gruppe, linksextremistischer partyservice, info-point, archiv, sloterdijk ii, liveband, gruppentherapie, computerspiel und als konkursmasse etc. monochrom besteht aus johannes grenzfurthner, evelyn fuerlinger, franky ablinger, harald homolka list, frank apunkt schneider, daniel fabry, gnther friesinger, anika kronberger, roland gratzer sowie gott und der welt. immerhin!
[mehr]

monochrom buchen:
[europa]
[usa]
monochrome infos:
[projekte / dokumentation]
[termine / chronologie]
[mono print / jahrbuch]
[mailing list]
[blog / english]
externe monochrom-Links:
[monochrom wikipedia]
[monochrom flickr]
[monochrom blip.tv]
[monochrom youtube]
[monochrom facebook]
[monochrom itunes]
[monochrom twitter]
[monochrom soup]
[monochrom imdb (de) ]
[monochrom imdb (us) ]
[monochrom vimeo]
[monochrom twitter]
[monochrom foursquare]
[monochrom myspace]
[monochrom amazon]
[monochrom abebooks]
[monochrom vine]

Kontakt:
[office at monochrom.at]

---
---
---