---
"Die Gstettensaga: The Rise of Echsenfriedl" -- TV-Premiere
Eine postapokalyptische Sci-Fi-Fantasy-Horror-Groteske von Johannes Grenzfurthner. Produziert von monochrom/Traum&Wahnsinn, gestaltet für ORF III AiR.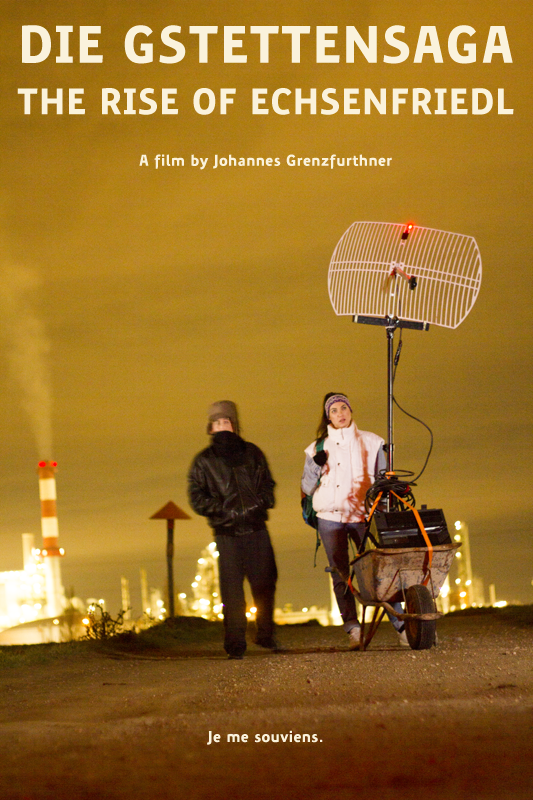 Das gute Ding läuft am 10. März 2014 um 23:45 auf ORF III. Wir werden uns die TV-Premiere gemeinsam anschauen. Um 22:30 treffen wir uns zum Umtrunk im Raum D, Museumsquartier, Wien.

Link


---
Heute: Premiere der "Gstettensaga"
7. März 2014: Heute berichtet über die Premiere unseres ersten Spielfilms.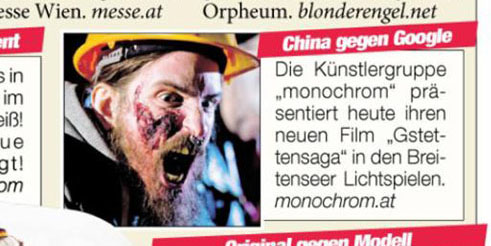 Info (Film)


---
Deutscher Trailer! -- "Die Gstettensaga: The Rise of Echsenfriedl"

Link
---
Penzing liebt Echsenfriedl
PENZING. Die Science-Fiction-Groteske "Die Gstettensaga: The Rise of Echsenfriedl" feiert am 7. März seine Premiere in den Breitenseer Lichtspielen. Regie geführt und auch mitgeschrieben am Drehbuch hat der Wiener Johannes Grenzfurthner, unterstützt von Roland Gratzer.
Link
---
monochrom im neuen Reader "Truth is Concrete"
A handbook for artistic strategies in real politics.

How does art play a role in social and political struggles all over the world? Can it be a tool with which to shape the world rather than just reflect it? Following on from the "Truth is concrete" 24/7 marathon camp at the 2012 steirischer herbst festival, a manual of artistic strategies in politics and society is to be published in spring 2014 and is now available for pre-ordering. "Truth is concrete" collects 100 strategies by artists, activists and theorists, mapping the broad field of engaged art and artistic activism today. Additional essays focus on the philosophy, structures and modalities behind the many fights to make this world a better place.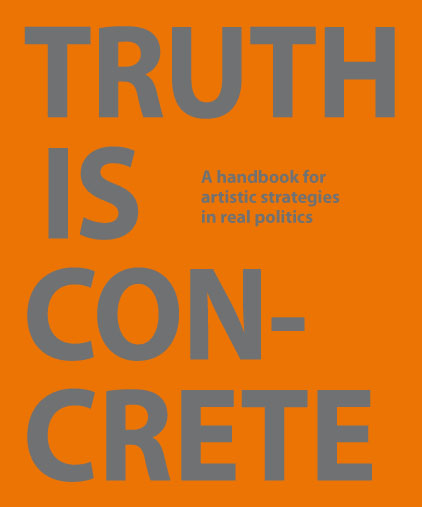 Essays by Stephen Duncombe & Steve Lambert, Alanna Lockward, Chantal Mouffe, Florian Malzacher, Gerald Raunig & Jonas Staal
A conversation with etcetera, Nato Thompson & WHW

Original contributions by Adbusters, Jonathan Allen, Udi Aloni, Hector Aristizabal, Artleaks, Katherine Ball, Leah Borromeo, Andrew Boyd, Tania Bruguera, Boris Buden, Carlos Celdran, Center for Political Beauty, chto delat, church of kopimism, Santiago Cirugeda, Corrupt Tour, Gabriela Csoszó, Minerva Cuevas, Neil Cummings, Diedrich Diederichsen, Charles Esche, Roza El Hassan, Femen, Noah Fischer, Andrea Fraser, Isabelle Fremeaux, Christine Gaigg, Ganzeer, Federico Geller, Marina Grznic, Núria Güell, Erdem Gündüz, Hans Haacke, Stefano Harney, Carl Hegemann, iconoclasistas, Institute for Human Activities, International Institute for Political Murder (IIPM), Janez Janša, Khaled Jarrar, Anna Jermolaewa, Jeudi Noir, John Jordan, Kaddu Yarrax, Kavecs, Janice Kerbel, Jisun Kim, Omer Krieger, Mierle Laderman Ukeles, André Lepecki, Lexxus Legal, Lawrence Liang, Liberate Tate, Geert Lovink, Matteo Lucchetti, Oliver Marchart, Joana Mazza, Tomislav Medak, Markus Miessen, Monochrom, Mosireen, Jean Luc Moulène, Rabih Mroué, Michael Murin, Marina Naprushkina, Neue Slovenische Kunst (NSK), occuprint, Ahmet Öüt, Robyn Orlin, Sibylle Peters, Pixadores, Sra Popovi, Raivo Puusemp, raumlaborberlin, Reverend Billy, Richard Reynolds, Scott Rigby, Irit Rogoff, Florian Schneider, Shared Inc., Gregory Sholette, Stevphen Shukaitis, Mladen Stilinovi, Kuba Szreder, Claire Tancons, The Haircut Before The Party, The Laboratory of Insurrectionary Imagination (LABOFII), The Pinky Show, the vacuum cleaner, The Yes Men, Tiqqun, Tools for Action, Ultrared, Marina Vishmidt, VOINA, Joanna Warsza, WochenKlausur, Stephen Wright, Yomango, Salam Yousri, Wu Yuren et al.

Edited by steirischer herbst & Florian Malzacher
Co-edited by Anne Faucheret, Veronica Kaup-Hasler, Kira Kirsch, Andreas R. Peternell & Johanna Rainer

Sternberg Press
April 2014, English
16 x 22 cm, approx. 300 pages
Retail price € 19.00
(Till 12/04/2014: € 17,00)
Link
---
Herr Ostrowski, monochrom und das frühe Graberl
"Herr Ostrowski sucht das Glück: In der Einsamkeit" wurde am Dienstag, den 18. Februar 2014 um 23.00 Uhr auf ORF1 ausgestrahlt.

Michael Ostrowski macht den Selbstversuch, ob Einsamkeit glücklich macht und worin der Unterschied zwischen Einsamkeit und Alleinsein liegt. Dazu reist er in den Weltraum, verbringt eine Zeit lang als Eremit im Linzer Mariendom und lässt sich lebendig begraben. Natürlich von uns monochroms. Wir haben da schon Erfahrung.


Link
---
Context Hacking: Some Examples of How to Mess with Art, the Media System, Law and the Market @ Shenkar Design School
The term "context hacking" --like its older mimetic sibling "communication guerrilla" -- refers to unconventional forms of communication and/or intervention in more conventional processes of communication. Context hacking is a specific style of political action drawing from a watchful view of the paradoxes and absurdities of power, turning these into the starting point for interventions by playing with representations and identities, with alienation and over-identification.

Johannes Grenzfurthner will present some projects by monochrom, a worldwide operating collective from Vienna dealing with technology, art, and philosophy that was founded in 1993. The group specializes in an unpeculiar mixture of proto-aesthetic fringe work, pop attitude, subcultural science, and political activism. Their mission is conducted everywhere, but first and foremost "in culture-archaeological digs into the seats (and pockets) of ideology and entertainment."

Tags: digital art practice, subverting communication processes, cultural subversion, viral communication, creativity.
25. Februar 2014, 12 Uhr an der Shenkar Design School, Tel Aviv, Israel.


---
Arse Elektronika auf mako.co.il
Netter Artikel über Sex, Technologie und Arse Elektronika auf mako!
Sehr schön!

Link (Hebräisch)


---
Arse Elektronika: Sex, Tech and the Future of Screw-It-Yourself @ Ha-Midrasha, Tel Aviv
Eine Vortragsperformance von Johannes Grenzfurthner / monochrom.
We may not forget that mankind is a sexual and tool-using species.
From the depiction of a vulva in a cave painting to the newest internet porno, technology and sexuality have always been closely linked. New technologies are quick to appeal to pornography consumers, and thus these customers represent a profitable market segment for the suppliers of new products and services.
Currently, all factors show that high-tech developments owe a great deal of their success to the need for further sexual stimulation. One could cite the example provided by the science-fiction concept of a full-body interface designed to produce sexual stimulation. But it isn't science fiction anymore. It's DIY.
As bio-hacking, sexually enhanced bodies, genetic utopias and plethora of gender have long been the focus of literature, science fiction and, increasingly, pornography, this year will see us explore the possibilities that fictional and authentic bodies have to offer. Our world is already way more bizarre than our ancestors could have ever imagined. But it may not be bizarre enough. "Bizarre enough for what?" -- you might ask. Bizarre enough to subvert the heterosexist matrix that is underlying our world and that we should hack and overcome for some quite pressing reasons within the next century.
Don't you think, replicants?
27. Februar 2014, 20 Uhr, präsentiert von Ha-Midrasha in Kooperation mit Print Screen.
Adresse? Ha-Yarkon Street #19, Tel Aviv, Israel.


---
monochrom stellt vor: "SAFECAST: Citizen Science after Fukushima Makes an Impact"
monochrom freut sich eine wunderbare Initiative von guten Freunden vorstellen zu können.
Safecast is a non-ideological, non-profit, volunteer-based organization created in the days immediately following the the Fukushima NPP disaster, which began three years ago on March 11, 2011. The release of radioactive material was accompanied by a disturbing lack of clear public information concerning radiation levels in the affected areas, and a series of missteps and misstatements by the Japanese government and by TEPCO damaged their credibility in the eyes of large segments of the population. Credible and independent data concerning the growing radiation risk was sought by many to fill the acute information vacuum.
SAFECAST quickly began to field mobile detectors of its own design, which leveraged open-source software and hardware and new-generation DIY tools such as laser cutters and custom PCB fabrication to dramatically accelerate development and deployment time. The group simultaneously developed an information management system that allows GPS-tagged radiation data points to be uploaded into a central database and displayed on an interactive web-based map. SAFECAST's radiation information system has seen the rapid deployment no fewer than seven increasingly refined GPS-enabled mobile radiation detector designs, called "bGeigies," the web-based "GeoSense" map, a free iOS-based map application, and other devices and software, all developed by volunteers and made freely available through Creative Commons licenses.

The radiation data gathered by SAFECAST volunteers in Japan and abroad currently exceeds 15 million data points, arguably the most extensive public data set of its kind. It was soon hailed as a technically competent, credible, and objective source of radiation information for Japan by specialists on both sides of the nuclear power debate. SAFECAST has been invited to present it's methodology and criticisms at the IAEA "International Experts' Meeting on Radiation Protection after the Fukushima Daiichi Accident: Promoting Confidence and Understanding," being held in Vienna from Feb. 17-21.

At Raum D, SAFECAST Volunteers Joe Moross and Azby Brown will show the group's latest mobile radiation detector designs, talk about iterative design and the challenges of building a technically adept global volunteer organization, and discuss what the future holds in store.
Raum D, Museumsquartier, Wien.
21. Februar 2014 um 19 Uhr.


---
monochrom Pressespiegel 2013
139 Seiten. Nicht schlecht.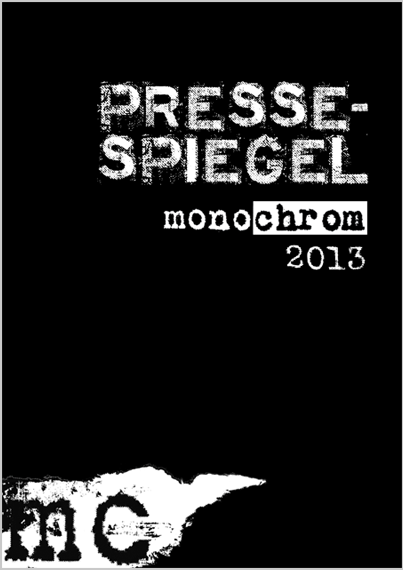 Link (PDF)


---
Johannes Grenzfurthner (monochrom) at Cybersalon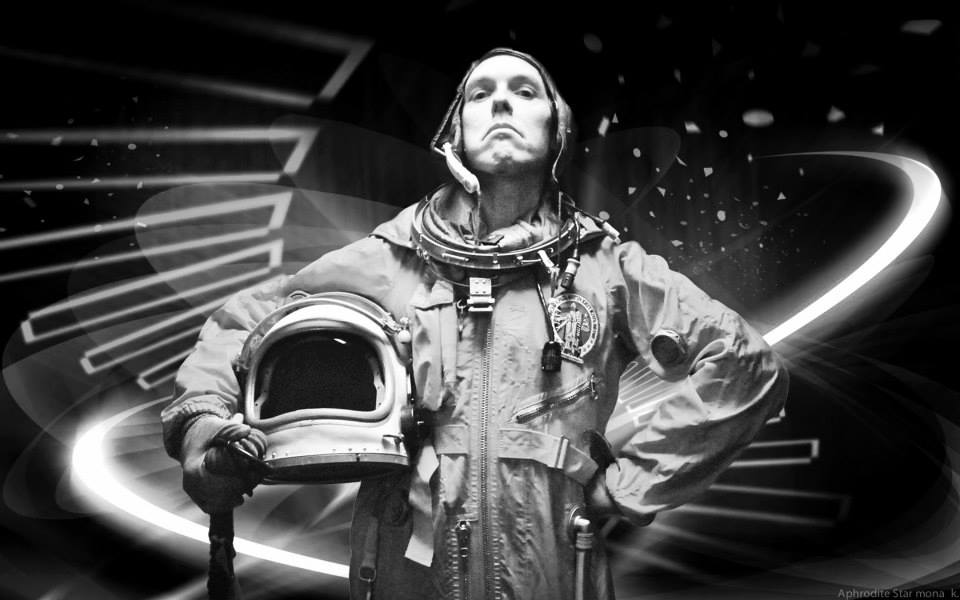 Image by Mona K Artist.


---
Cybersalon-Interview mit Johannes Grenzfurthner
Phil Campbell hat ein nettes Interview mit Johannes in London beim Cybersalon gemacht.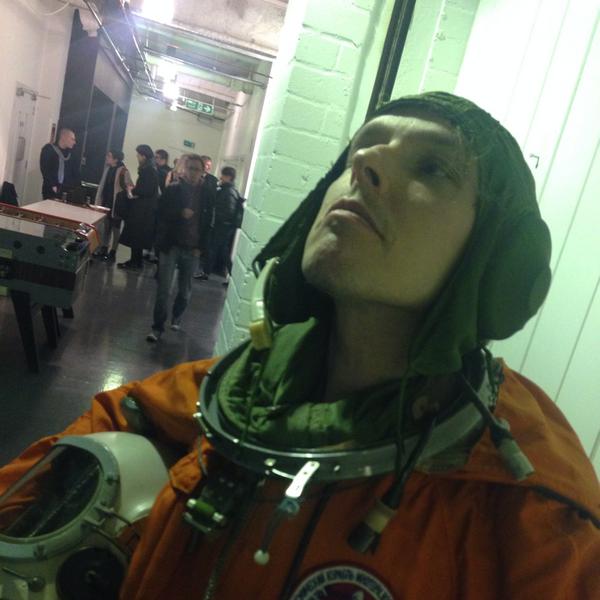 Link
---
Jeff Ricketts: Interview featuring monochrom
Super REddit-Interview mit Jeff Ricketts... und er spricht auch über seine Arbeit mit uns hier bei monochrom.
I'm Jeff Ricketts, and I'm very, very happy and honoured to be here answering your questions and interacting with you all! Before we get started, here's a little information about myself for those of you that don't know my work away from "Buffy The Vampire Slayer" and "Angel"...

I'm an American League-trained theatre, film, and television actor. I've performed in over 100 plays in New York, International theatre, Shakespeare festivals, and regional theatre. While in New York, I played the title role of Richard Schechner's critically acclaimed production of FaustGastronome.

As far as I'm aware, I'm one of only six actors to appear in "Buffy The Vampire Slayer", "Angel", and "Firefly". I played Weatherby of the Watcher's Council in Buffy's "This Year's Girl" and "Who Are You?", as well as playing the same character in Angel's "Sanctuary". I also played the Spider Demon in Angel's "Sacrifice", and played one of the two 'Hands of Blue' in Firefly's "The Train Job" and "Ariel". In addition to my roles on Joss Whedon's shows, I've also appeared in CSI, 24, Charmed, Star Trek: Enterprise, Without A Trace, The Guardian, Philly, The Drew Carey Show, and NYPD Blue.

These days I live in Austria. My work in Austria includes playing the Captain of the International Space Station in Monochrom's ISS. It's an improvised sitcom that was filmed in front of a live audience. You can watch most of it for free here - http://www.monochrom.at/iss/ . My film credits include The Strange Case Of Wilhelm Reich, Holes, Clockstoppers, and Amber Benson's "Chance" (along with Whedonverse alumni Amber Benson, James Marsters, and Andy Hallett). I've recently wrapped shooting on "Good Morning Kabul", directed by Barbara Eder. Finally, I am about to appear in Monochrom's film "Die Gstettensaga: The Rise Of Echsenfriedl", where I will play the leader of the Barbarians. The film will premiere on ORF III in March of this year.
Link
---
monochrom @ "The Cyborg's New Clothes - Wearable Computing, Iteractive Fashion and Skin 2.0"
SprecherInnen: Johannes Grenzfurthner (monochrom), Jesse Darling, Dr. Phoebe Moore, Krõõt Juurak.
VeranstalterInnen: Stefan Lutschinger & Adriana Smentek.
The wearable revolution is at the gates: Sensors and chip sets, the "peace dividend of the smartphone wars" as former WIRED editor in chief Chris Anderson puts it, are cheaper now than ever, making it easy for companies to incorporate sophisticated hardware into wearable devices. Many of the big names in consumer electronics have already released products at the International CES in Las Vegas. Like it or not, 2014 will be the year of the wearable. January's Cybersalon will touch of the following topics: Is Google Glass the continuation of CCTV by other means? How will the commodification and intrusion of our bodies by wearables change our perception and understanding of subjectivity? Is self-logging a trendy self-management strategy or does it create an El Dorado for personal data dealers? In which ways can critical artists respond to the challenges raised by the rapid human-machine integration? How can we tap the subversive potential of wearable technology? How can interactive fashion explore subjectivity as a nexus between inside, outside and in-between spaces? How can artificial pneumatic computer-controlled skin help us outsmart surveillance? Over the last two decades, the dialectic of political economy and technological progress has turned the vintage utopias of the 90s on their dystopian feet: 20 years ago, media art pioneer Nam June Paik had imagined the future Internet user as a Deleuzian prototype nomad warrior, cycling the Electronic Superhighway on a bike, dressed in a fancy data suit, wearing a neat surrealist Dali-style VR helmet. In 1995, MIT Media Lab founder Nicolas Negroponte had dreamt of the Body Net as the digital road warrior's kit upgrade, connecting your shoe computer to a wrist keyboard and head-up display: "Activating your body means that everything you touch is potentially digital. A handshake becomes an exchange of digital business cards, a friendly arm on the shoulder provides helpful data, touching a doorknob verifies your identity, and picking up a phone downloads your numbers and voice signature for faithful speech recognition." In 2014, however, the reality principle has gained the upper hand. We see supermarket workers in the UK wearing body-borne computers for performance monitoring and location tracking, a technology formerly employed in sports or pet-keeping. Shops in London are secretly snooping on customers by targeting their mobile phones through Wi-fi. In that fashion, the 'cyborg's new clothes' are capable of leaking our personal data to dark global data markets in real-time. Without a retailored Esprit de Costumes, we may all unwillingly become participants in a virtual World Naked Bike Ride.
28. Januar 2014; 18:30 @ LBi UK, 146 Brick Ln, London E1 6RU, UK.

Link


---
[Archiv]
---
---
---
---
---
---
---
---
---
---
---
---
---
---
---
---
---
---
.
.
.

monochrom *1993. ursprünglich zeitschrift. lebt z. zt. als haufen bzw. neue unübersichtlichkeit im museumsquartier wien, bamberg und unter www.monochrom.at. arbeitet unter anderem als künstler/innen/gruppe, linksextremistischer partyservice, info-point, archiv, sloterdijk ii, liveband, gruppentherapie, computerspiel und als konkursmasse etc. monochrom besteht aus johannes grenzfurthner, evelyn fuerlinger, franky ablinger, harald homolka list, frank apunkt schneider, daniel fabry, gnther friesinger, anika kronberger, roland gratzer sowie gott und der welt. immerhin!
[mehr]

monochrom buchen:
[europa]
[usa]
monochrome infos:
[projekte / dokumentation]
[termine / chronologie]
[mono print / jahrbuch]
[mailing list]
[blog / english]
externe monochrom-Links:
[monochrom wikipedia]
[monochrom flickr]
[monochrom blip.tv]
[monochrom youtube]
[monochrom facebook]
[monochrom itunes]
[monochrom twitter]
[monochrom soup]
[monochrom imdb (de) ]
[monochrom imdb (us) ]
[monochrom vimeo]
[monochrom twitter]
[monochrom foursquare]
[monochrom myspace]
[monochrom amazon]
[monochrom abebooks]
[monochrom vine]

Kontakt:
[office at monochrom.at]

---
---
---