---
Testcard rezensiert Gstettensaga -- und wie!
Das ist ja ein richtiger Liebesbrief an die Gstettensaga! Danke Testcard, danke Didi Neidhart!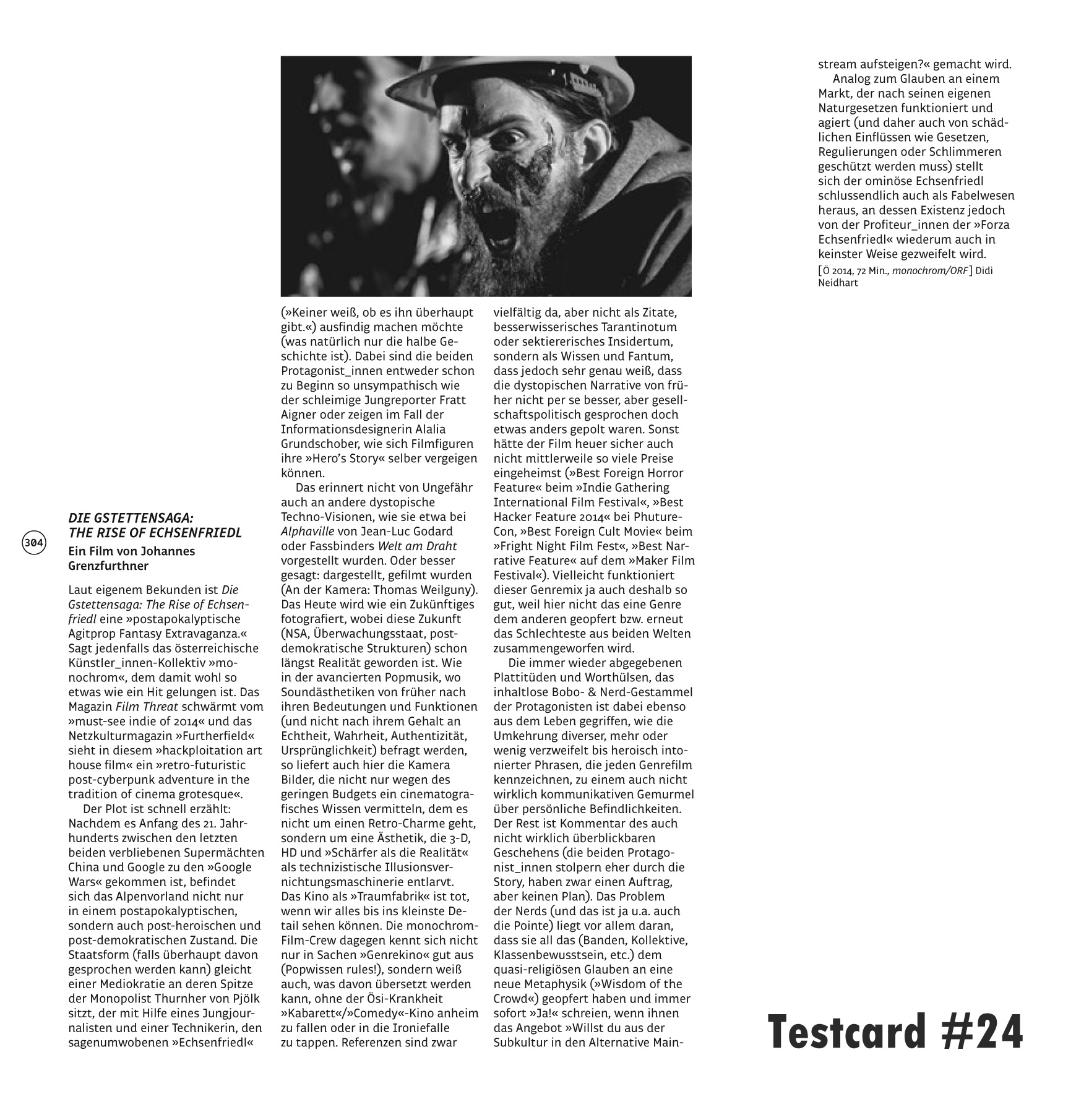 (Klicken für Zoom)
Link
---
Arse Elektronika: MP3-Archive (2007-2014) ist jetzt online
GehirnperverslingInnen!
Wir haben uns zwar Zeit gelassen, aber jetzt ist es vollbracht. Wir haben MP3s von allen vorhandenen Arse-Elektronika-Vortrögen (2007-2014) online gestellt. Die Dateien finden sich leicht auf der jeweiligen "schedule" der spezifischen Arse. Einfach auf MP3 klicken!
---
monochrom Verlagsprogramm 2015
Das Jahresende rückt mal wieder näher. Daher für kurze Zeit, bis am 23. Dezember die monochrom-Sonderaktion per Remail an vertrieb@monochrom.at


Alle Artikel im monochrom Verlagsprogramm 2015 um:

Je 20% billiger
Ab 2 Artikel je 25%
Ab 3 Artikel je 30%
Ab 4 Artikel je 35%
Ab 5 Artikel je 40%
Ab 6 Artikel je 45%
ab 7 Artikel je unfassbare 50%

Das Angebot ist bis zum 23. Dezember gültig! Die Ware kann im mono-office im MQ nach Vereinbarung abgeholt werden oder wird per Post versendet (Porto nach Bestellmenge)


---
"Hackeando los espacios": Spanische Übersetzung von "Hacking the spaces"
Sehr gut!
Johannes Grenzfurthner y Frank Apunkt Schneide son miembros de monochrom, un grupo de arte, tecnología y filosofía con base en Viena y en Zeta Draconis. El artículo original puede encontrarse en http://www.monochrom.at/hacking-the-spaces.

Fue traducido por Barbanegra en hackerspaces.org, de donde derivó esta versión traducida por Mauricio Pasquier Juan (mauricio@pasquierjuan.com.ar).

Una proclama crítica, de lo que fue, es y será un hackerspace (o hacklab, para el caso)
Link
---
Lotek64 rezensiert "Die Gstettensaga"
Und ein tolles Rezi noch dazu!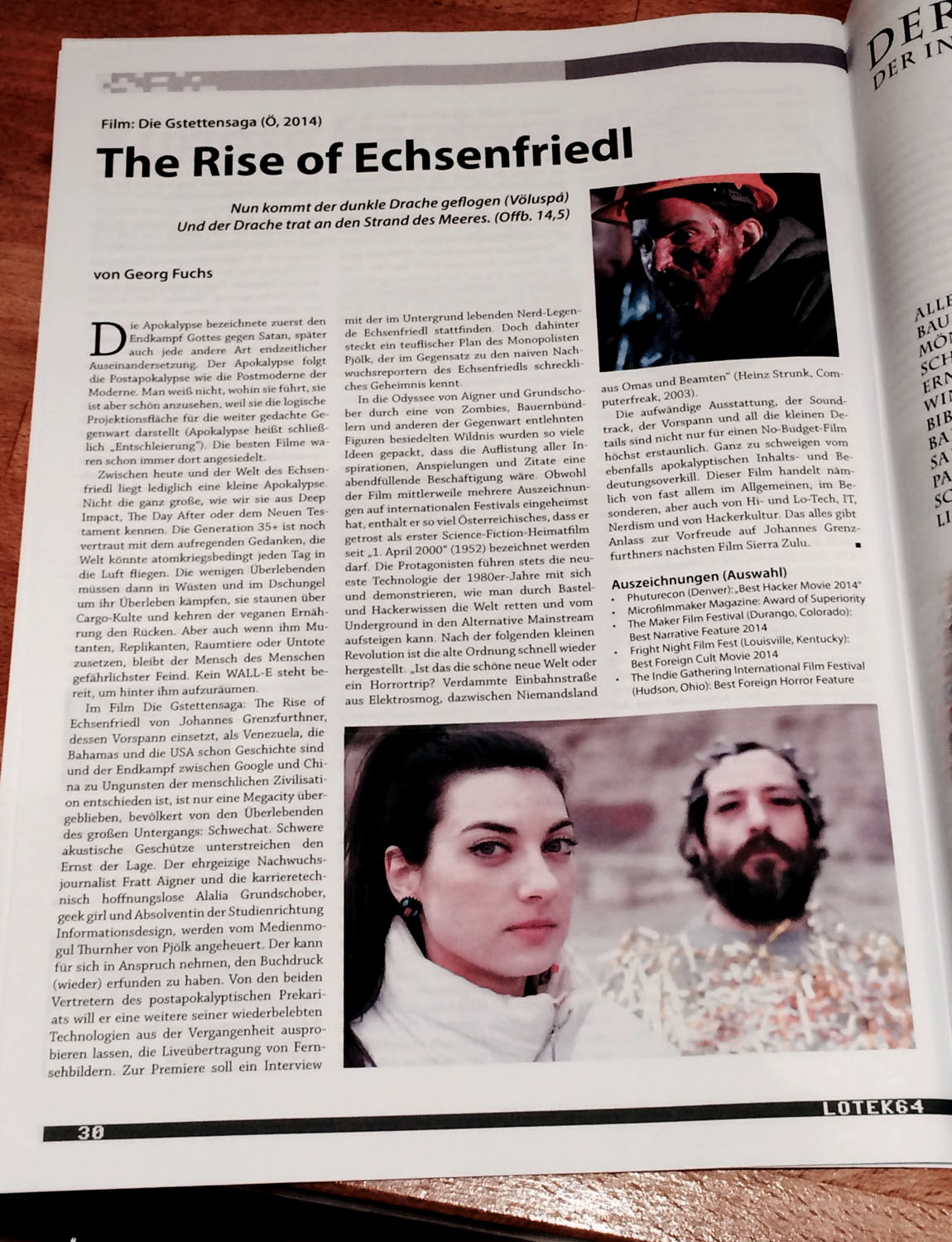 (Klicken zur Vergrößerung)
Link
---
"Die Gstettensaga": International Filmmaker Festival of World Cinema 2015 Official Selection
Da schau her!
"Die Gstettensaga: The Rise of Echsenfriedl" has been selected to screen at the International Filmmaker Festival of World Cinema 2015.
The festival will be held in London, UK, February 25-28, 2015.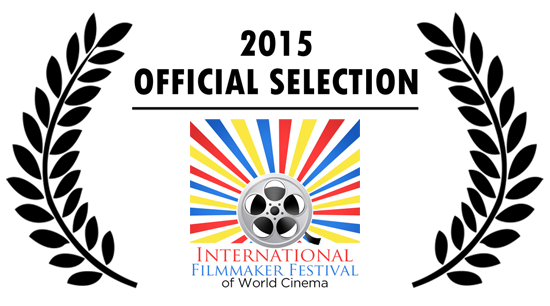 Link
---
c't lobt die Roboexotica 2014
Das internationale Festival der Cocktail-Robotik präsentiert in der kommenden Woche wieder Maschinen und Installationen im Dienste des technisch-subversiven Trinkgelages. 0b00000010 Gin Tonic, bitte, Herr Barbot!

In der Robotik muss es nicht unbedingt bierernst zugehen: Auch in ihrem sechzehnten Jahr will die Roboexotica, das Wiener "Festival für Cocktail-Robotik" wieder die Grenzen zwischen Technik, Medienkunst und Nachtleben ausloten. Ab dem kommenden Donnerstag, dem 4. Dezember, laden die Veranstalter dazu ins Brick-5 im 15. Bezirk.

Magnus Wurzer und Johannes Grenzfurthner von den Künstlergruppen Shifz und monochrom erwarten in diesem Jahr "etwa 14 bis 18 Maschinen". Genauer könne man es nicht sagen, da manche Aussteller wenige Tage vor der Veranstaltung noch nicht wüssten, ob ihre Konstruktion bis zur Eröffnung auch fertig würde.
Link
---
Roboexotica 2014 steht vor der Tür
Alle Jahre wieder ist Cocktail-Roboter-Zeit.

Roboter sind nicht nur zum Arbeiten und Angst machen da. Sie können auch Cocktails mixen, selber trinken oder alkoholgeschwängerte Bar-Konversationen führen. Diesen Robotern wird einmal im Jahr eine weltweit einzigartige Veranstaltung gewidmet. 2014 steigt die Roboexotica zum ersten Mal im Brick-5, 1150 Wien. Ein würdiger Ort für den technophilsten Rausches der Welt! Von 4. bis 7. Dezember!


---
monochrom präsentiert Jack Sargeant: William S. Burroughs in the World Beyond Literature
Vortrag und Filmvorführung im Raum D / quartier21, Museumsquartier.

Vortrag: Saturday, November 29, 7pm
Screening: Sunday, November 30, 7pm

Jack Sargeant will talk about William Burroughs in the World Beyond Literature & screen Andre Perkowski's Nova Express. Based on William S. Burroughs' quasi-science fiction cut-up novel of the same name, the film is a remarkable cinematic realisation of the cult book.

Who is Jack Sargeant?

As an author Jack Sargeant's work has been described as "dangerously inspirational" his numerous books include Deathtripping: The Extreme Underground, Naked Lens: Beat Cinema (both now in their third English language editions), and many others. He has written on film and culture for numerous books, anthologies and journals, and has written introductions for books by Lydia Lunch, Romain Slocombe, Joe Coleman, Cat Hope and for William Burroughs' Unforgettable Characters.
He writes a regular column for FilmInk, and has written articles for The Wire, Xochi 23, Fortean Times, World Art, Real Time, Metro and many other publications.
His writings have also appeared in the booklets accompanying numerous DVDs in the USA and UK, including the BFI release of Jeff Keen's films and the Industrial Records Throbbing Gristle DVD box set.
Jack has frequently appeared as a documentary interviewee in films including Blank City, The Advocate For Fagdom and Llik Your Idols. He also appears as a DVD extra on the American release of the Burroughs / sound experiments influenced underground movie Decoder.
Sargeant has lectured on underground film and culture, beat culture, William Burroughs and many other topics across the world. He has curated numerous film and art events, and is currently program director for the Revelation Film Festival in Western Australia.
His latest book, to be published in English and Swedish language editions, is Against Control which will be available on the night.
Link
---
monochrom gräbt euch ein, mit Liebe! SIX FEET UNDER CLUB in Wien
Am 28. November 2014 in der Schwelle 7 in Wien!
In the age of data mining, a person's sex life may contain less embarrassing details than their web search history. Does it make sense that the former is a tightly guarded secret while the latter is shared with anonymous corporations daily? Even though a sexual nature is one of the few things most humans share in common, our social convention is to push all trace of it out of the public sphere. The Six Feet Under Club offers attendees a unique opportunity to experience the warping of public and private intimate space.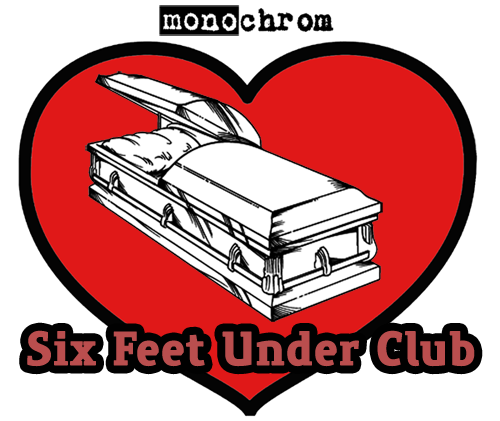 Couples can volunteer to be buried together in a casket beneath the ground. The space they occupy will be extremely private and intimate. The coffin is a reminder of the social norm of exclusive pair bonding "till death do us part". However, this intimate scene will be corrupted by the presence of a night vision webcam which projects the scene on to an outside wall. The audience will be privy to the scene inside, but the volunteers in the coffin will be completely isolated from them. The scenario keeps the intimacy of a sexual moment intact while moving the private act into public space. It can be seen as an absurd parody of pornographic cinema or an examination of the high value placed on sexual privacy. Either way, won't you become a member of the Six Feet Under Club?
Projektseite
Facebook-Event
---
Neutral.it rezensiert "Die Gstettensaga"
Sehr feines Review der "Gstettensaga" in Neural.it
The latest film by Johannes Grenzfurthner is set in a post-atomic future born from the ashes of the Google-war, a destructive global war of the twenty-first century between the two last superpowers: China and Google. "Social developments confront us with new tasks. Now we are dealing with nerds". These are the words of Thurnher von Pjölk the evil monopolist of print, declaring his expansionist ambitions in a world of new technologies. [...]

Link
---
"Dogs Playing D&D": Medienfeedback!
Johannes/Heathers Gemälde "Dogs Playing D&D" macht die Digitalmedienrunde! Wohoo! Boing Boing, Laughing Squid, io9, Geek Dad, Tor, CNET, Topless Robot, Dogster, etc.
"Hey, Dog's Playing Poker, you're great and all, but Dogs Playing Dungeons and Dragons is the best dog painting in the history of all dog paintings. The end." (Meredith Woerner, io9)

"The must-have piece of art for every geek's game room." (Geek Dad)

"Why would you ever play poker when D&D is an option? We really appreciate the detail here, from the bottle of Mountain Dew to the scantily clad warrior astride a majestic unicorn… you can practically smell the Cheetos." (Tor)

"Man's best friend gets in on the elf-bonding action in this awesome art tribute to dogs, dice and D&D." (Bonnie Burton, CNET)
"The clutter and atmosphere are really true to the gaming experience, and I'd never thought before about the similarities between poker and RPGs as social bonding experiences." (Chris Hall. Dogster)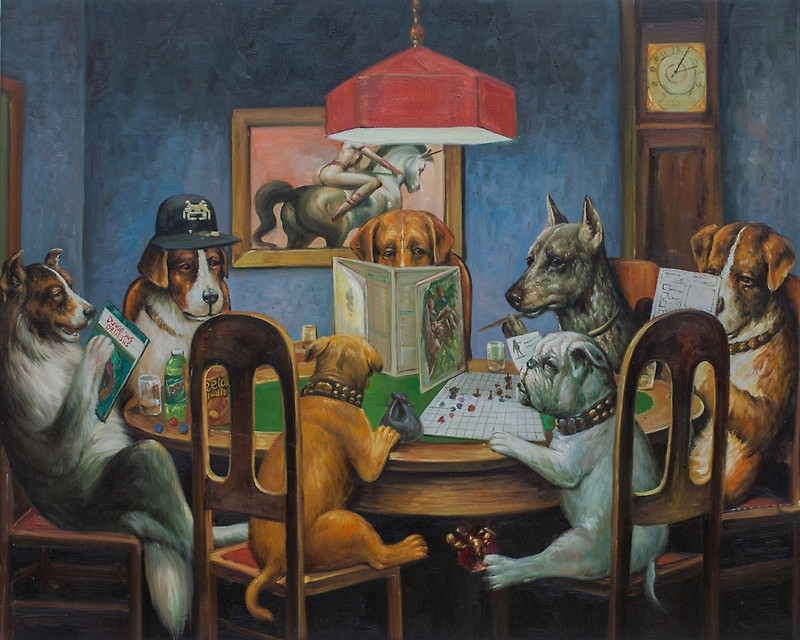 Kaufen! Hier!


---
Whitney Deatherage: Unsere neue monochrom-Artist-in-Residence @ Museumsquartier Vienna
Unsere neue Artist-in-Residence ist da!

Whitney Deatherage!
Whitney is an artist, curator, fundraiser, and event organizer based in San Francisco. Her main interests are urban gaming, community building, civic infrastructure, performance art, and robotics.

Whitney has a degree in Public Art and Museum Studies from California State University at Monterey Bay. She designed a permanent exhibit for the Museum of Monterey on the USS Macon, a Navy spy dirigible and the world's largest helium-filled airship, which crashed in Monterey Bay in 01935.

As producer and curator of Roboexotica, she will help create an interactive experience for the guests, encouraging participation beyond a standard exhibition.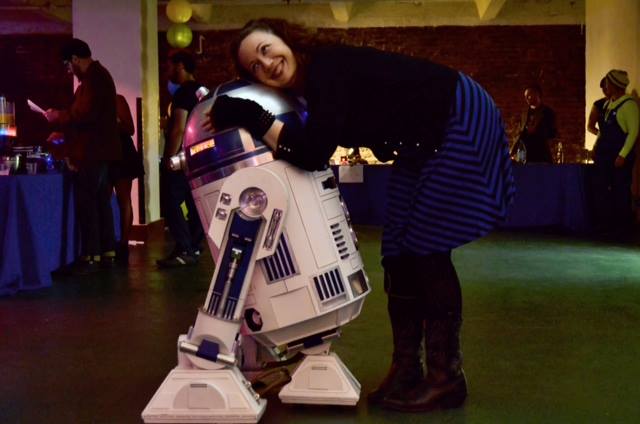 Fotoquelle: Gerard Fajardo
Aber hallo!
---
"Dogs Playing D&D": Rollenspielverhundungen von Johannes Grenzfurthner (monochrom) und Heather Kelley
Poker? Meh! Billards? Bah! Tabletop RPG? YESSS!
It's about time the notorious gaming dogs got something relevant to play. Watch closely as they roll dice, check stats, and of course, eat snacks! Did we mention they love Vallejo?

Hi-resolution reproduction of original oil painting.

Created by Johannes Grenzfurthner (monochrom) with Heather Kelley

Johannes Grenzfurthner: http://www.grenzfurthner.com
Heather Kelley: http://www.moboid.com

Tags: dogs, dungeons and dragons, dungeons, dragons, gurps, dandd, rpg, pen and paper, pen, paper, tabletop, dog, cheetos, mountain dew, dice, rolling, game, playing, roleplay, gm, gamemaster, canine, fun, nerd, gamer, vallejo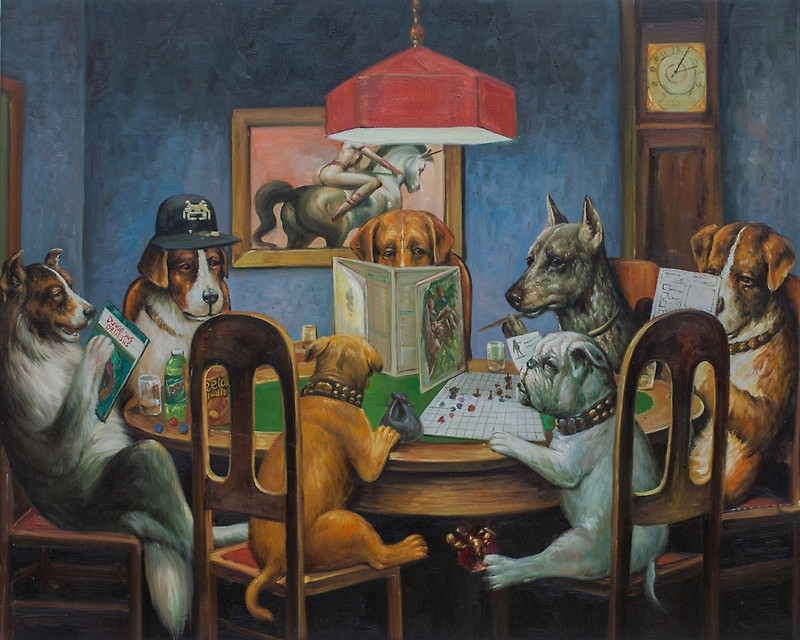 Link zum Erwerbsportal RedBubble
(für Poster, Shirts, Häferl, derart)
---
monochrom in "Power Up! Learning in a Hackerspace"
Schön zu hören, dass Alex Megelas seine Arbeit geschrieben hat!

Hi Johannes -

We met two years ago, when my friend Zinta and I visited monochrom during the summer.

I remember when we met, you were talking very passionately about your frustration with these spaces - and their reliance on a staid (white dude) monoculture. So I wanted to follow up with a quick note to let you know that I'm citing you in my MA thesis. I thought you might get a kick out of it given that it's about hackerspaces and the general lack of permeability of their (cultural/social) boundaries.

In our case, this was a small qualitative research project about building a bike-powered generator at Foulab. Most of our participants happened to be women, and this certainly contributed to the challenges we had during the project - though there were other aspects too.

Anyhow - in case you want to have a look, here's the link: http://spectrum.library.concordia.ca/978978/

I hope all's well on your end.

Alex

--
Alex Megelas
educator, mediator, visual artist and so forth
alexmegelas.com
---
[Archiv]
---
---
---
---
---
---
---
---
---
---
---
---
---
---
---
---
---
---
.
.
.

monochrom *1993. ursprünglich zeitschrift. lebt z. zt. als haufen bzw. neue unübersichtlichkeit im museumsquartier wien, bamberg und unter www.monochrom.at. arbeitet unter anderem als künstler/innen/gruppe, linksextremistischer partyservice, info-point, archiv, sloterdijk ii, liveband, gruppentherapie, computerspiel und als konkursmasse etc. monochrom besteht aus johannes grenzfurthner, evelyn fuerlinger, franky ablinger, harald homolka list, frank apunkt schneider, daniel fabry, gnther friesinger, anika kronberger, roland gratzer sowie gott und der welt. immerhin!
[mehr]

monochrom buchen:
[europa]
[usa]
monochrome infos:
[projekte / dokumentation]
[termine / chronologie]
[mono print / jahrbuch]
[mailing list]
[blog / english]
externe monochrom-Links:
[monochrom wikipedia]
[monochrom flickr]
[monochrom blip.tv]
[monochrom youtube]
[monochrom facebook]
[monochrom itunes]
[monochrom twitter]
[monochrom soup]
[monochrom imdb (de) ]
[monochrom imdb (us) ]
[monochrom vimeo]
[monochrom twitter]
[monochrom foursquare]
[monochrom myspace]
[monochrom amazon]
[monochrom abebooks]
[monochrom vine]

Kontakt:
[office at monochrom.at]

---
---
---