---
Neutral.it rezensiert "Die Gstettensaga"
Sehr feines Review der "Gstettensaga" in Neural.it
The latest film by Johannes Grenzfurthner is set in a post-atomic future born from the ashes of the Google-war, a destructive global war of the twenty-first century between the two last superpowers: China and Google. "Social developments confront us with new tasks. Now we are dealing with nerds". These are the words of Thurnher von Pjölk the evil monopolist of print, declaring his expansionist ambitions in a world of new technologies. [...]

Link
---
"Dogs Playing D&D": Medienfeedback!
Johannes/Heathers Gemälde "Dogs Playing D&D" macht die Digitalmedienrunde! Wohoo! Boing Boing, Laughing Squid, io9, Geek Dad, Tor, CNET, Topless Robot, Dogster, etc.
"Hey, Dog's Playing Poker, you're great and all, but Dogs Playing Dungeons and Dragons is the best dog painting in the history of all dog paintings. The end." (Meredith Woerner, io9)

"The must-have piece of art for every geek's game room." (Geek Dad)

"Why would you ever play poker when D&D is an option? We really appreciate the detail here, from the bottle of Mountain Dew to the scantily clad warrior astride a majestic unicorn… you can practically smell the Cheetos." (Tor)

"Man's best friend gets in on the elf-bonding action in this awesome art tribute to dogs, dice and D&D." (Bonnie Burton, CNET)
"The clutter and atmosphere are really true to the gaming experience, and I'd never thought before about the similarities between poker and RPGs as social bonding experiences." (Chris Hall. Dogster)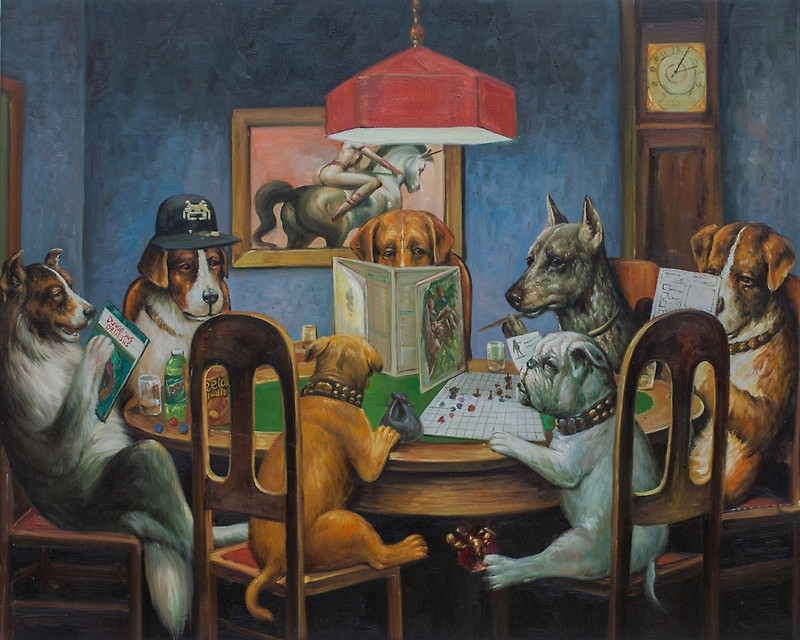 Kaufen! Hier!


---
Whitney Deatherage: Unsere neue monochrom-Artist-in-Residence @ Museumsquartier Vienna
Unsere neue Artist-in-Residence ist da!

Whitney Deatherage!
Whitney is an artist, curator, fundraiser, and event organizer based in San Francisco. Her main interests are urban gaming, community building, civic infrastructure, performance art, and robotics.

Whitney has a degree in Public Art and Museum Studies from California State University at Monterey Bay. She designed a permanent exhibit for the Museum of Monterey on the USS Macon, a Navy spy dirigible and the world's largest helium-filled airship, which crashed in Monterey Bay in 01935.

As producer and curator of Roboexotica, she will help create an interactive experience for the guests, encouraging participation beyond a standard exhibition.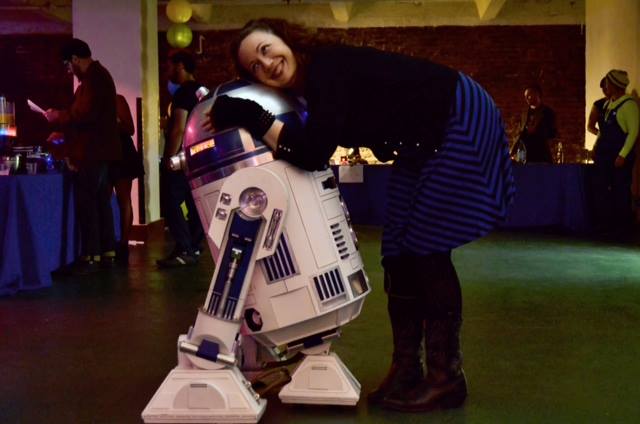 Fotoquelle: Gerard Fajardo
Aber hallo!
---
"Dogs Playing D&D": Rollenspielverhundungen von Johannes Grenzfurthner (monochrom) und Heather Kelley
Poker? Meh! Billards? Bah! Tabletop RPG? YESSS!
It's about time the notorious gaming dogs got something relevant to play. Watch closely as they roll dice, check stats, and of course, eat snacks! Did we mention they love Vallejo?

Hi-resolution reproduction of original oil painting.

Created by Johannes Grenzfurthner (monochrom) with Heather Kelley

Johannes Grenzfurthner: http://www.grenzfurthner.com
Heather Kelley: http://www.moboid.com

Tags: dogs, dungeons and dragons, dungeons, dragons, gurps, dandd, rpg, pen and paper, pen, paper, tabletop, dog, cheetos, mountain dew, dice, rolling, game, playing, roleplay, gm, gamemaster, canine, fun, nerd, gamer, vallejo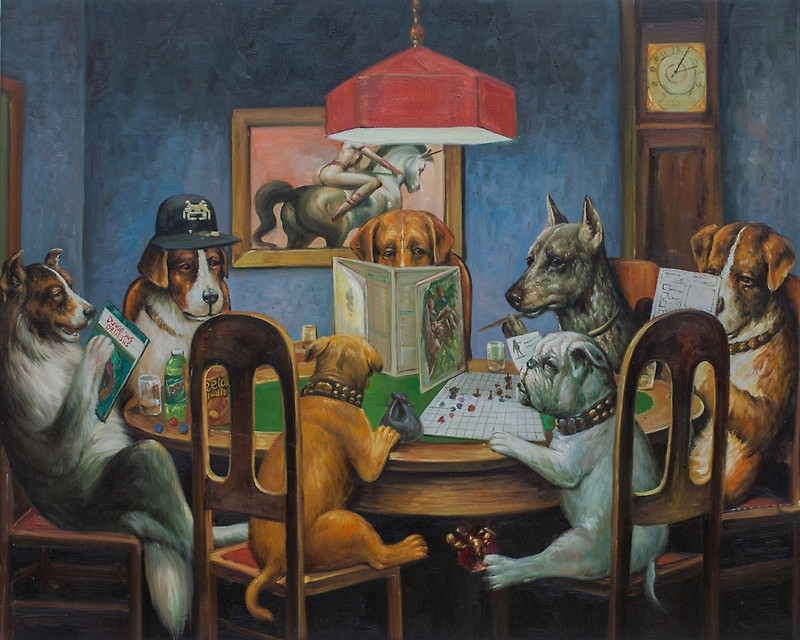 Link zum Erwerbsportal RedBubble
(für Poster, Shirts, Häferl, derart)
---
monochrom in "Power Up! Learning in a Hackerspace"
Schön zu hören, dass Alex Megelas seine Arbeit geschrieben hat!

Hi Johannes -

We met two years ago, when my friend Zinta and I visited monochrom during the summer.

I remember when we met, you were talking very passionately about your frustration with these spaces - and their reliance on a staid (white dude) monoculture. So I wanted to follow up with a quick note to let you know that I'm citing you in my MA thesis. I thought you might get a kick out of it given that it's about hackerspaces and the general lack of permeability of their (cultural/social) boundaries.

In our case, this was a small qualitative research project about building a bike-powered generator at Foulab. Most of our participants happened to be women, and this certainly contributed to the challenges we had during the project - though there were other aspects too.

Anyhow - in case you want to have a look, here's the link: http://spectrum.library.concordia.ca/978978/

I hope all's well on your end.

Alex

--
Alex Megelas
educator, mediator, visual artist and so forth
alexmegelas.com
---
Johannes Grenzfurthner über Sex und Tech in "Business Punk"
Ausgabe #4 (2014) des deutschen Magazins "Business Punk" bringt Statements von Arse-Elektronika-Kurator Johannes Grenzfurthner.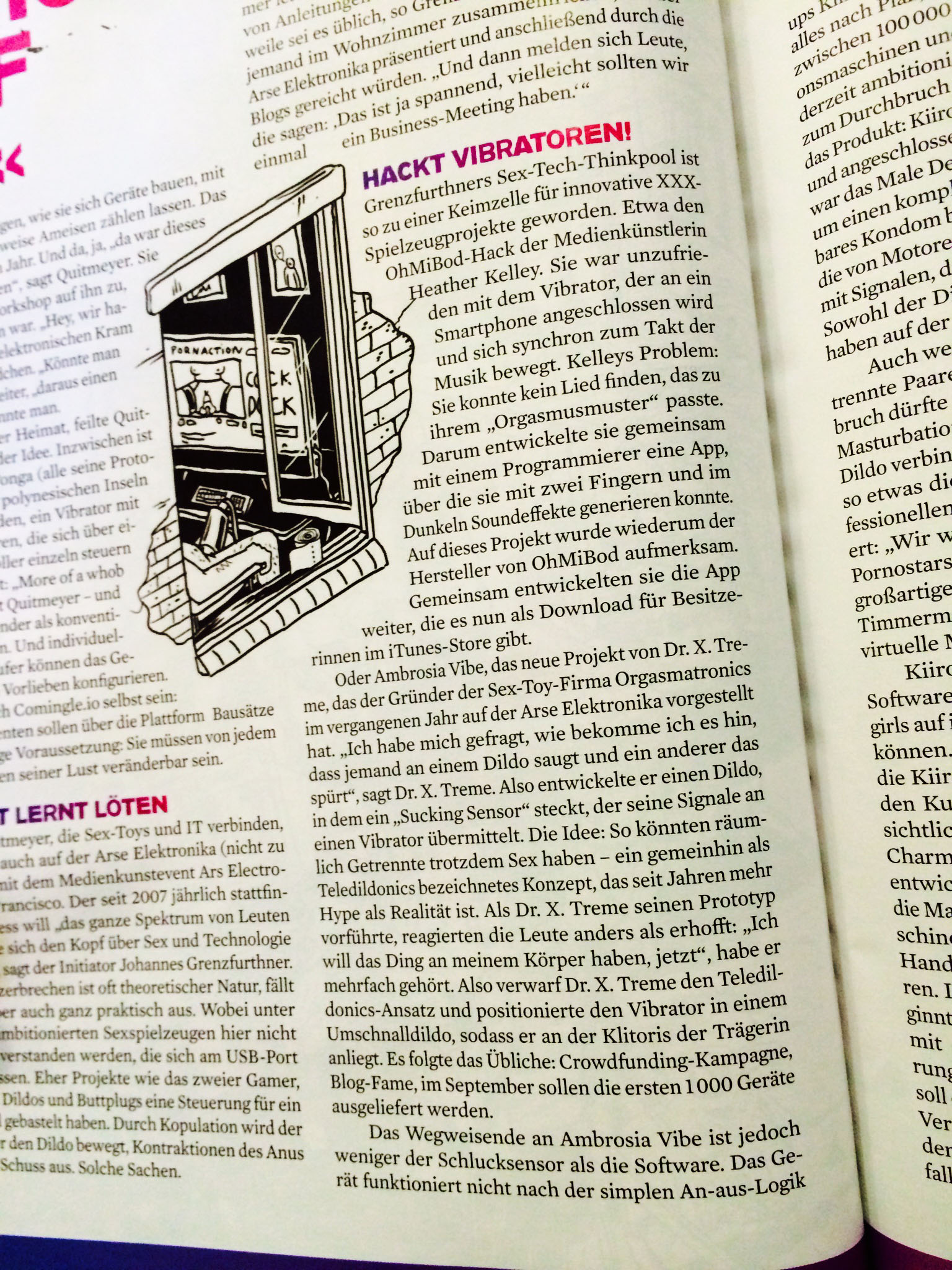 (Klick=Größer)
---
Wir haben schon wieder jemanden begraben: "When the music is over: Die letzte Party im Leben ist dein Begräbnis"
monochrom hat Janina Lebiszczak-Schuster lebendig begraben. Und sie berichtet.
Das Leben liebt Klischees. Deswegen umspült dichter Nebel die Straße, die zum Symposion Lindabrunn führt. Schemenhaft erkennt man am Gelände Skulpturen aus Stein, die Künstler aus aller Welt dort hinterlassen haben. Wunderschön bei Sonne, das ist sicher, aber im Zwielicht und so man das eigene Begräbnis vor Augen hat: Ungut. Ich blödle mich über die letzen Meter und singe im Auto Falco: "Muss ich erst sterben, um zu leben?" Schwarzer Humor als Exit-Strategie gegen aufkeimende Panik. Was haben wir gelacht, als wir die Einladung zum "Six Feet under"- Club im Netz entdeckt haben. Dort legen sich Menschen freiwillig in einen Sarg. Was sie drinnen erleben, wird per Webcam nach draussen ins Partygetümmel übertragen. "Die Menschen sind halt ein wenig pervers," lacht Günther Friesinger. Günther hat einen tollen Bart, einen noch besseren Schmäh und gehört zur Künstlergruppe Monochrom. Er ist heute mein Totengräber. "Normalerweise tragen wir Anzüge, aber heute ist es doch ein wenig frisch", sagt er und lacht in seinen Kapuzen-Sweater. Am Weg zur Begräbnisstätte, neben der eine Herde völlig unbeteilgter Schafe grast, lacht er immer noch vor sich hin. Ich werde schweigsam.
Link
---
"Der Ludwig" reviewt "Die Gstettensaga"
Österreichische Filmproduktionen sind nicht selten einen genaueren Blick wert. Besonders in den Bereichen des Absurden und Morbiden sind Filme aus unserem benachbarten Alpenland seit Jahren unschlagbar. Und im Gegensatz zur konservativen deutschen Filmproduktion, die scheinbar ganz gezielt die stupidesten, unlustigsten und moralischsten Filme der Welt produziert, finden sich in der österreichischen Filmlandschaft immer wieder Dinge, die so herrlich schräg und seltsam sind, dass es einfach eine Freude ist. Vielleicht liegt es auch daran, dass in Teilen Österreichs eine subkulturelle Off-Szene überlebt hat, die Kunst und Politik noch derart betreiben, wie es in den 80er Jahren auch hierzulande üblich war: anarchisch, mit eindeutigem Feindbild (zugegeben: dies ist heute kaum mehr möglich) und von völliger Aussichtslosigkeit auf kommerziellen Erfolg beseelt. Die Gstettensage von Johannes Grenzfurther und anderen Künstlern der Gruppe Monochrom ist genau so ein Werk, das sich lustig, ironisch und mit einem gehörigen Trash-Faktor an einer Kritik der spektakulären Warengesellschaft abarbeitet.
Link
---
Gstettensaga im Nerdvana Podcast
Nerdvana v1.58 – Zombies vs Thermodynamik

Das Nerdvana-Team hat sich Verstärkung geholt. Kann Hannes uns dabei unterstützen, österreichische Insider zu verstehen? Wird selbst er an reformiertem Steirisch scheitern? Sind wir von Zombies verwöhnt? Wer von uns ist der bessere Straßenkämpfer? Wie viele Tintenkleckse passen in ein Comic? Kann man eigentlich seine Brotzeit faxen? Wird auch nur eine dieser Fragen diesmal beantwortet werden?
Link
---
Johannes von monochrom im New Yorker Magazine
The H.O.P.E. conference offers 2600 a chance to bring the global hacker community together. Steve Rambam, a security specialist who was arrested by the F.B.I. before his talk at the 2006 conference, told me that he comes back because he feels like he is speaking to the vanguard of computer culture. "These kids are trendsetters," he said. Johannes Grenzfurthner, an Austrian artist and hacker, told me before the talk that the hacking community has changed drastically in the past ten years, becoming more mainstream. One of the greatest shifts, he said, is the growing acceptance of women at conferences like H.O.P.E., despite the fact that the hacker community is still male dominated.
Link
---
Doch Kabarett? Erwischt! Der Falter über die 'Schicksalsjahre'
Wurmdobler im Falter.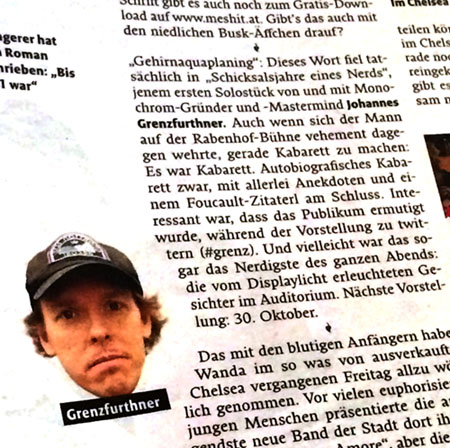 Na gut :)


---
"Pornos und tote Hühner": Standard über Johannes Grenzfurthner im Rabenhof
Dorian Waller schreibt über "Schicksalsjahre eines Nerds".
Johannes Grenzfurthner mag Breitbandinternet, Schallplatten mit naturwissenschaftlichen Vorträgen und H. P. Lovecraft. Weniger Liebe empfindet er für Vierteltelefone, Walgesänge und Comics über den allzu menschlichen und damit langweiligen Rennfahrer Michel Vaillant. Dies lernt man zumindest in seiner "Lecture-Soiree" Schicksalsjahre eines Nerds, die vergangenen Donnerstag erstmals im Wiener Rabenhof zu sehen war. Grenzfurthner, Gründer des Theorie- und Bastelkollektivs Monochrom und Hansdampf in allen Nebengassen, nutzt diese, um, wie es scheint, einfach frei von jeder thematischen Zwangsjacke fröhlich drauflos zu plaudern.
Link
---
monochrom ist Partner des "Media Arts Cultures" Master-Programms
The MediaAC master program answers the needs of the evolving fields related to the future and heritage of Media Arts Cultures. Our global digital world is filled with new media culture that encompasses the big questions of today such as the processes of globalisation, utopias of neuroscience, political repression, big data, and the growing world-wide surveillance. Thus, the analysis of media arts cultures is socially and culturally enlightening. The examination of evolving media art forms offers technological insights, which are vital to the next generation of software and hardware engineers, as well as to cultural practitioners. Media Arts have great potential for critical reflection and future innovation. They are especially vulnerable to decay as media evolution accelerates and require new methods of digital heritage preservation.

Mission: The MediaAC Consortium of four universities and influential global associated partners from the creative and cultural sector dedicate to grow a new generation of professionals based on the future needs of the field and grounded in rigorous academic training.

Danube University Krems (coordinating partner)
Aalborg University (full partner)
University of Lodz (full partner)
City University Hong Kong (full partner)
assocoated partners - Ars Electronica, DAM, FACT, Laboratory of Research in Art and Techno Science, monochrom, transmediale, ZKM.
Link
---
Austrian Cultural Forum NY empfiehlt "Die Gstettensaga" auf dem NYC Indie Filmfestival
The NYC Independent Film Festival (October 15 - 19, 2014) is happy to have an Austrian film showing in the festival this year:

Die Gstettensaga: The Rise of Echsenfriedl

Directed by: Johannes Grenzfurthner

Written by: Johannes Grenzfurthner, Roland Gratzer

Cast: David Dempsey, Eva-Christina Binder, Evelyn Fürlinger, Harald Homolka-List, Jeff Ricketts, Joe Baumgartner, Lukas Tagwerker, Martin Auer, Roland Gratzer, Sophia Grabner, Stuart Freeman

The growing tension between the last two remaining superpowers -­ China and Google -­ escalates in the early 21st century, and results in the global inferno of the 'Google Wars'. But the years go by, radioactive dust settles on old battlegrounds, and a New World rises from the ashes of the old.
Fratt Aigner, a seedy journalist, and Alalia Grundschober, a nerdy technician, live and work in Mega City Schwechat: the biggest semi-urban sprawl in the foothills of what remained of the Alps. Newspaper mogul Thurnher von Pjölk assigns them a special task: to venture into the boondocks of the Gstetten and find the legendary Echsenfriedl. It is the beginning of a journey full of dangers, creatures and precarious working conditions...

Screening:

October 17, 2014 3:30 PM at the Grand Theatre.
Link
---
Telepolis: "Schicksalsjahre einer Klasse, die heute die Welt regiert"
Ein Interview mit Johannes Grenzfurthner über "Schicksalsjahre eines Nerds".
Johannes Grenzfurthner von der Künstlergruppe Monochrom hat sich Gedanken zum Nerdtum gemacht

Der Wiener Johannes Grenzfurthner gehört der Künstlergruppe Monochrom an, die in der Vergangenheit unter anderem mit André-Hitler-Plattencovern, der Aktion Eigenblunzn, dem Computerspiel Sowjet Unterzögersdorf, einer ISS-Weltraum-Sitcom und einem postapokalyptischen Spielfilm Aufsehen erregte. Nun hat sich Gedanken zum Nerdtum gemacht.
Link
---
[Archiv]
---
---
---
---
---
---
---
---
---
---
---
---
---
---
---
---
---
---
.
.
.

monochrom *1993. ursprünglich zeitschrift. lebt z. zt. als haufen bzw. neue unübersichtlichkeit im museumsquartier wien, bamberg und unter www.monochrom.at. arbeitet unter anderem als künstler/innen/gruppe, linksextremistischer partyservice, info-point, archiv, sloterdijk ii, liveband, gruppentherapie, computerspiel und als konkursmasse etc. monochrom besteht aus johannes grenzfurthner, evelyn fuerlinger, franky ablinger, harald homolka list, frank apunkt schneider, daniel fabry, gnther friesinger, anika kronberger, roland gratzer sowie gott und der welt. immerhin!
[mehr]

monochrom buchen:
[europa]
[usa]
monochrome infos:
[projekte / dokumentation]
[termine / chronologie]
[mono print / jahrbuch]
[mailing list]
[blog / english]
externe monochrom-Links:
[monochrom wikipedia]
[monochrom flickr]
[monochrom blip.tv]
[monochrom youtube]
[monochrom facebook]
[monochrom itunes]
[monochrom twitter]
[monochrom soup]
[monochrom imdb (de) ]
[monochrom imdb (us) ]
[monochrom vimeo]
[monochrom twitter]
[monochrom foursquare]
[monochrom myspace]
[monochrom amazon]
[monochrom abebooks]
[monochrom vine]

Kontakt:
[office at monochrom.at]

---
---
---