---
monochrom presents Jack Sargeant: William S. Burroughs in the World Beyond Literature

Lecture and film screening at Raum D / quartier21.

Lecture: Saturday, November 29, 7pm
Screening: Sunday, November 30, 7pm

Jack Sargeant will talk about William Burroughs in the World Beyond Literature & screen Andre Perkowski's Nova Express. Based on William S. Burroughs' quasi-science fiction cut-up novel of the same name, the film is a remarkable cinematic realisation of the cult book.

Who is Jack Sargeant?
As an author Jack Sargeant's work has been described as "dangerously inspirational" his numerous books include Deathtripping: The Extreme Underground, Naked Lens: Beat Cinema (both now in their third English language editions), and many others. He has written on film and culture for numerous books, anthologies and journals, and has written introductions for books by Lydia Lunch, Romain Slocombe, Joe Coleman, Cat Hope and for William Burroughs' Unforgettable Characters.
He writes a regular column for FilmInk, and has written articles for The Wire, Xochi 23, Fortean Times, World Art, Real Time, Metro and many other publications.
His writings have also appeared in the booklets accompanying numerous DVDs in the USA and UK, including the BFI release of Jeff Keen's films and the Industrial Records Throbbing Gristle DVD box set.
Jack has frequently appeared as a documentary interviewee in films including Blank City, The Advocate For Fagdom and Llik Your Idols. He also appears as a DVD extra on the American release of the Burroughs / sound experiments influenced underground movie Decoder.
Sargeant has lectured on underground film and culture, beat culture, William Burroughs and many other topics across the world. He has curated numerous film and art events, and is currently program director for the Revelation Film Festival in Western Australia.
His latest book, to be published in English and Swedish language editions, is Against Control which will be available on the night.
---
monochrom wants you to go down: SIX FEET UNDER CLUB -- in Vienna

Going Down?
6fuc in Vienna, Austria @ Schwelle7
November 28, 2014

In the age of data mining, a person's sex life may contain less embarrassing details than their web search history. Does it make sense that the former is a tightly guarded secret while the latter is shared with anonymous corporations daily? Even though a sexual nature is one of the few things most humans share in common, our social convention is to push all trace of it out of the public sphere. The Six Feet Under Club offers attendees a unique opportunity to experience the warping of public and private intimate space.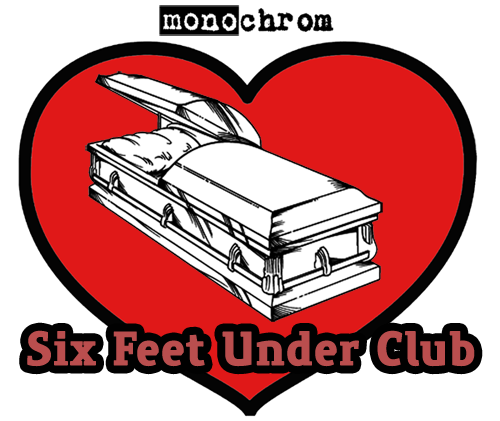 Couples can volunteer to be buried together in a casket beneath the ground. The space they occupy will be extremely private and intimate. The coffin is a reminder of the social norm of exclusive pair bonding "till death do us part". However, this intimate scene will be corrupted by the presence of a night vision webcam which projects the scene on to an outside wall. The audience will be privy to the scene inside, but the volunteers in the coffin will be completely isolated from them. The scenario keeps the intimacy of a sexual moment intact while moving the private act into public space. It can be seen as an absurd parody of pornographic cinema or an examination of the high value placed on sexual privacy. Either way, won't you become a member of the Six Feet Under Club?

Project page
Facebook event


---
Neutral.it reviews "Die Gstettensaga"

Excellent review of our movie "Die Gstettensaga" in Neural.it
The latest film by Johannes Grenzfurthner is set in a post-atomic future born from the ashes of the Google-war, a destructive global war of the twenty-first century between the two last superpowers: China and Google. "Social developments confront us with new tasks. Now we are dealing with nerds". These are the words of Thurnher von Pjölk the evil monopolist of print, declaring his expansionist ambitions in a world of new technologies. [...]

Link
---
"Dogs Playing D&D": Media feedback!

Our painting "Dogs Playing D&D" got featured on many a blog! Wohoo! Boing Boing, Laughing Squid, io9, Geek Dad, Tor, CNET, Topless Robot, Dogster, etc.
"Hey, Dog's Playing Poker, you're great and all, but Dogs Playing Dungeons and Dragons is the best dog painting in the history of all dog paintings. The end." (Meredith Woerner, io9)

"The must-have piece of art for every geek's game room." (Geek Dad)

"Why would you ever play poker when D&D is an option? We really appreciate the detail here, from the bottle of Mountain Dew to the scantily clad warrior astride a majestic unicorn… you can practically smell the Cheetos." (Tor)

"Man's best friend gets in on the elf-bonding action in this awesome art tribute to dogs, dice and D&D." (Bonnie Burton, CNET)
"The clutter and atmosphere are really true to the gaming experience, and I'd never thought before about the similarities between poker and RPGs as social bonding experiences." (Chris Hall. Dogster)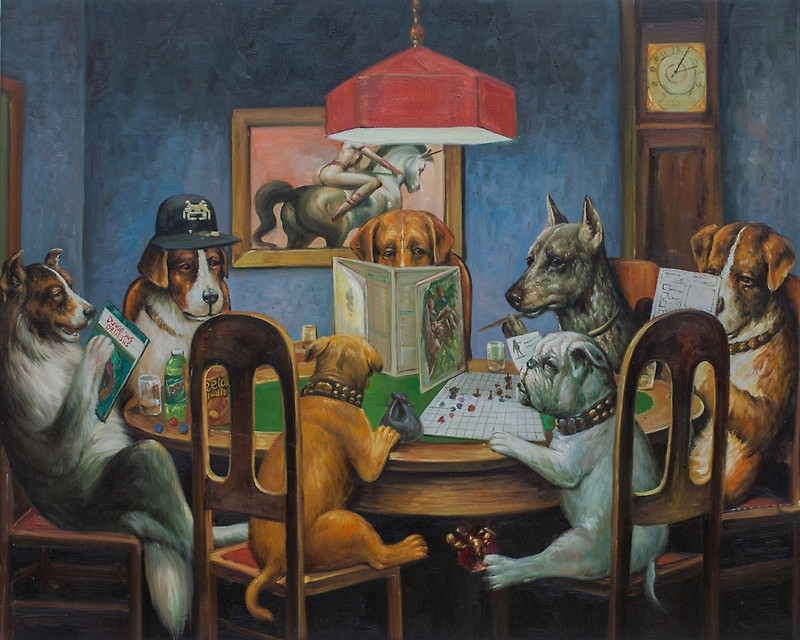 Buy it! Here!


---
Whitney Deatherage: New monochrom artist in residence @ Museumsquartier Vienna

Our new artist in residence arrived!

Whitney Deatherage!
Whitney is an artist, curator, fundraiser, and event organizer based in San Francisco. Her main interests are urban gaming, community building, civic infrastructure, performance art, and robotics.

Whitney has a degree in Public Art and Museum Studies from California State University at Monterey Bay. She designed a permanent exhibit for the Museum of Monterey on the USS Macon, a Navy spy dirigible and the world's largest helium-filled airship, which crashed in Monterey Bay in 01935.

As producer and curator of Roboexotica, she will help create an interactive experience for the guests, encouraging participation beyond a standard exhibition.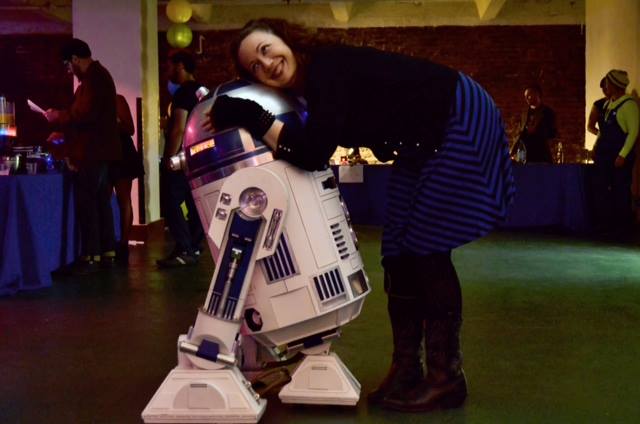 Photo Credit: Gerard Fajardo
Yeah!
---
"Dogs Playing D&D": monochrom's Johannes Grenzfurthner and Heather Kelley team up for tabletop canineness

Poker? Meh! Billards? Bah! Tabletop RPG? YESSS!
It's about time the notorious gaming dogs got something relevant to play. Watch closely as they roll dice, check stats, and of course, eat snacks! Did we mention they love Vallejo?

Hi-resolution reproduction of original oil painting.

Created by Johannes Grenzfurthner (monochrom) with Heather Kelley

Johannes Grenzfurthner: http://www.grenzfurthner.com
Heather Kelley: http://www.moboid.com
Tags: dogs, dungeons and dragons, dungeons, dragons, gurps, dandd, rpg, pen and paper, pen, paper, tabletop, dog, cheetos, mountain dew, dice, rolling, game, playing, roleplay, gm, gamemaster, canine, fun, nerd, gamer, vallejo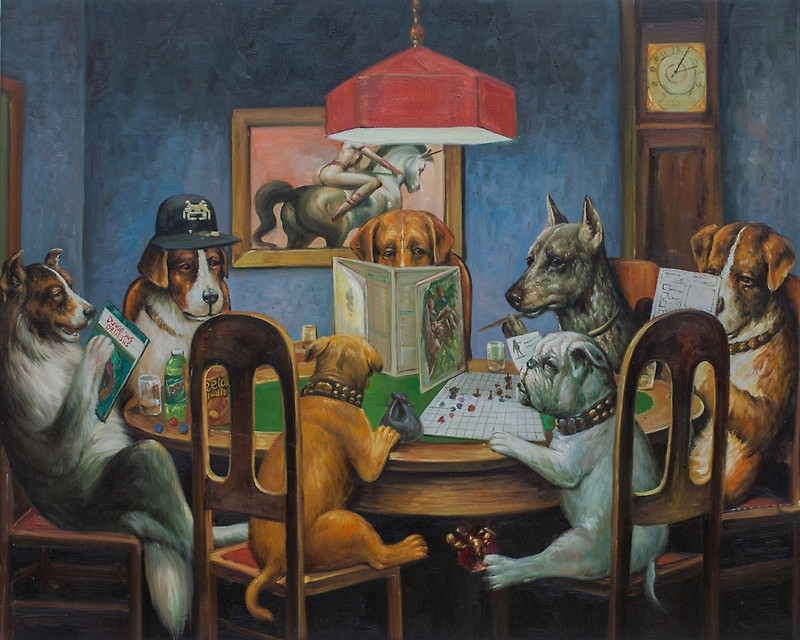 Link to buy products (posters, shorts, tote bags, etc.) at RedBubble
---
Johannes Grenzfurthner about sex and tech in "Business Punk"

Issue #4 (2014) of German magazine "Business Punk" features statements by Arse Elektronika curator Johannes Grenzfurthner.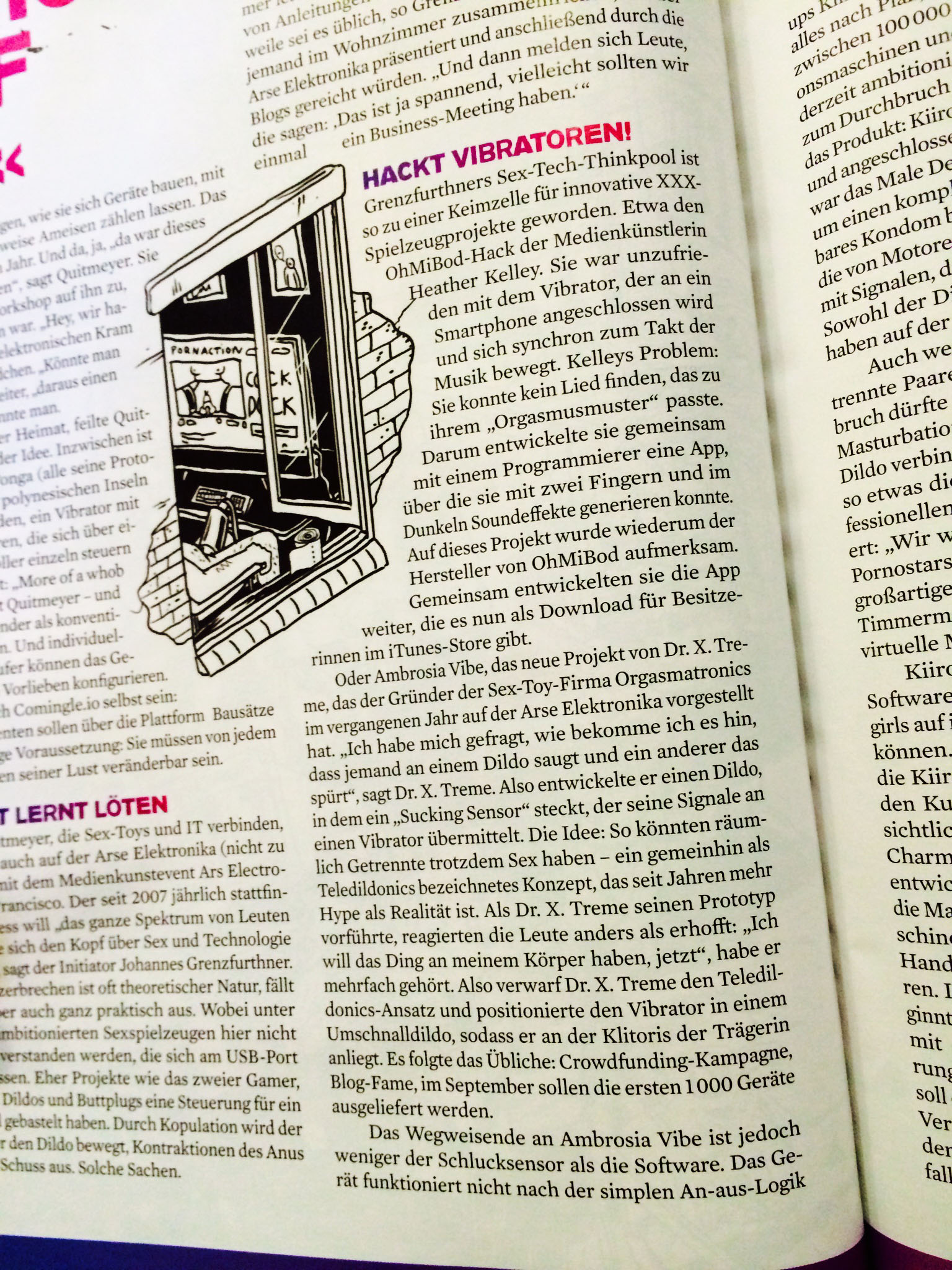 (Click to enlarge)
---
Johannes of monochrom in the New Yorker

The H.O.P.E. conference offers 2600 a chance to bring the global hacker community together. Steve Rambam, a security specialist who was arrested by the F.B.I. before his talk at the 2006 conference, told me that he comes back because he feels like he is speaking to the vanguard of computer culture. "These kids are trendsetters," he said. Johannes Grenzfurthner, an Austrian artist and hacker, told me before the talk that the hacking community has changed drastically in the past ten years, becoming more mainstream. One of the greatest shifts, he said, is the growing acceptance of women at conferences like H.O.P.E., despite the fact that the hacker community is still male dominated.
Link
---
monochrom is partner of "Media Arts Cultures" joint master degree

The MediaAC master program answers the needs of the evolving fields related to the future and heritage of Media Arts Cultures. Our global digital world is filled with new media culture that encompasses the big questions of today such as the processes of globalisation, utopias of neuroscience, political repression, big data, and the growing world-wide surveillance. Thus, the analysis of media arts cultures is socially and culturally enlightening. The examination of evolving media art forms offers technological insights, which are vital to the next generation of software and hardware engineers, as well as to cultural practitioners. Media Arts have great potential for critical reflection and future innovation. They are especially vulnerable to decay as media evolution accelerates and require new methods of digital heritage preservation.

Mission: The MediaAC Consortium of four universities and influential global associated partners from the creative and cultural sector dedicate to grow a new generation of professionals based on the future needs of the field and grounded in rigorous academic training.

Danube University Krems (coordinating partner)
Aalborg University (full partner)
University of Lodz (full partner)
City University Hong Kong (full partner)
assocoated partners - Ars Electronica, DAM, FACT, Laboratory of Research in Art and Techno Science, monochrom, transmediale, ZKM.
---
Austrian Cultural Forum NY recommends "Die Gstettensaga" at NYC Indie Filmfestival

The NYC Independent Film Festival (October 15 - 19, 2014) is happy to have an Austrian film showing in the festival this year:

Die Gstettensaga: The Rise of Echsenfriedl

Directed by: Johannes Grenzfurthner

Written by: Johannes Grenzfurthner, Roland Gratzer

Cast: David Dempsey, Eva-Christina Binder, Evelyn Fürlinger, Harald Homolka-List, Jeff Ricketts, Joe Baumgartner, Lukas Tagwerker, Martin Auer, Roland Gratzer, Sophia Grabner, Stuart Freeman

The growing tension between the last two remaining superpowers -­ China and Google -­ escalates in the early 21st century, and results in the global inferno of the 'Google Wars'. But the years go by, radioactive dust settles on old battlegrounds, and a New World rises from the ashes of the old.
Fratt Aigner, a seedy journalist, and Alalia Grundschober, a nerdy technician, live and work in Mega City Schwechat: the biggest semi-urban sprawl in the foothills of what remained of the Alps. Newspaper mogul Thurnher von Pjölk assigns them a special task: to venture into the boondocks of the Gstetten and find the legendary Echsenfriedl. It is the beginning of a journey full of dangers, creatures and precarious working conditions...

Screening:

October 17, 2014 3:30 PM at the Grand Theatre.
Link
---
2600 Magazine reviews "Die Gstettensaga": A Call To Class Consciousness For Hackers

Wonderful review of "Die Gstettensaga" by Ishan Raval published in the autumn 2014 issue of 2600 Magazine!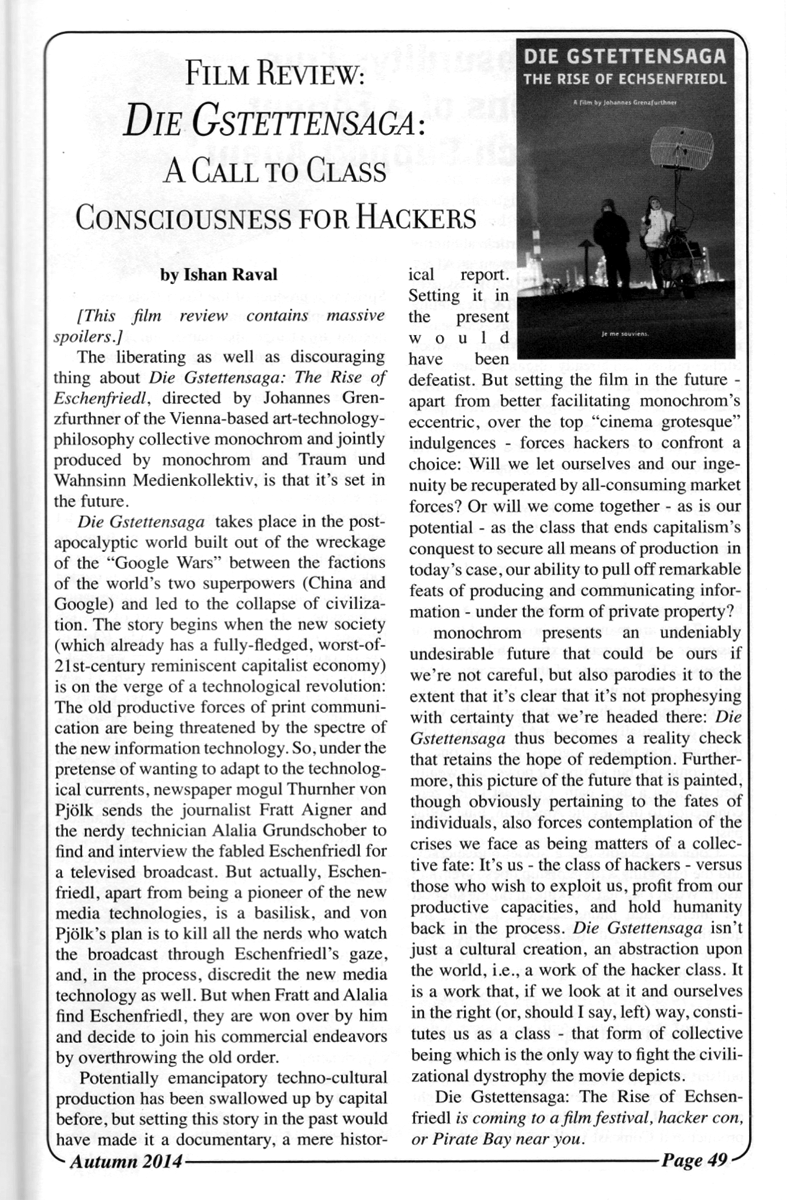 Click to enlarge


Link (2600 Magazine)


---
"Die Gstettensaga" in Denver: Best Hacker Feature 2014 at "PhutureCon Festival"

"Die Gstettensaga" won Best Hacker Feature 2014 at PhutureCon Festival.
PhutureCon Festival will take place October 11 in Denver, Colorado.

Johannes Grenzfurthner will be present to talk about monochrom and "Die Gstettensaga".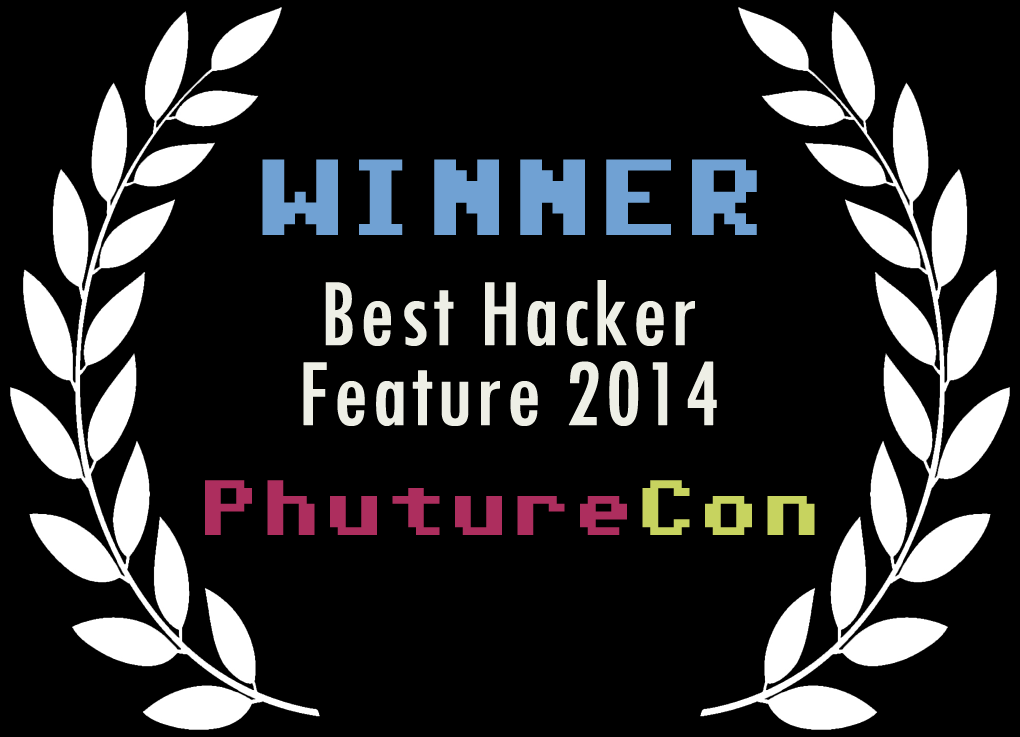 ---
Dispatch from Arse Elektronika -- Some Things Games Can Learn from Sex & Tech

Mattie Brice wrote a great piece about Arse Elektronika 2014.
This past weekend, I went to the annual sex and tech conference in San Francisco, Arse Elektronika. This was actually the first conference I spoke at back in 2012 when it was specifically about play and games, and I got to come again this year to see what new projects people thinking and crafting about sex were up to. This conference tends to attract a cross-section of toy makers and academics interested in sex topics, but also nets in software people and artists.

What's interesting for me about this group of people who convene over sex and tech is how similar and different the mood is to my experience in video games. The demographics are about the same, with maybe the ratio of women you'd see at an indie games event, so higher than the industry but not as much as men. But there is an unspoken understanding of non-judgment that I see in the kink community in SF that makes it easier for people to bend outside of gender norms for the most part. If anything, a lot of baggage around heteronormativity and monogamy is left behind, but technocentrism and the centering of hegemonic masculinity's relationship with sex still exists. An interesting site of reference if you want to see the dynamics where fluid sexuality is a thing and how men, and sometimes others, relate to each other in a context they don't really get to outside of these situations. So I wanted to share with you all my thoughts on some of the presentations and how they relate to our realm of play.
Link
---
Arse Elektronika 2014 on Boing Boing

Cory Doctorow featured Arse Elektronika 2014!
The theme this year is "trans*.*" and the event features "Talks, machines, games, workshops and performances;" runs from Oct 2-5 at San Francisco's Chez Poulet (3359 Cesar Chavez St).

Trans is a Latin noun or prefix, meaning "across", "beyond" or "on the opposite side". What does that mean for sex and technology?

Transitions, translations, transgressions, transistors & transducers, transactions, transmission (specifically sexually transmitted infections), transdermal?
Brief comment: opening night is at Chez Poulet, the other events are at the Center for Sex and Culture and Noisebridge (see schedule).
---
Johannes Grenzfurthner about Gstettensaga and Israel on TLV1

Johannes Grenzfurthner, an Austrian filmmaker and artist, came to Tel Aviv's Utopia Film Festival to promote his indie film 'The Gstetten Saga: The Rise of Echsenfriedl,' and talked to TLV1 about why, even as a left-wing European intellectual, he finds it more important than ever to take a trip to Israel.
Link
---
[Archive]
---
---
---
---
---
---
---
---
---
---
---
---
---
---
---
---
---
---
.
.
.

---
---
---

Die Gstettensaga: The Rise of Echsenfriedl (Feature film)

The Man (Short film)

Nothing To Hide (Documentary feature film)

ProPool

23 Works (Short films)

Wellness As Usual

Context Hacking (Essay)

Context Hacking (Reader)

The Altogether Horrid Street Ballad Of Paratii

Earthmoving (Short film)

Sierra Zulu (Feature film project)

Hedonistika

Enforce (Short film)

Carpet (Short film)

They used to be better

Video Jingle(s)

monochrom's ISS

Soviet Unterzoegersdorf / Sector 2 / The Adventure Game

Lidl-Girl (Music video)

Rated R Us

Portraying The Terran Condition (Game)

alt.backen: monochrom's early phase picture begging outreach interface

Antidev

Title Sequence

monoleaks

Operation Overhead

Dismalware

Tasty (Short film)

The Earth Has Been Destroyed (Music video)

Six Feet Under Club

Krach: Anderswo (Single)

monochrom's Raw Image Format / Archive

Climate Training Camp

Soviet Unterzoegersdorf vs. Cheetos (Short Films, Ads)

Krach der Roboter: Hello World!

BP, listen up!

Wikileaks: The Ballet (feat. Unicorns)

Google Wars / RPG Extravaganza

Slacking is killing the DIY industry (T-Shirt)

Carefully Selected Moments / CD, LP

Freedom is a whore of a word (T-Shirt)

#fullboycott

International Year of Polytheism 2007

For you (Short film)

Santa Claus Vs. Christkindl: A Mobster Battle

Could It Be (Video clip)

Pot Tin God

Hacking the Spaces

Kiki and Bubu and The Shift / Short film

Kiki and Bubu and The Privilege / Short film

Kiki and Bubu and The Self / Short film

Kiki and Bubu and The Good Plan / Short film

Kiki and Bubu and The Feelings / Short film

Sculpture Mobs

Nazi Petting Zoo / Short film

The Great Firewall of China

KPMG / Short film

The BRAICIN / Short film

Soviet Unterzoegersdorf / Sector 1 / The Adventure Game

I was a copyright infringement in a previous life (T-Shirt)

Brave New Pong

Leben ist LARPen e.V.

One Minute / Short film

Firing Squad Euro2008 Intervention

RFID Song

The Hackbus

A tribute to Honzo

Lessig ist lässig

I can count every star in the heavens above -- The image of computers in popular music

All Tomorrow's Condensations / Puppet show

Bye Bye / Short film

Revaluation

PC/DC patch

Proto-Melodic Comment Squad

myfacespace.com

The Redro Loitzl Story / Short film

Hax0rcise SCO

Law and Second Order (T-Shirt)

They really kicked you out of the Situationist International?

Death Special: Falco

Applicant Fisch / Short film

When I was asked to write about new economy

Taugshow #6

Taugshow #7

Taugshow #9

Taugshow #10

Taugshow #11

Taugshow #14

Taugshow #15

Campfire at Will

Arse Elektronika 2007, 2008, 2009 etc.

The Void's Foaming Ebb / Short film

Remoting Future

When you / Short film

Elf

Free Bariumnitrate

Toyps / Typing Errors

ARAD-II Miami Beach Crisis

The Charcoal Burner / Short film

Digital Culture In Brazil

Hegemonchhichi

Nation of Zombia

Lonely Planet Guide action

CSI Oven Cloth

Dept. of Applied Office Arts

Farewell to Overhead

Google Buttplug

Fieldrecording in Sankt Wechselberg / Short film

Dark Dune Spots

Campaign For The Abolition Of Personal Pronouns

Zeigerpointer

Space Tourism

In the Head of the Gardener

Entertainment (Unterhaltung) / Short film

Cthulhu Goatse

Nicholas Negroponte Memorial Cable

Coke Light Art Edition 06

Experience the Experience! (West Coast USA/Canada Tour 2005)

April 23

Overhead Cumshot

Irark / Short film

Wart

Instant Blitz Copy Fight

A Patriotic Fireman

A Micro Graphic Novel Project

Noise and Talk

The Exhilarator

H&M

The Flower Currency

Gastro-Art/Gastrokunst

A Holiday in Soviet Unterzoegersdorf

How does the Internet work?

Paraflows 2006 and up

Special Forces

Coca Cola

About Work

Turing Train Terminal

Me / Short Film

Massive Multiplayer Thumb-Wrestling Network

Doormat

Some Code To Die For

The Year Wrap-up

Soviet Unterzoegersdorf Metroblogging

Project Mendel

Display, Retry, Fail

Manifesto of Ignorantism

Actionfilm

Towers of Hanoi

Heisenberg

Opto-Hedonism

Every Five Seconds an Inkjet Printer Dies Somewhere

Milk

Mobutobe

Brandmarker

We know apocalypses

452 x 157 cm² global durability

A Good Haul

Blattoptera / Art for Cockroaches

Minus 24x

Gladiator / Short Film

Eden

An attempt to emulate an attempt

Paschal Duct-Taping

Laptop Crochetication

Russka

Somewhere in the 1930s

Soul Sale

The Department for Criticism against Globalisation

Dot Smoke

Georg Paul Thomann

Nurgel Staring

War On

Let's network it out

Nude

Mackerel Fiddlers

Whales

Disney vs. Chrusov / Short film

Bulk Mail

Easter Celebrations

Mouse Over Matter

Condolence for a Crab

Force Sting

Turning Threshold Countries Into Plows

System

A Noise

A. C. A.

Hopping Overland

Achy Breaky Heart Campaign

Hermeneutic Imperative III

Holy Water / Franchise

Roböxotica // Festival for Cocktail-Robotics

Spears

Engine Hood Cookies

Ikea

The Watch

Creative Industry 2003

This World

Cracked Foundation For The Fine Arts

Sometimes I feel

Fit with INRI

Growing Money

Catapulting Wireless Devices

Buried Alive

Illegal Space Race

Magnetism Party

Brick of Coke

1 Baud

Scrota Contra Vota

Direct Intervention Engine

Oh my God, they use a history which repeats itself! (T-Shirt)


---
---
---

.
.
.
.
.