---
WTF: "Heute" tabloid reports a third time about "Six Feet Under Club"

Damn.


Link
---
Sex in the coffin: "Heute" reports again!

Viennese tabloid "Heute" reports a 2nd time about the "Sex Feet Under Club". Here's the Link (German).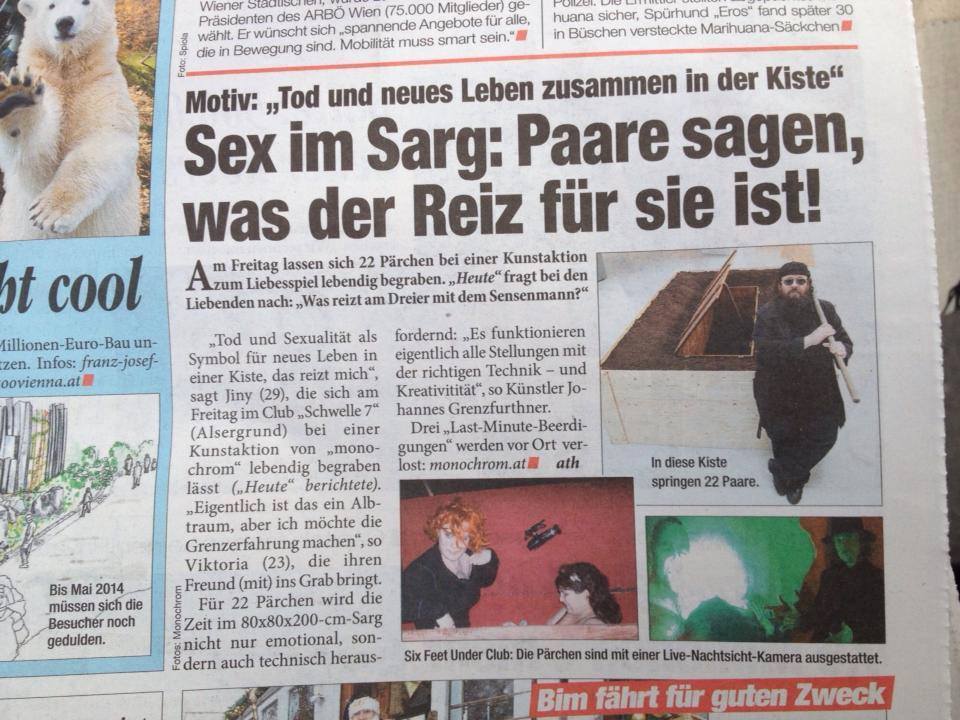 We are booked out for Friday, but maybe you get lucky: we will have a coffin tombola for 3 slots.

Facebook event for more info.
And here is out project page.


---
monochrom's Six Feet Under Club in Vienna: "Heute" tabloid newspaper calls us sexperts!

Sex in a coffin! We want you to go down!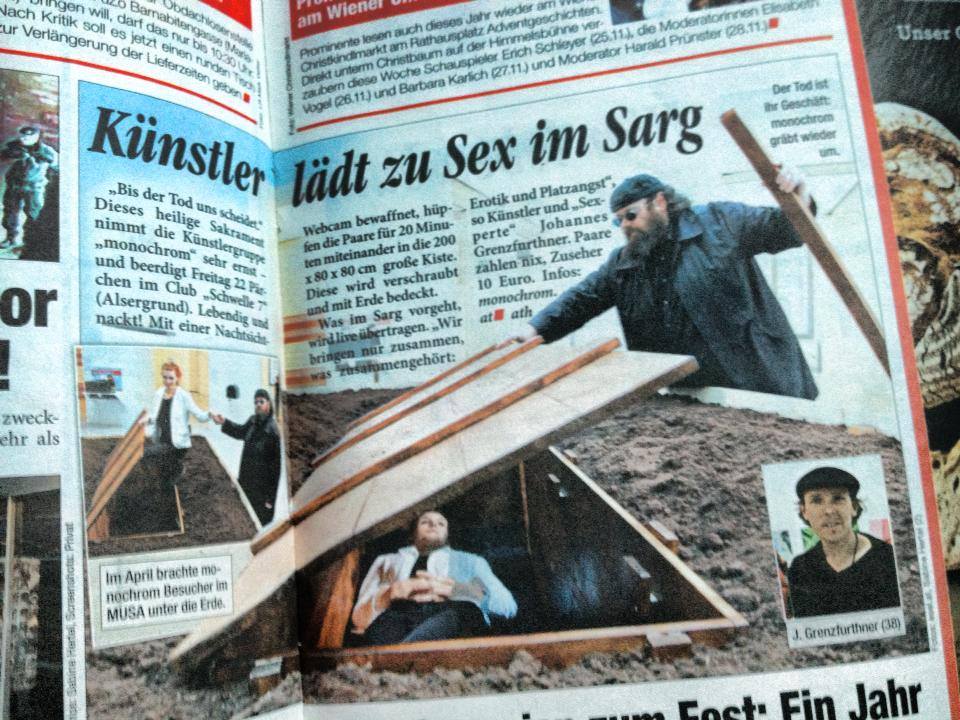 If you want to book a slot for have sex in a coffin, please visit our Facebook page.

And here is the official project page of the Six Feet Under Club.


---
Roboexotica: Do Androids Dream of Electric Schnapps?

Great article about the history of cocktail robotics. With a shout-out for Roboexotica.
The first Golden Age of the automated potationist was the 1950s: In The Stars My Destination, the novelist Alfred Bester introduced a robot who served both cognac and epiphanies; in France, there debuted a model that resembled a gas pump and modulated the potency of your Martini according to its assessment of your drinking capacity. Charting the evolution of the robot bartender forward from the '50s is akin to tracing the history of software technology. In 1973, early adopters were slipping in a punch card and then sipping Planter's Punch. In 1984, they were knocking back vodka tonics with the aid of laser-disc software. In 2013, Google convention-goers downloaded to their phones a Makr Shakr app. In a perfect reflection of the ethos of the social Web, the app simultaneously enabled drinkers to express micro-specific personal preferences and encouraged them to create "crowd-sourced drink combinations" (which I'm guessing all turned out like Long Island Iced Teas). Where do we go from here?

Vienna. December will bring the 15th installment of Roboexotica, a "festival für cocktail-robotik" constituting a cyberpunk prelude to the ball season and a neo-Dadaist's idea of a tech conference. Founded in 1999, the festival encourages semi-serious discourse on "the role of Cocktail Robotics as an index for the integration of technological innovations into the human Lebenswelt" and documents "the increasing occurrence of radical hedonism in man-machine communication." I don't know anything about the leading contenders for Roboexotica's Annual Cocktail Robots Awards. But I am sure that in 2013 we are far, far away from that era when some cantinas wouldn't even allow droids to enter.
Link
---
GoSensual reports about Arse Elektronika

Great article about Arse Elektronika by Anja Herberth. German only, sorry.
monochrom's "Arse Elektronika" ist ein Festival der besonderen Art: Es geht um Sex, Pornografie und Medientechnologien. Sex und Pornografie haben in der Vergangenheit eine wichtige Rolle in der Entwicklung von Technologie gespielt – und werden sie auch in Zukunft treiben. Bis dato haben Medienfestivals diesen Umstand kaum thematisiert und elegant vermieden.

Die international ausgerichtete "Kunstneigungsgruppe" monochrom widmet sich der engen Verbindung zwischen Sex und Technologie und organisiert seit 2007 jährlich die "Arse Elektronika" in San Francisco.

Die Arse Elektronika ist, wie viele andere Projekte von monochrom, handfeste Kommunikationsguerilla, oder auch 'Kontext-Hacking'. "Wir haben uns als fixen Ort für die jährliche Arse Elektronika San Francisco ausgesehen, weil dort durch Silicon Valley die richtige Mischung an interessierten Geeks und Nerds, aber auch das richtige Maß an sexueller Offenheit gegeben ist", so Festivalleiter Johannes Grenzfurthner, "Wir hatten aber auch schon einmal ein Gastspiel in Hongkong und planen Aktionen und Ausstellungen zum Thema in London und Berlin." San Francisco ist weiters eine 'Ausnahme' in den USA, so Grenzfurthner, mit einer "langen Geschichte der Gegenkultur, der Cyberbewegung. Es ist dort wesentlich einfacher, offene Leute, aber auch Sponsoren zu finden."
Link
---
MAKE blog recommends Roboexotica 2013

I'm a big fan of cocktail robots and the number one destination for barbot enthusiasts is Roboexotica, a festival held every year in Vienna.

They'll also be announcing the Annual Cocktail Robot Awards, which celebrate cool barbots with awards in eight different categories, including mixing and serving, as well as a 3D printed category.

The festival will take place this Dec. 5-8. If you'll be in Vienna, don't miss it…
Link
---
Laughing Squid recommends Roboexotica 2013

Roboexotica 2013, a festival for cocktail robotics, takes place December 5 to 8 at the Ragnarhof art space in Vienna, Austria. The 15th annual Roboexotica is presented by Monochrom, SHIFZ, and Bureau of Philosophy.

Until what seems almost recently, no attempts had been made to publicly discuss the role of Cocktail Robotics as an index for the integration of technological innovations into the human Lebenswelt, or to document the increasing occurrence of radical hedonism in man-machine communication. Roboexotica is an attempt to fill this vacuum. It is the first and, inevitably, the leading festival concerned with cocktail robotics world-wide.

Poster by James Brothwell
Link
---
Roboexotica 2013: The poster is here!

15 years of Roboexotica... and a really great poster design by James Brothwell. Fuck yeah.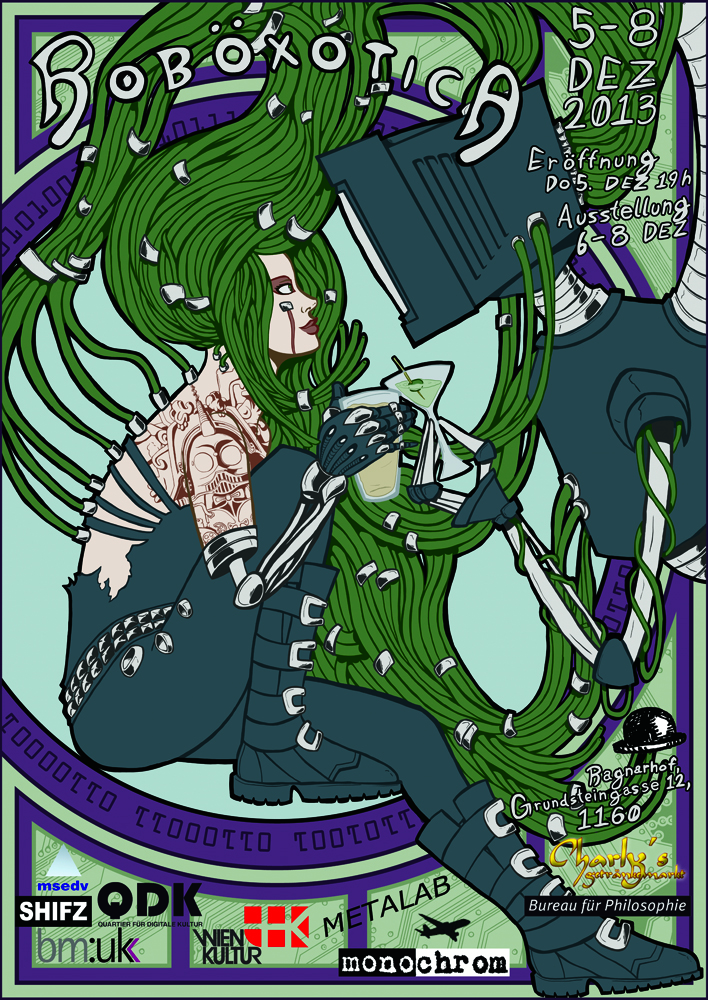 Link
---
Jane McGonigal's TED talk about monochrom's "Massively multi-player thumb-wrestling"

How did we miss that?
Jane McGonigal gave a TED talk about our game concept for "Massively multi-player thumb-wrestling".
The idea is already almost 9 years old, and still people play it all over the world. Proud.
What happens when you get an entire audience to stand up and connect with one another? Chaos, that's what. At least, that's what happened when Jane McGonigal tried to teach TED to play her favorite game. Then again, when the game is "massively multiplayer thumb-wrestling," what else would you expect?
Link
---
monochrom wants you to go down: SIX FEET UNDER CLUB -- in Vienna

Going Down?
6fuc in Vienna, Austria @ Schwelle7
November 29, 2013

In the age of data mining, a person's sex life may contain less embarrassing details than their web search history. Does it make sense that the former is a tightly guarded secret while the latter is shared with anonymous corporations daily? Even though a sexual nature is one of the few things most humans share in common, our social convention is to push all trace of it out of the public sphere. The Six Feet Under Club offers attendees a unique opportunity to experience the warping of public and private intimate space.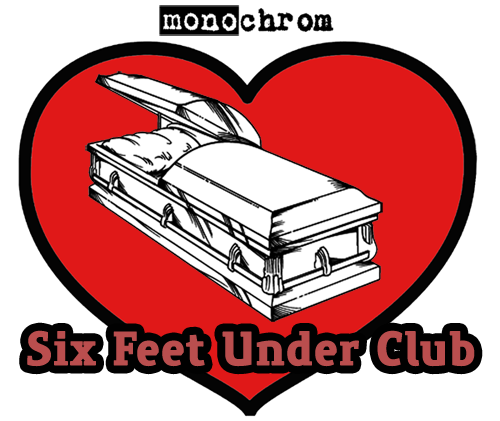 Couples can volunteer to be buried together in a casket beneath the ground. The space they occupy will be extremely private and intimate. The coffin is a reminder of the social norm of exclusive pair bonding "till death do us part". However, this intimate scene will be corrupted by the presence of a night vision webcam which projects the scene on to an outside wall. The audience will be privy to the scene inside, but the volunteers in the coffin will be completely isolated from them. The scenario keeps the intimacy of a sexual moment intact while moving the private act into public space. It can be seen as an absurd parody of pornographic cinema or an examination of the high value placed on sexual privacy. Either way, won't you become a member of the Six Feet Under Club?

Project page
Facebook event


---
Neural Magazine reviews monochrom's "Context Hacking"

Neural Magazine reviewed our "Context Hacking" book. Nice!
In 1993 Johannes Grenzfurthner posted on Fidonet about his intention to start a fanzine on politics, network and pop culture, and Franz Ablinger answered almost immediately. That was how the Viennese "monochrom" collective started. This thick hardcover publication seems to be the perfect container for twenty years of activity, restating their history in a different form. But although the publications have been constant over time, they have confronted and engaged with a large number of different cultural and artistic contexts. This reflects the heterogeneity of the founding members, who share what used to be called a "communication guerrilla" background, but who embody different attitudes towards communication in unexpected, sometimes quite extreme fields. They have been and are dystopic but maintain an ironic and cyberpunk attitude, talking about the future through performances, festivals, installations, sitcoms, theatre, video games, among other media. The text makes clears their roots in their home country and their awareness of the academic discourse in which they are situated. But the book also includes a catalogue of very symbolic exhibitions, which represents their main projects in a very playful and unifying way. They effectively generate aesthetic consistency over diverse projects, preserving and reinforcing with striking representational contrast the pure subversiveness of their work.
Link
---
monochrom's Arse Elektronika presents Maggie Mayhem: "Activism/Tech/Sex Work"

monochrom's artist-in-residence Maggie Mayhem will talk about activism, technology and sex work!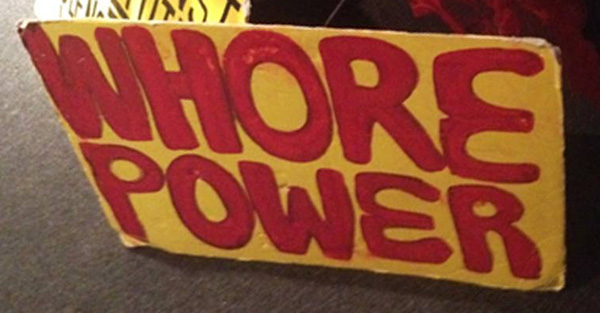 Where? Raum D (Museumsquartier), Vienna. On November 14, 2013; 7 PM.

Link (FB event)
---
monochrom @ Blue Bird Panel: "Crowdfunding: The better way of financing music?"

With Amanda Palmer, Johannes Grenzfurthner (monochrom), Ingrid Brodnig (Falter), Markus Keuschnigg (Slash Filmfestival) and Heinz Wolf (departure, M185).
Kickstarter and other crowd funding platforms have opened new avenues for artists and entrepreneurs to realize their visions. Even though a story of success for many, does crowd funding really work for everyone? What are the problems and challenges that arise when the sole responsibility for a project's success or failure rests on the artists' shoulders? And do campaigns of well established performers divert attention from smaller projects thus making it harder for them to find funding?

November 13, 2013; 7 PM.
At Haus der Musik, Seilerstätte 30, Vienna, Austria.
---
monochrom @ FSCONS Gothenburg: "Subverting Subversion: Or How We Can Fight Ourselves"

The ultimate horror is not the end of civilization, but its endless decline. But how can we get the message out if nobody wants to listen? We at monochrom call our working method »Context Hacking,« thus referencing the hacker culture, which propagates a creative and emancipatory approach to the technologies of the digital age, and in this way turns against the continuation into the digital age of a centuries-old technological enslavement perpetrated through knowledge and hierarchies of experts. Context hacking transfers the hackers' objectives and methods to the network of social relationships in which artistic production occurs, and upon which it is dependent. In a metaphoric sense, these relationships also have a source code. Programs run in them, and our interaction with them is structured by a user interface. When we know how a space, a niche, a scene, a subculture or a media or political practice functions, we can change it and »recode« it, deconstructing its power relationships and emancipating ourselves from its compulsions and packaging guidelines.

Johannes Grenzfurthner will present some projects by monochrom, a worldwide operating collective from Vienna dealing with technology, art, and philosophy that was founded in 1993.

On November 9, 2013 (4:15pm) at FSCONS (the Humanisten-Building; Renströmsgatan 6) in Gothenburg, Sweden.
---
Maggie Mayhem: monochrom's new Arist-in-Residence in Vienna

Our new Artist-in-Residence, Maggie Mayhem, just arrived from Santa Cruz, California!

Maggie Mayhem is an international social justice activist who applies her background as an HIV/STI prevention specialist into multimedia art, criticism, and performance. Her focus is on gender and sexuality.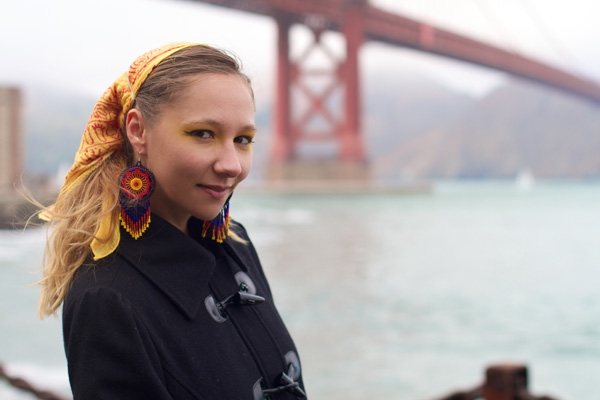 Link (Bio, Q21 page)
Official homepage


---
[Archive]
---
---
---
---
---
---
---
---
---
---
---
---
---
---
---
---
---
---
.
.
.

---
---
---

Nothing To Hide (Documentary feature film)

23 Works (Short films)

Wellness As Usual

Context Hacking (Essay)

Context Hacking (Reader)

The Altogether Horrid Street Ballad Of Paratii

Earthmoving (Short film)

Sierra Zulu (Feature film project)

Hedonistika

Enforce (Short film)

Carpet (Short film)

They used to be better

Video Jingle(s)

monochrom's ISS

Soviet Unterzoegersdorf / Sector 2 / The Adventure Game

Lidl-Girl (Music video)

Rated R Us

Portraying The Terran Condition (Game)

alt.backen: monochrom's early phase picture begging outreach interface

Antidev

Title Sequence

monoleaks

Operation Overhead

Dismalware

Tasty (Short film)

The Earth Has Been Destroyed (Music video)

Six Feet Under Club

Krach: Anderswo (Single)

monochrom's Raw Image Format / Archive

Climate Training Camp

Soviet Unterzoegersdorf vs. Cheetos (Short Films, Ads)

Krach der Roboter: Hello World!

BP, listen up!

Wikileaks: The Ballet (feat. Unicorns)

Google Wars / RPG Extravaganza

Slacking is killing the DIY industry (T-Shirt)

Carefully Selected Moments / CD, LP

Freedom is a whore of a word (T-Shirt)

#fullboycott

International Year of Polytheism 2007

For you (Short film)

Santa Claus Vs. Christkindl: A Mobster Battle

Could It Be (Video clip)

Pot Tin God

Hacking the Spaces

Kiki and Bubu and The Shift / Short film

Kiki and Bubu and The Privilege / Short film

Kiki and Bubu and The Self / Short film

Kiki and Bubu and The Good Plan / Short film

Kiki and Bubu and The Feelings / Short film

Sculpture Mobs

Nazi Petting Zoo / Short film

The Great Firewall of China

KPMG / Short film

The BRAICIN / Short film

Soviet Unterzoegersdorf / Sector 1 / The Adventure Game

I was a copyright infringement in a previous life (T-Shirt)

Brave New Pong

Leben ist LARPen e.V.

One Minute / Short film

Firing Squad Euro2008 Intervention

RFID Song

The Hackbus

A tribute to Honzo

Lessig ist lässig

I can count every star in the heavens above -- The image of computers in popular music

All Tomorrow's Condensations / Puppet show

Bye Bye / Short film

Revaluation

PC/DC patch

Proto-Melodic Comment Squad

myfacespace.com

The Redro Loitzl Story / Short film

Hax0rcise SCO

Law and Second Order (T-Shirt)

They really kicked you out of the Situationist International?

Death Special: Falco

Applicant Fisch / Short film

When I was asked to write about new economy

Taugshow #6

Taugshow #7

Taugshow #9

Taugshow #10

Taugshow #11

Taugshow #14

Taugshow #15

Campfire at Will

Arse Elektronika 2007, 2008, 2009 etc.

The Void's Foaming Ebb / Short film

Remoting Future

When you / Short film

Elf

Free Bariumnitrate

Toyps / Typing Errors

ARAD-II Miami Beach Crisis

The Charcoal Burner / Short film

Digital Culture In Brazil

Hegemonchhichi

Nation of Zombia

Lonely Planet Guide action

CSI Oven Cloth

Dept. of Applied Office Arts

Farewell to Overhead

Google Buttplug

Fieldrecording in Sankt Wechselberg / Short film

Dark Dune Spots

Campaign For The Abolition Of Personal Pronouns

Zeigerpointer

Space Tourism

In the Head of the Gardener

Entertainment (Unterhaltung) / Short film

Cthulhu Goatse

Nicholas Negroponte Memorial Cable

Coke Light Art Edition 06

Experience the Experience! (West Coast USA/Canada Tour 2005)

April 23

Overhead Cumshot

Irark / Short film

Wart

Instant Blitz Copy Fight

A Patriotic Fireman

A Micro Graphic Novel Project

Noise and Talk

The Exhilarator

H&M

The Flower Currency

Gastro-Art/Gastrokunst

A Holiday in Soviet Unterzoegersdorf

How does the Internet work?

Paraflows 2006 and up

Special Forces

Coca Cola

About Work

Turing Train Terminal

Me / Short Film

Massive Multiplayer Thumb-Wrestling Network

Doormat

Some Code To Die For

The Year Wrap-up

Soviet Unterzoegersdorf Metroblogging

Project Mendel

Display, Retry, Fail

Manifesto of Ignorantism

Actionfilm

Towers of Hanoi

Heisenberg

Opto-Hedonism

Every Five Seconds an Inkjet Printer Dies Somewhere

Milk

Mobutobe

Brandmarker

We know apocalypses

452 x 157 cm² global durability

A Good Haul

Blattoptera / Art for Cockroaches

Minus 24x

Gladiator / Short Film

Eden

An attempt to emulate an attempt

Paschal Duct-Taping

Laptop Crochetication

Russka

Somewhere in the 1930s

Soul Sale

The Department for Criticism against Globalisation

Dot Smoke

Georg Paul Thomann

Nurgel Staring

War On

Let's network it out

Nude

Mackerel Fiddlers

Whales

Disney vs. Chrusov / Short film

Bulk Mail

Easter Celebrations

Mouse Over Matter

Condolence for a Crab

Force Sting

Turning Threshold Countries Into Plows

System

A Noise

A. C. A.

Hopping Overland

Achy Breaky Heart Campaign

Hermeneutic Imperative III

Holy Water / Franchise

Roböxotica // Festival for Cocktail-Robotics

Spears

Engine Hood Cookies

Ikea

The Watch

Creative Industry 2003

This World

Cracked Foundation For The Fine Arts

Sometimes I feel

Fit with INRI

Growing Money

Catapulting Wireless Devices

Buried Alive

Illegal Space Race

Magnetism Party

Brick of Coke

1 Baud

Scrota Contra Vota

Direct Intervention Engine

Oh my God, they use a history which repeats itself! (T-Shirt)


---
---
---

.
.
.
.
.