More updates about Sierra Zulu's actors! Roland Gratzer and Johannes Grenzfurthner met the Lampls for an early beer in Graz… and deal!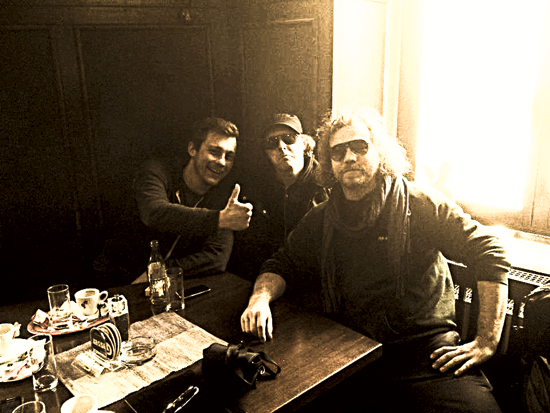 (from left to right: Harry, Director, Jimi)
Harry Lampl
Harry Lampl, born 1987, majored in Technical Physics at the University Graz. Has appeared in numerous film and TV productions as well as in theatre plays. Awards: Prize of the Jury in the category 'actor' at the 12th International Film Festival of the Film Academy Vienna 2007 for playing Marco in Sigmund Steiners "Harz".
Selected projects: "Gehen am Strand" (Caspar Pfaundler, 2011), "One Way Trip" (Markus Welter, 2010), "Blutsfreundschaften" (Peter Kern, 2009), "Freischwimmer" (Bernhard Riener, 2009), "Mono" (Barbara Grascher, 2007). TV: "Verfolgt – Der kleine Zeuge" (Andreas Senn, 2012), "Soko Kitzbühl: Jungbrunnen" (Mike Zens, 2012).
Jimi Lend (alias Johann Wolfgang Lampl)
Jimi Lend, born 1980, lives and works as a freelance actor, director, author, poetry slammer and event organizer in Vienna. Trained as an actor at the University for Music and Performing Arts in Graz (graduated in 2003). Winner of the Max Reinhard Award and the audience award at the Annual Meeting of German Speaking Acting Schools in Essen 2002. Engagements at the Schauspielhaus Graz, Theater im Keller Graz, Forum Stadtpark Graz, Ensembletheater Wien, Theater m.b.H. at the Kabelwerk Wien, Forum Theater Wien, ortszeit and Theater im Bahnhof Graz. Co-founder of the "little drama boyz", the "Vitamins of Society" (directing, organisation, acting) and the "LickeDeela"(Funk, http://jimilend.wordpress.com).
Filmography: "Dutschke" (Stephan Krohmer, 2008), "Der Knochenmann" (Wolfgang Murnberger, 2008), "Mutig in die neuen Zeiten" (Harald Sicheritz, 2006), "Anschlagsordnung" (Camillo Meinhart, 2006), and "Harz" (Grasch/Steiner/Glehr, 2005).